[UPDATE 12/01/17 – As we suspected three days ago, Lily just closed its doors, click for our updated article]
Lily were very optimistic with their Facebook update in October 2016, in which they warned pre-order customers to "Keep an eye on their inboxes",  but sadly there has been no communication since.
[stextbox id="info"]Join the DroningON Discussion Group (opens in new tab) for the latest Lily news/update, as well as refund assistance and advice on alternative drones[/stextbox]
As one of the highest backed pre-order drone campaigns of the last few years, Lily has a lot to deliver. Over 60,000 customers paid (not pledged) to receive one of these waterproofed drones which at the time of launch was innovative and unique, if not flawed in other aspects.
The major global electronics show CES would be an expected show-ground in which to parade Lily and their imminently shipped drone, and yet neither the company nor drone were present at the event.
The rather strange 'Lily Drop Test' video published on Instagram was perhaps a sign of what was to come.
https://www.instagram.com/p/BDZbFKzHYxC/
However, through numerous delays and excuses, the only remaining innovative of Lily feature is the waterproofing. Other drone competitors have since conquered the element of compact form-factor (Mavic Pro, Xiro Mini and others) through unique folding designs.
DroningON have speculated since early 2016 that the Lily project would suffer from complications due to numerous technical design issues but it would now seem that the technical challenges have cascaded deeper into project management and perhaps even financial difficulties, despite the venture capital investment of $15m provided to Lily to support their development and manufacture.
In early October 2016, Lily gave their customers hope by publishing this update to their previously active Facebook account: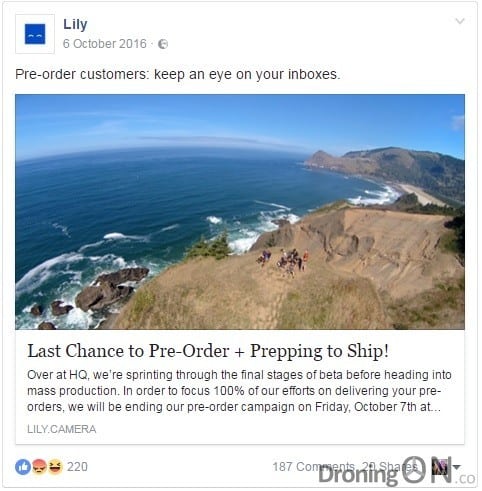 However, this post was one of the last from the marketing team and Lily has been almost silent since, besides a Twitter update to suggest that they would start to ship US orders in December, this was also a failed promise.
Lily's FCC application was successfully approved just a few weeks ago and despite this, Lily did not communicate the positive news to customers. To fail to promote such a key milestone suggests deep issues within the organisation.
The technical 'Daily Updates' feed was one of the last remaining glimmers of hope for customers, but it has also ceased to be updated as of the 13th December 2016. Customers had been concerned at the quality of the most recent updates with comparisons made to words spewed out of a random generator.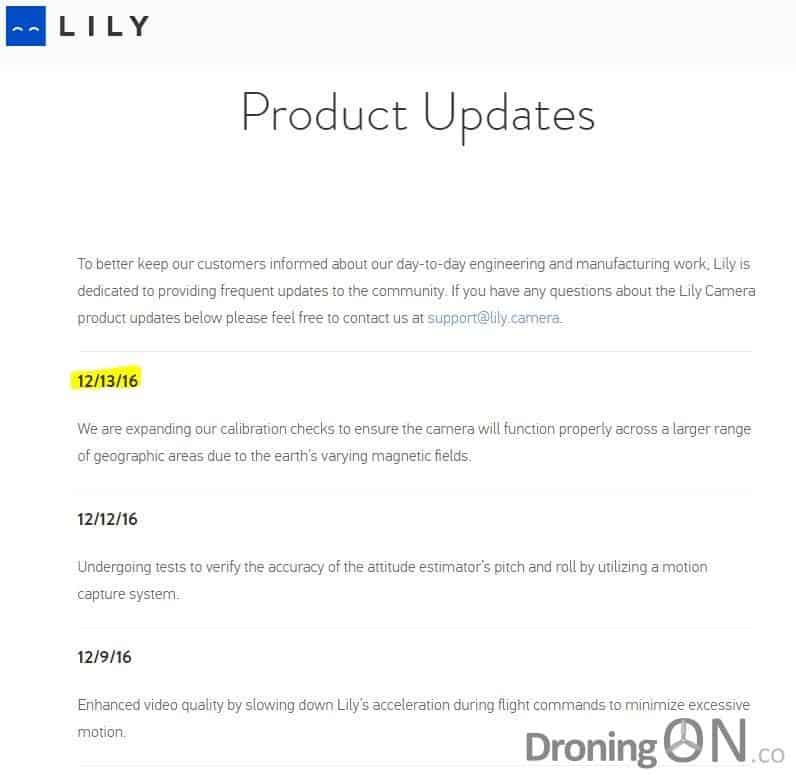 Lily had offered a full refund promise from the start of their project, however reports are that refunds are taking months to process with confirmation emails suggesting up to 90 days. Interesting is the suggestion that Lily are overwhelmed with refund requests due to the wording used within the email.
An new start-up company should be doing their best to dissuade and comfort customers that are seeking a refund but instead Lily appears to have their head in the sand.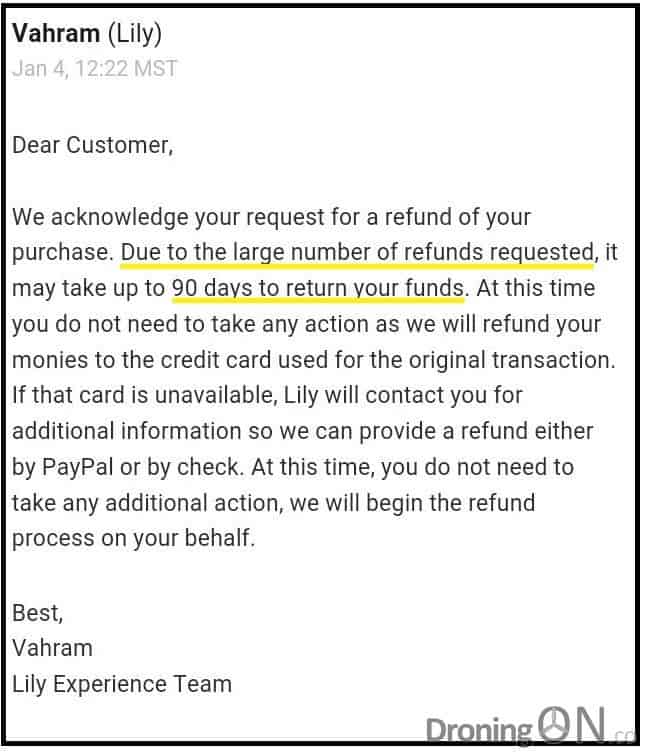 One frustrated San Francisco based customer opted to visit Lily at their headquarters near 75 Boardman Place, they were greeted by a humble entrance and a disappointing outcome.
[perfectpullquote align="full" cite="" link="" color="" class="" size=""]"…I went to the Lilly and they opened the doors, they do not have a product to show me. They do not know when the delivery they say they will contact us soon that we have not been duped . I said well show me the product show me it flying 25 feet and I go away happy and I'll tell everyone it exists they said they can't , they said if anyone wants their money back they can send a request , I said oh 90 days money back and no guarantee right ? I also said very smart of them to hold this up for over two and a half years because now it's over 6 months I can't charge my credit card back ?"[/perfectpullquote]
Accompanying the photo was a description of her visit.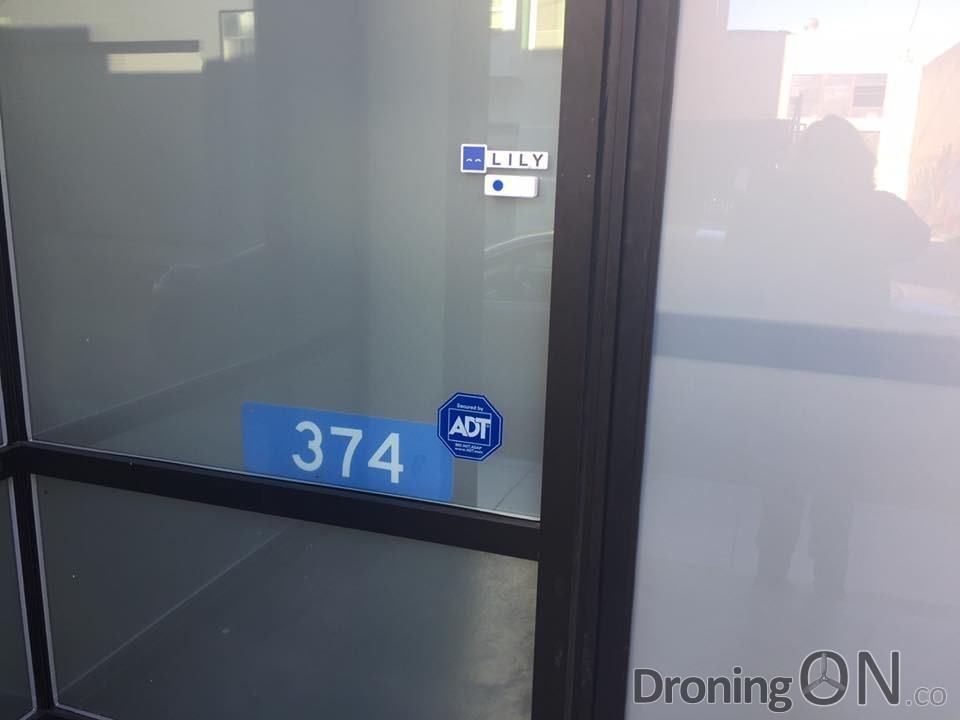 It is promising that Lily are still present within their headquarters although whether a full set of staff are present is unknown.
SnapChat to acquire Lily?…
A new report appeared this week suggesting that SnapChat, the popular messaging company, had spoken to Lily with a view to possible acquisition, this might bolster Lily financially but it would not excuse the months of silence from their communications and marketing team.
And why would a successful company like SnapChat wish to acquire a company which has delivered nothing but to upset thousands of unhappy customers.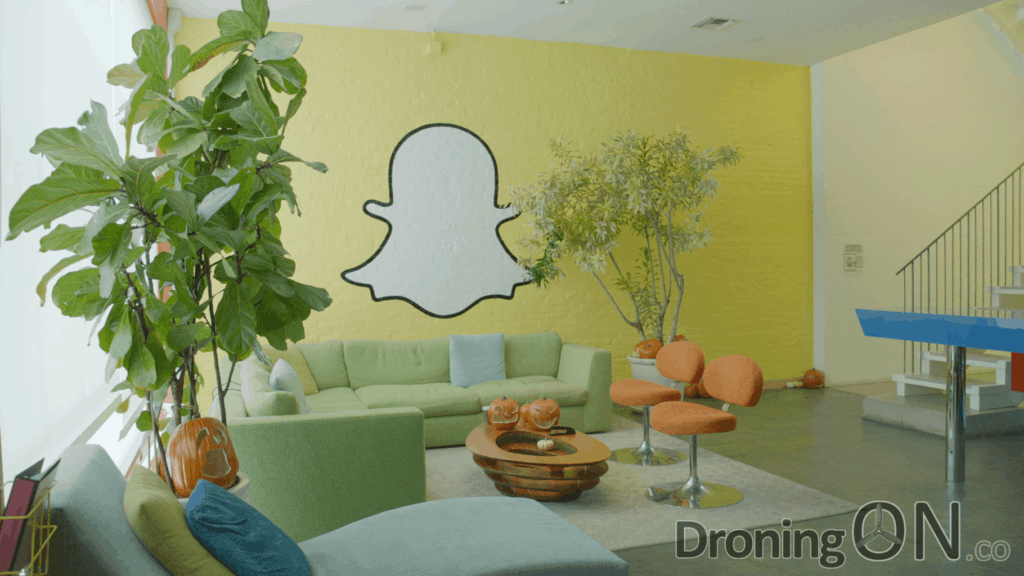 In relation to the SnapChat approach, Biz Carson from Business Insider writes as follows:
[perfectpullquote align="full" cite="" link="" color="" class="" size=""]"…Snap Inc. has talked with Berkeley-based drone company, Lily Robotics, over the last few months. No deal is on the table, according to multiple people familiar with the matter, but that doesn't mean it's ruled out in the future either. "[/perfectpullquote]
The SnapChat story is pure press/media speculation at this time and we suspect that a brief conversation between the two organisations has been exaggerated into the above idea. In addition, it is known that SnapChat have approached numerous organisations over the past few months.
What do Lily say?…
We first approached Lily in December to ask for an interview but were told to try again in January as they were busy.
Kelly Coyne, listed as the 'Head Of Communications' for Lily, joined multiple Facebook Groups (and is a current member of DroningON) in order to provide answers to frustrated customers – we approached her via Facebook Message but she did not respond (we now know that she is away on maternity leave).
Other attempts at contact with Lily HQ via phone, email, Twitter and Facebook have been unsuccessful.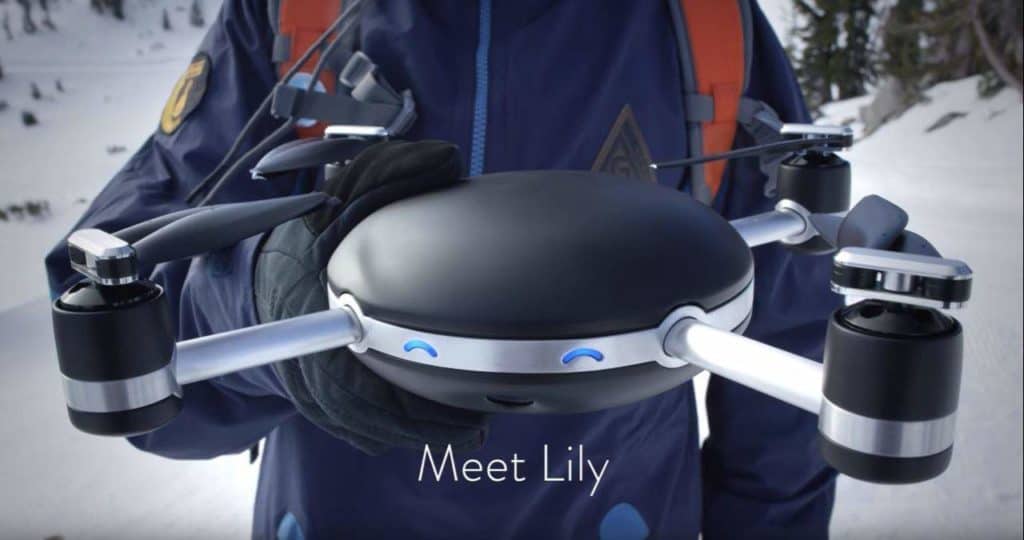 We urge Lily to refund all customers immediately, particularly as Lily have maintained from the outset that the "customer sales fund is entirely separate to their development and manufacturing fund". If viable, continue development of Lily and offer it to customers in the future, when it is ready. CyPhy Works opted for a similar route forward after their LVL1  drone project failed.
For a company to show such disregard for its patient and loyal customers demonstrates core issues, due to which we suggest that backers discuss obtaining a payment reversal via their credit card providers. The refund promise from Lily only stands whilst Lily are viable as an organisation, if they move into administration or bankruptcy, customers will unfortunately find themselves at the bottom of the creditor list.
Lessons learnt for customers…
When backing a drone-related campaign, emotion and loyalty should be restrained and instead logic, rational and objective thinking should be prioritised. Listen carefully to those already in the industry/sport/hobby whom have experience and consider their criticism before condemning or silencing them.
Early into the Lily campaign, DroningON identified that the Lily drone had several design issues which could prove to be troublesome later into the campaign. We attempted to assist potential and current customers by clearly publishing constructive questions to Lily representatives via the notoriously heavily-moderated Facebook Group 'Lily Owners'.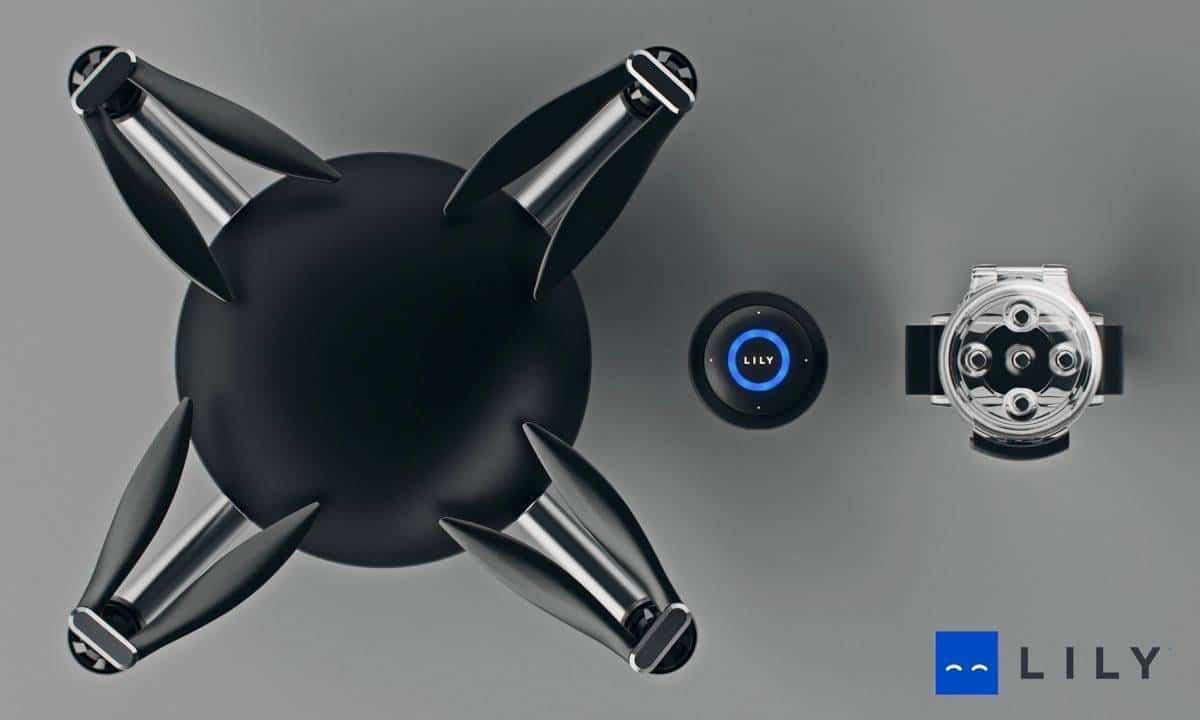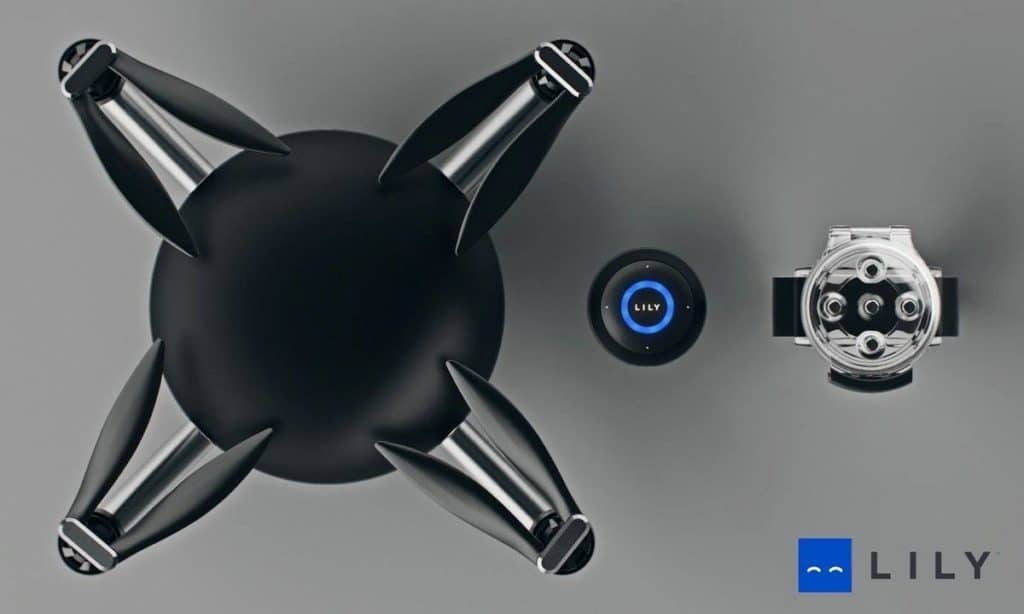 We were quickly silenced, our questions deleted before Lily could respond, our account was then blocked from the group by admin, Kevin Hancox. This prevented customers in the group from access to an industry view and analysis of Lily. To this day, members of the group are being threatened with removal from the group if they choose to disagree with the group owner.
[perfectpullquote align="full" cite="" link="" color="" class="" size=""]"I fully understand that people are going to read this, and want answers, this guy will do you no good, he is a troublemaker of the worst kind. He and his page (DroningON) are not welcome here, and any posts that reference it will be deleted and the user removed … This is the only warning that will be made. Blocking people will be the next thing for anyone posting about the news from them…!!", Kevin Hancox, Ex-Lily Customer and Group Owner/Moderator via Facebook[/perfectpullquote]
Ironically, the group owner himself (whom already has a refund) stated clearly in November 2016 that he believes the project already to have failed and that "If I want one, I could have one, just as quick or quicker than most here…."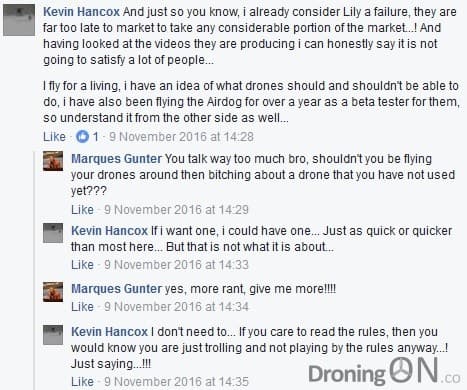 We recommend that preorder customers avoid/leave groups like these, they do not promote nor allow open discussion which is key for a new concept which depends on feedback, questions and technical analysis from the target consumer market. Over-moderated groups also prevent the less-technical customers from gaining an insight from specialists.
Invest only in proven products which are already sat on the shop shelves. Placing a preorder on a new product is a risk and unless you can afford to lose the money, you should not be taking that risk. This is even more key if the technical industry for the product is not one with which you are familiar, competent or experienced in.

Finally, if you are to invest in preorder drone campaigns, do so via an 'backer' umbrella such as IndieGoGo or Kickstarter. Both are notorious in terms of drone campaigns and over the years very few backers have received the product that they truly desired, but these two companies do provide a high-level basic element of protection to the consumer, protection which customers do not have if handing their money directly to a company, as with the Lily campaign.
Drone alternatives to Lily?
The only niche element for Lily is its water-proofing and few other compact drones can at this time match that. Lily customers should consider why they need water-proofing at all, they do not unless they intend on actual dropping the drone into water itself.
[perfectpullquote align="full" cite="" link="" color="" class="" size=""]"The only viable consumer drone at this time which matches the portability of Lily is the DJI Mavic Pro"[/perfectpullquote]
Modern drones are becoming very reliable and unless you intentionally fly the drone into water, they will generally tend to avoid it.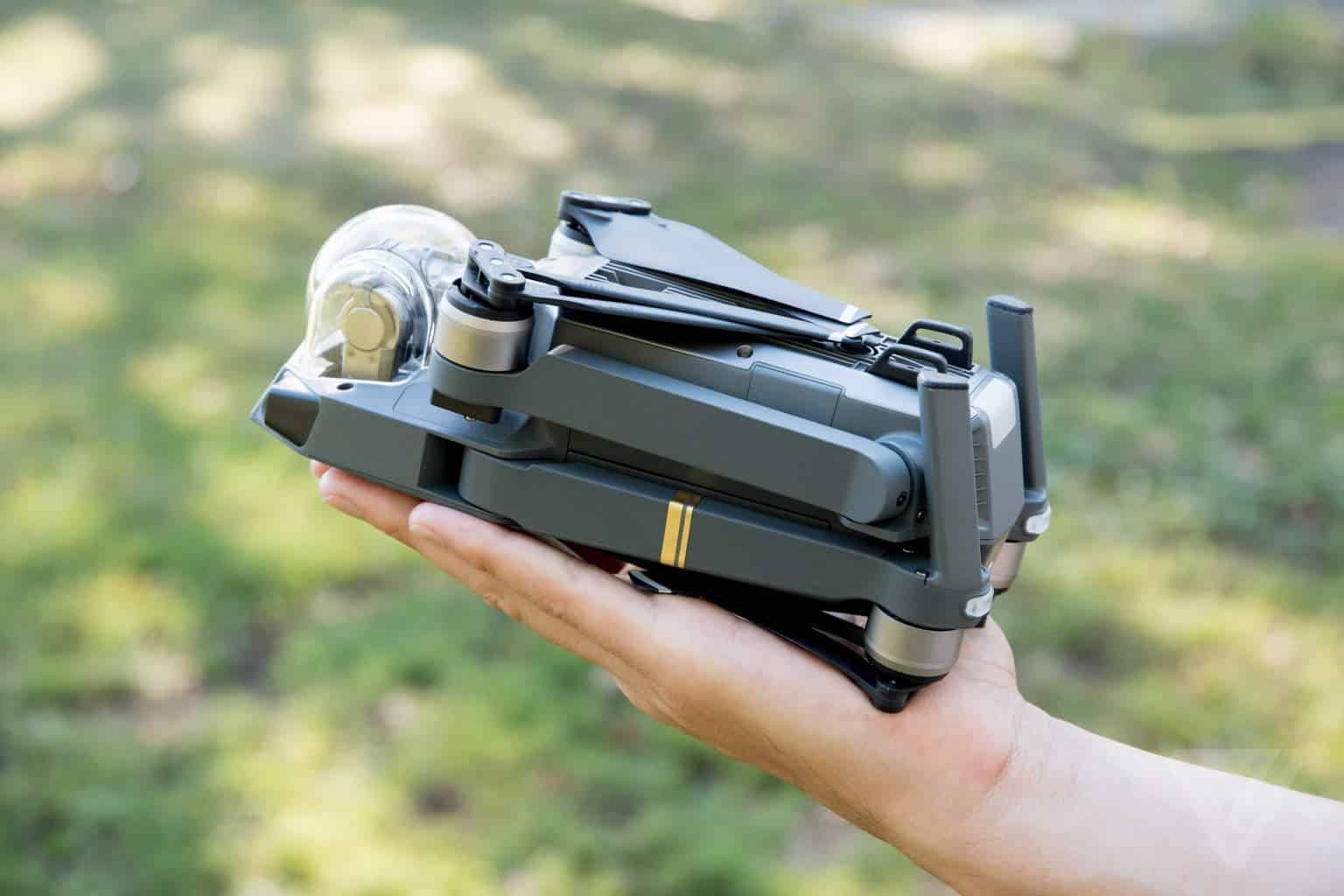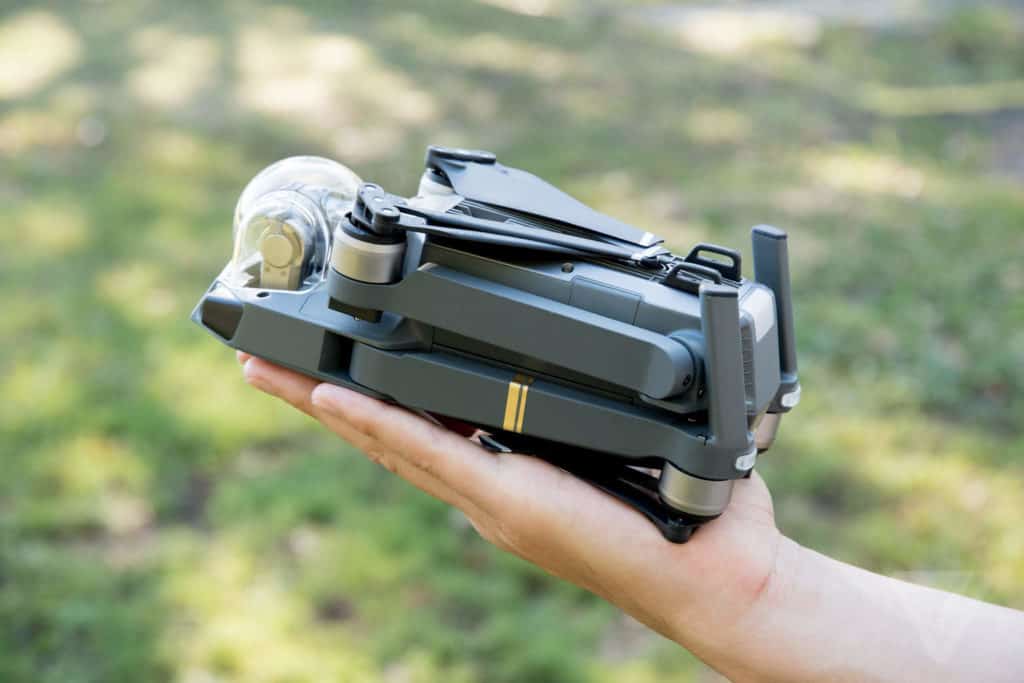 The Mavic Pro from DJI costs a little more than Lily but for the extra you get 4K, a gimbal for silky-smooth video and many more features which you would not have with Lily, such as fully manual control if desired, or the ability for Mavic to be controlled just with Smartphone alone (no transmitter needed).
Other alternatives are:
► ZeroTech Dobby – £270/$325 – [BangGood] [HobbyWow] [GearBest]
► Yuneec Breeze 4K – £415/$475 – [BangGood] [HobbyWow] [GearBest]
► DJI Phantom 3 Standard (500m range) – £500/$600 – [DJI]
► DJI Phantom 3 Advanced – £600/$750 – [DJI] [HobbyWow] [GearBest]
► Yuneec Typhoon Q500 – £640/$750  [BangGood] [GearBest] [HobbyWow]
► DJI Phantom 3 Professional – £700/$800 – [DJI] [GearBest] [HobbyWow]
► DJI Phantom 4 – £900/$1100 – [DJI] [HobbyWow] [GearBest]
► DJI Mavic Pro – £920/$1000- [DJI] [GearBest] [HobbyWow]
► Yuneec Typhoon H – £1299/$1298- [UK] [USA]
The future for Lily is not bright at this time, they may have a product ready for launch in the near future, but before then they should treat their customers with the respect that they deserve by offering their money back immediately.
If you are a Lily customer, comment below to let us know your thoughts on the above – are you still happy to wait? Or have you requested a refund but are still waiting for payment?
In 2016, we published a comprehensive comparison between a set of relevant consumer drones, you can see how Lily compares.
For more information about the DJI Mavic Pro, click here.
---
Be sure to join the DroningON Discussion Group for help or assistance with regards to your Lily preorder, our members are at hand to give advice on obtaining refunds on such campaigns.