Today, emails were sent to Lily backers, informing them that the project had failed, refunds would be issued and that the founders were disappointed not to have been able to secure additional funds.
Thousands of customers let-down…
$34 million was generated in investment from thousands of excited backers, today they have received the news that they will no longer receive their Lily drone and now must hope that the refund does indeed arrive.
The email from founders Antoine and Henry reads as follows: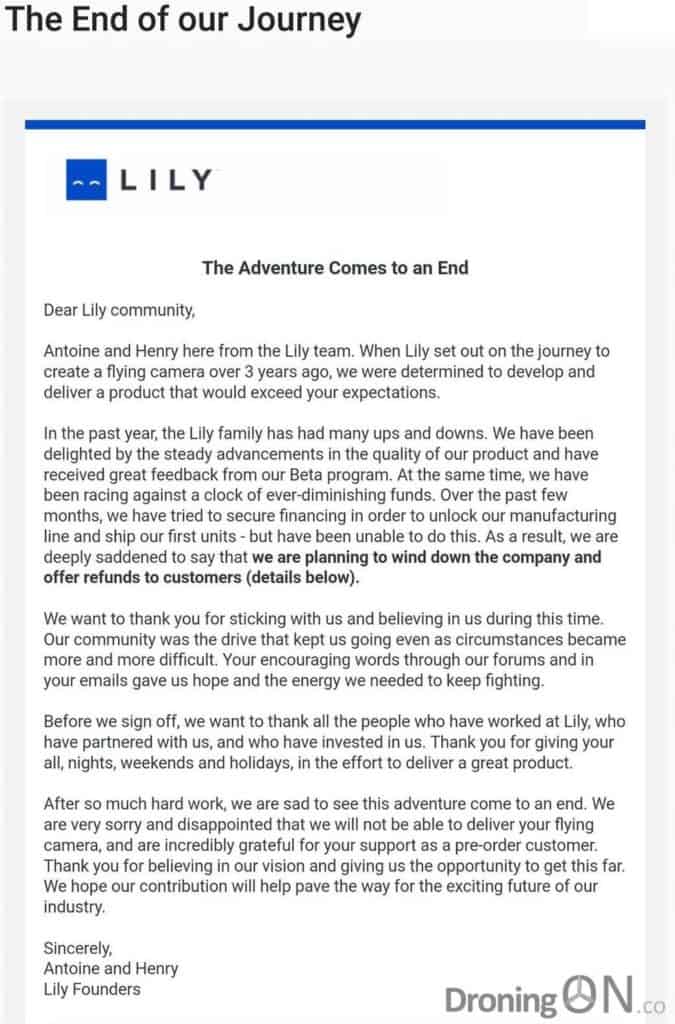 Just a few days ago, DroningON published an article suggesting that Lily had already failed in an attempt to push the company to communicate with their customers, following months of silence, sadly we were too late.
Major publications such as TechCrunch, Forbes and Mashable have been quick to report on the failure but at no point have published any editorial to push Lily to communicate with its customers. It is disappointing that such publications only ever report on the pretty inception of such a project, and then the messy failure. Major publications should instead follow progress to assist customers, as DroningON have from the beginning.
[stextbox id="info"]Ex-Lily Customer? Join the DroningON Discussion Group where we can assist you with your next drone purchase – www.droningon.co/facebook[/stextbox]
The editorials reporting on the glossy start of these campaigns prompts many customers to invest and so these publications have a responsibility to also report on any glaring issues, prior to collapse.
Lily refunds and interest…
Lily has always maintained that customer funds ($34m) would retain segmented from company equity in order to protect the customer investment, therefore customer money would not be utilised for development, running costs nor manufacture. Instead, the $15m received in venture capital would finance the company.
Therefore, despite hundreds of customers obtaining refunds, it would have no impact on the success or failure of Lily, because the pre-order fund was in ESCROW and therefore of no consequence to the daily running costs of the company. For this, we have great respect for Lily and hope that other pre-order campaigns follow suit.
To be clear, refunds did not kill Lily, instead the unrealistic and overly-optimistic timescales, poor design and bad planning led to a 12 month delay and consequently, Lily simply ran out of money. Their inability to maintain committed schedules to a prying investor-audience most likely prevented any additional venture capital funding.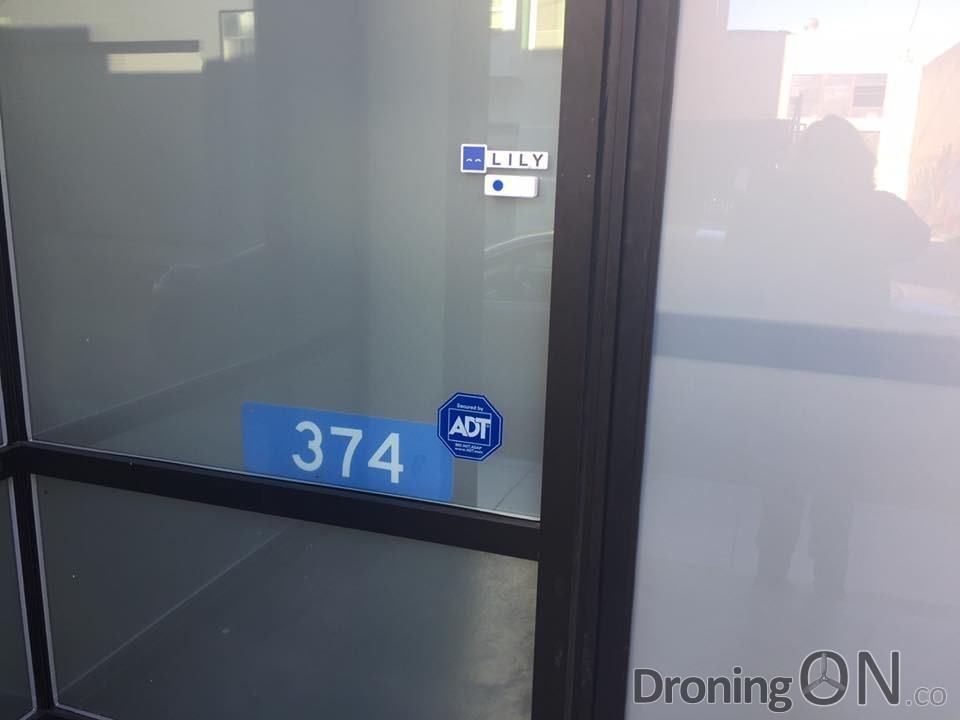 It is however surprising that Lily did not approach their pre-order customers to request permission to utilise the reserved/protected order funds on an 'opt-in' basis, essentially turning the project into a crowd-funder.
Questions are now being asked as to the interest raised from this fund. Just 2% interest on a fund of $34m is $680,000 per annum, will this be distributed to backers to compensate them from two years of frustration and patience?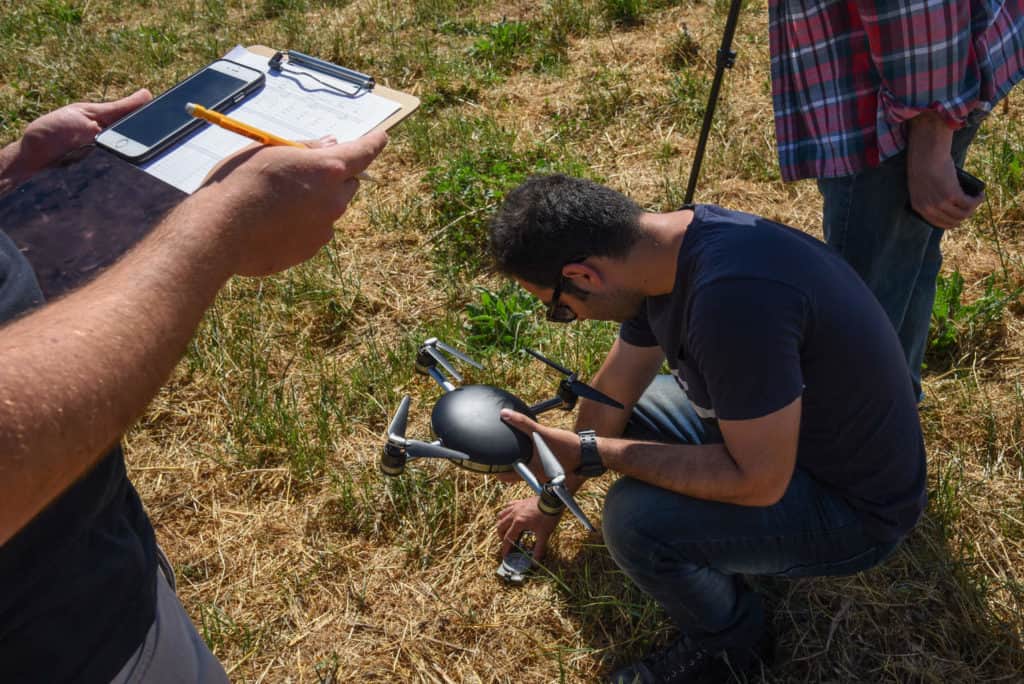 The promise of refunds must now be watched carefully, past failed projects such as Zano have made similar commitments upon collapse but were unable to refund all customers due to administration/bankruptcy requirements to honour business creditor lists as the priority over customers.
We urge customers to immediately contact credit card companies and their payment providers whilst waiting for their 'official' refund. It may also be worth contacting 'Tilt', the payment gateway utilised by Lily to collect pre-order funds.
Lily's closing blog statement also suggests that customers that have utilised an expired Credit Card must complete a form for their refund to be processed.
Did the 'Lily beta' ever happen?…
Lily has just sent out the following email to the team of beta testers, a select number of pre-order customers chosen following the completion of a questionnaire to assess suitability. The email suggests that beta units were out in the field but this remains to be verified as truthful.
[perfectpullquote align="full" cite="" link="" color="" class="" size=""]
"Hello Beta Team,
As you are all aware of by now, Lily Robotics and the Lily Camera will soon cease to be. First and foremost, we'd like to apologize for our silence and absence in recent weeks. There were several factors at play preventing us from sharing the information we truly wanted to. We hope that this does not tarnish your thoughts and views regarding your role in our program. Working with all of you, fighting through some pretty irritating product issues, was one of the great highlights of our time at Lily. One of our biggest regrets was not being able to get more of you involved in the hardware portion of testing. That being said, it was an absolute honor and privilege getting to know and work with those of you we could.
Over the next few days and weeks, we will be working on an individual basis with hardware testers to secure the retrieval of beta hardware. We would have loved for each of you to be able to keep your units as a keepsake and reminder of the hard work you all put into the program, but we have to maintain a strict internal inventory of all hardware at this time. If we are able to offer anything additional at a later time we will sure contact everyone immediately.
In regards to refunds, we will be attempting a mass refund of as many customers as possible over the next couple of days, including yourselves. We will be unable to process manual refunds while the automated process occurs, but we will also be keeping specific tabs on each of your orders once this is complete, and we will be more than happy to work on a case-by-case basis should your refund be unable to be processed directly back to your credit card for any reason.
As the company comes to a close, please continue to adhere to the guidelines specified in the Lily Beta NDA. While the company winds down it is important that the information you were exposed to while in the program remain private. So unfortunately this means you cannot publicly your content yet; however, we are more than willing to let you show your videos to your friends and family fairly openly.
We know a lot of you have a great deal of questions about what is happening and where things may have gone wrong. We would be more than happy to answer any questions as best as we are able to. Just be aware that we will also be helping to process other customer refunds, so we may not be able to answer in a super timely fashion, but we will absolutely do our best.
Thank you all for the time, support, and passion you've dedicated to us over the past months. It truly was one of the best work experiences we've ever had.
Sincerest regards,
Conor & Devin (Devin Whitford)
Beta Manager
Lily Robotics, Inc."[/perfectpullquote]
Legal action against Lily…
CNET have reported that the San Francisco District Attorney office warned the Lily management team on the 11/01/17, one day before Lily shut their doors, to respond to communicate with customers. It has been suggested that legal action will now commence following months of investigative work.
On Thursday, a civil-law enforcement action and temporary restraining order was issued by the San Francisco Superior Court, demanding repayment of $34m distributed to the 60,000 invested Lily customers.
[perfectpullquote align="full" cite="" link="" color="" class="" size=""]"It does not matter if a company is established, or if it is a startup, everyone in the market must follow the rules. By protecting consumers, we protect confidence in our system of commerce", San Francisco District Attorney George Gascón's office[/perfectpullquote]
The charges related to 'false advertising', misleading customers with a promotional video utilising images not captured via a Lily.
Attorneys for the company and prosecutors are scheduled to meet in court on Jan. 18.
What did customers miss?…
To try to understand why so many customers invested in an idea which struggled for viability from the outset, lets take another look at the impressive but misleading Lily promotional video posted to accompany their pre-order campaign:
The video is impressive and hence its 12m views, but look deeper and you can see the false-marketing perpetrated here. The promo was not filmed with a 'Lily' because Lily did not exist at the time. A prototype was demoed to a select number of tech-magazines during launch but the demos were unimpressive, the unit did not respond as expected and no video was provided from any such demo.
Lily are responsible for misleading customers into their investment, the promotional video does not at any point state that the video was not filmed using an actual 'Lily'.
[perfectpullquote align="full" cite="" link="" color="" class="" size=""]According to one customer, 'Kelly Coyne' (Head Of Communications for Lily) had commented to them that the Lily promo had actually been shot using a DJI Phantom…[/perfectpullquote]
From the outset DroningON had predicted that the Lily project would have fundamental issues due to design decisions which complicated the concept greatly but we had hoped that Lily would listen and take on-board our constructive criticism. During communication silence, we correctly reported just a few days ago that Lily may be on the verge of collapse.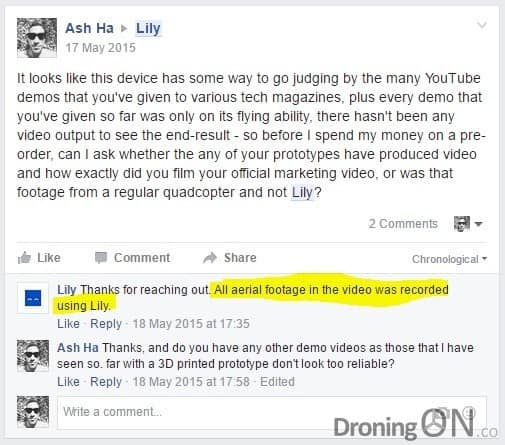 Customers in search of information and discussion joined several Facebook Groups but some were banned and removed for posting constructive criticism against Lily. Back in February we attempted to ask key technical questions of Lily staff whom had also joined the discussion group but the group owner did not agree with such questioning and deleted our posts before Lily could respond.
Avoid such discussion groups, free-speech and constructive questioning should be encouraged to ensure that customers are fully informed and able to speak freely.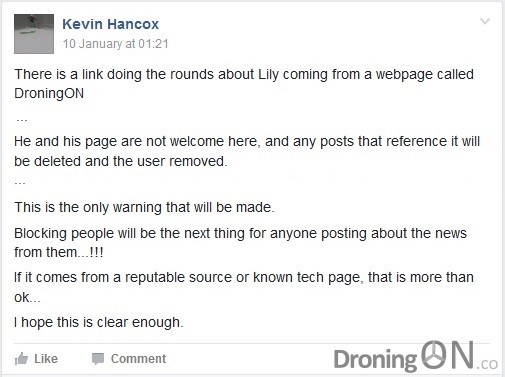 Pre-order/crowd-fund drone campaigns…
The failure of recent projects such as Pocket Drone, Zano and now Lily must serve as education for customers. Do not part with your hard-earned cash and instead let the dreams be pursued by venture capital organisations as they can afford to lose the investment, whilst most customers cannot.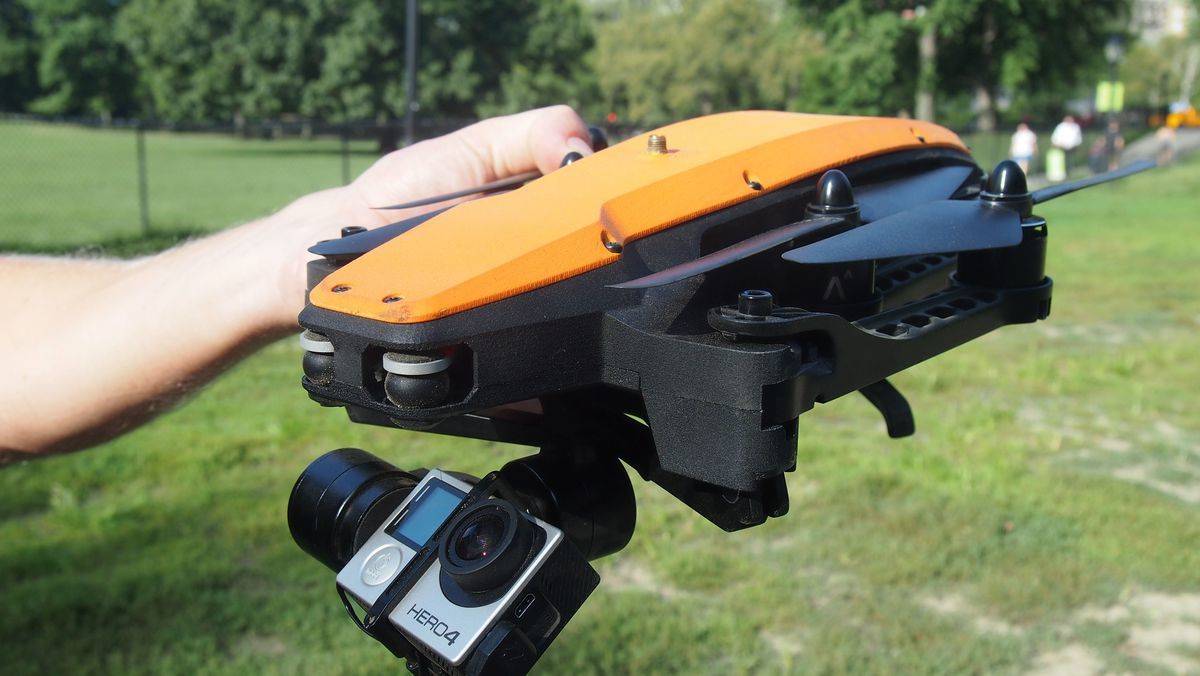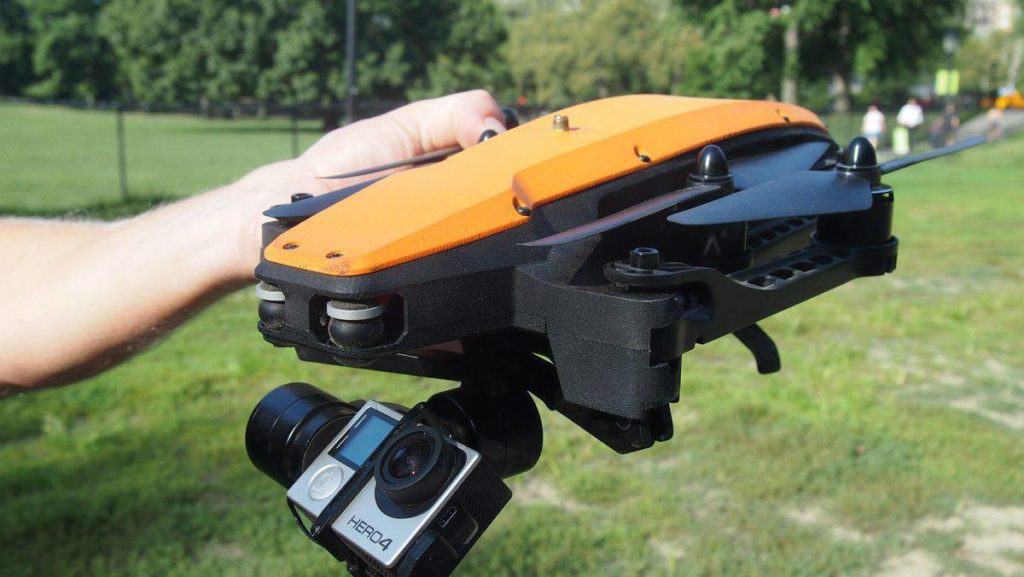 Current pre-order drone projects such as Snap from Vantage Robotics and Staaker also at this time face 6-12 month delays and may indeed be the next in a growing line of drone disasters although it has to be said that we believe the Snap concept to be viable and DroningON hope to see the project succeed, despite delaying significantly from their shipping date of July 2016.
For customers with a pre-order investment in either of the above, consider whether you can afford to lose that investment should the worst scenario occur.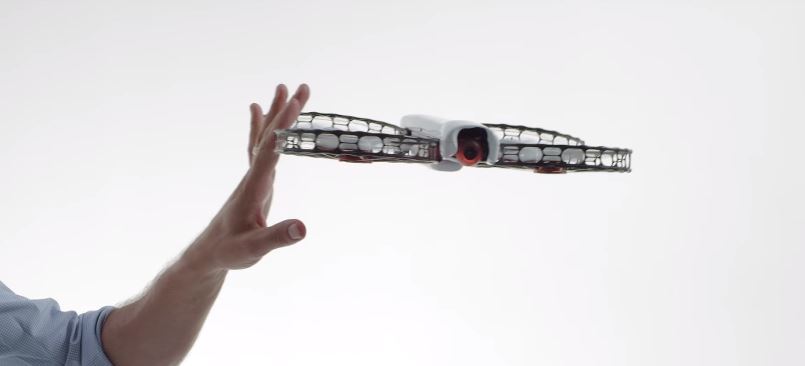 As a new drone customer, buy your products off the shelf and choose trusted manufacturers whom have proven themselves, evolved their product and software, and have delivered in the past.
The Lily concept was a pretty one and even today there is not a drone on the market which can offer a waterproof tracking bracelet, minimal end-user interaction to get it flying and a waterproofed shell. But these three positives were far outweighed by the negatives and it is only a matter of time before the market shifts to deliver the above in other drones.
We are sad to see so many customers disappointed once again by an overly-optimistic campaign led by false-marketing, but hope that this time lessons are learnt to avoid the drone dream and instead to pursue products which are already a reality.
---
Join the DroningON Discussion Group where our members (including ex-Lily customers) will assist, recommend and discuss drone products with you to find the right fit.