Lily have just today received USA authorization in response to their FCC application but to this date there is still minimal communication from the company whom have now kept their loyal customers waiting for almost 12 months.

The two FCC authorizations granted for the drone and tracker devices are key as Lily would not be permitted to ship or be used within the USA without it. Just today the applications, which were submitted three weeks ago, have been approved.
However, at this time there is no confirmation that any international applications have also be filed or approved, this is critical to ensure that the product can be shipped to those respective countries as well.
[perfectpullquote align="full" cite="" link="" color="" class="" size=""]"In order to focus 100% of our efforts on delivering your pre-orders, we will be ending our pre-order campaign on Friday, October 7th at 12:00 PM PST. Our web store will re-open in 2017. So close! We can't wait.", Lily, October 5th 2016[/perfectpullquote]
Filed by 'Mr Antoine Balaresque' named as the CEO of 'Lily Robotics', the testing was conducted by a Chinese firm called 'CERPASS TECHNOLOGY (SUZHOU)CO., LTD', based in Jiangsu (China). The application incorporates some early virtual illustrations to reveal what might be Lily's final design.
Code-named 'Woodford/Orchid' (the drone) and 'Asahi/Tulipa' (the tracking bracelet), the illustrations provide detail for the location of the FCC approval stickers.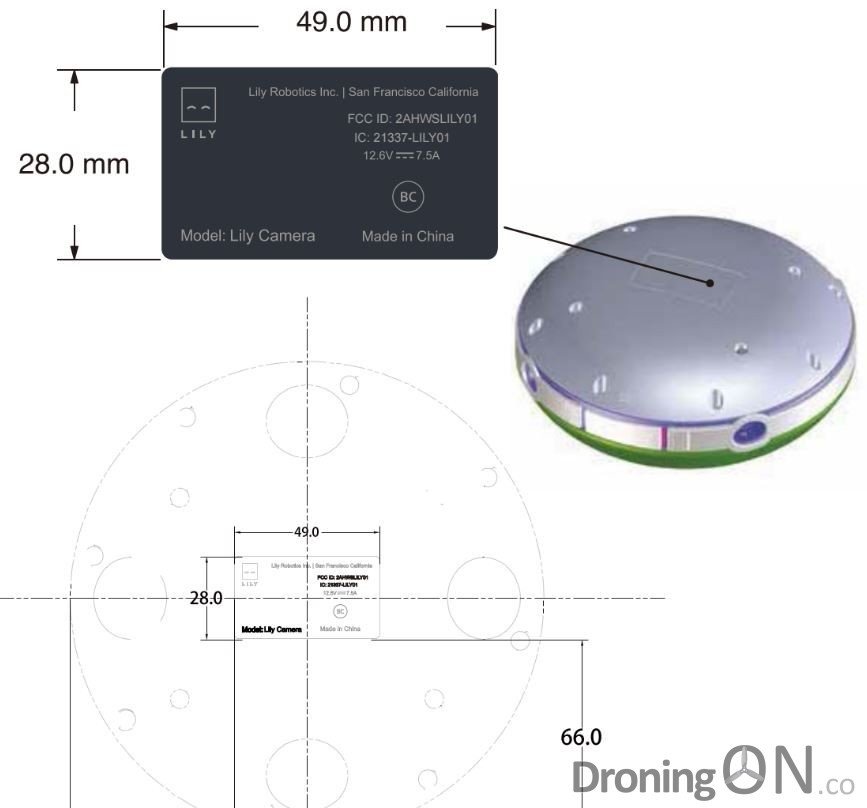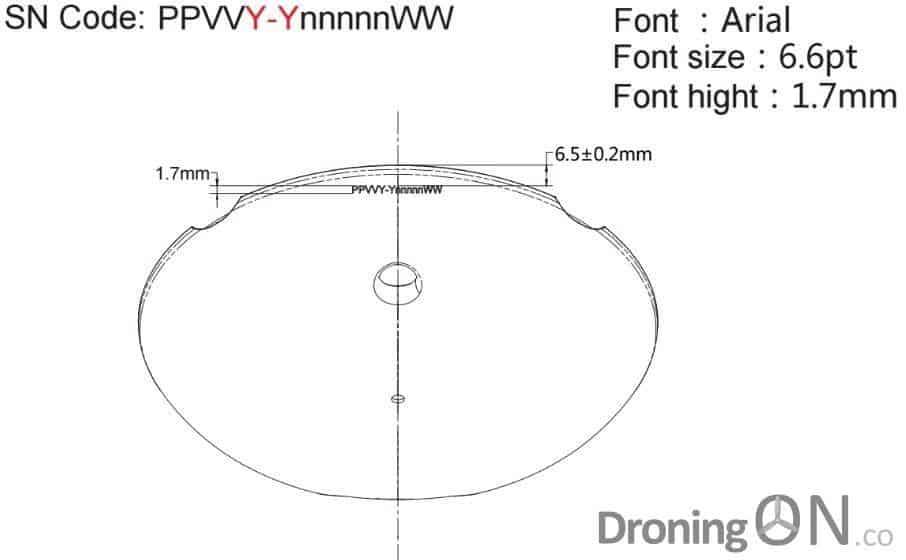 Images for the FCC sticker are also provided for the tracking bracelet although detail is very basic and so the look, feel and design of the tracker is not exposed.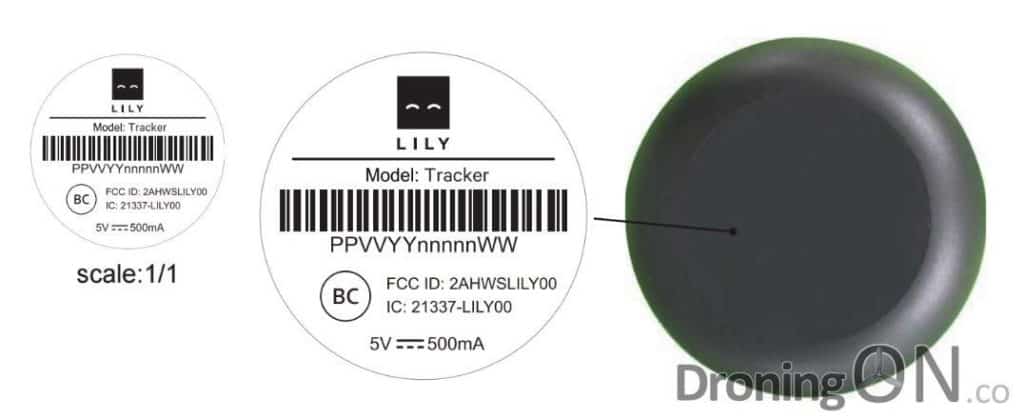 The option for confidentiality of the application was selected by the applicant, signed by the CEO for Lily. This confidentiality clause prevents any photographic, setup or instruction manual content to be released to the public until the date designated within the application of "05/30/2017".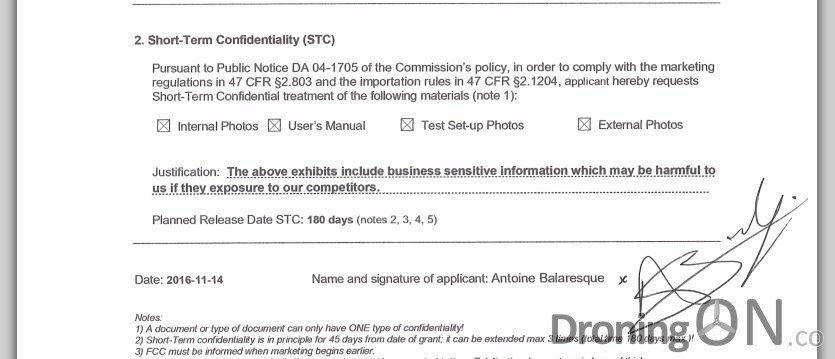 The application also provides the name of the chosen Lily hardware manufacturer, also based in China. Weifang Goertek Electronics were established in 2004 and have been previously associated with the manufacturer of headphones and audio devices, more recently their focus has been on the production of electronic and smart gadgets.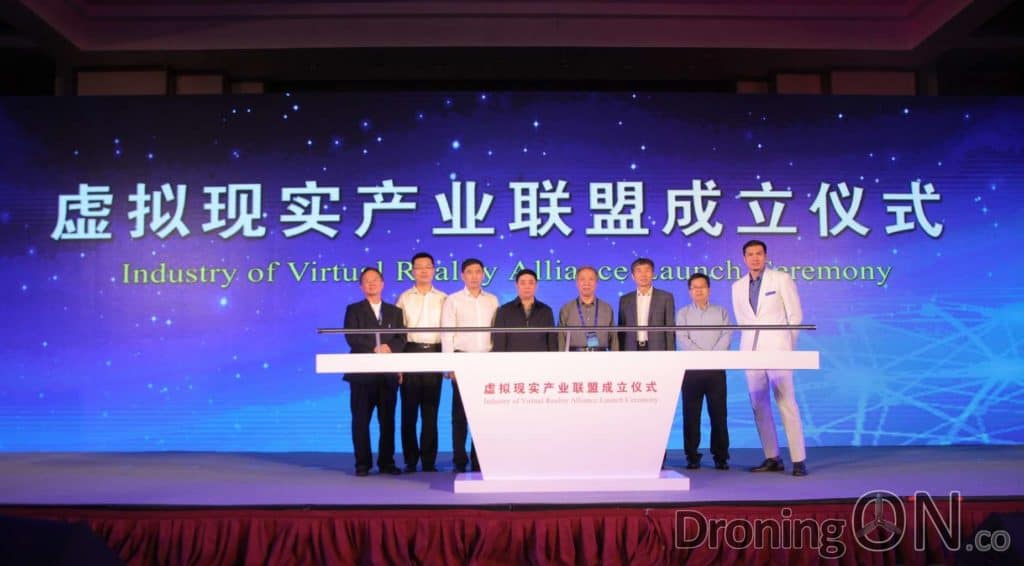 The above may help to reassure customers that the technology is indeed real, but an FCC application only validates the radio emitting elements, it does not demonstrate that Lily is flyable, autonomous, viable nor that the app is ready/working or that the camera is truly capable of 4k now (as recently rumored).
Communication from Lily has dried up in the past months, their 'Updates' feed is maintained on a daily basis but only with minimal information, their Facebook page has been left dormant for the past two months without an update since.
Their pre-order campaign online has now closed and customers have been left wondering if and when they will see their Lily.
DroningON approached Lily to ask for comment, updates and interview in order to reassure DroningON members that have invested in Lily. Unfortunately Lily declined, asking us instead to approach them again in 2017. We have previously aired caution with regards to this campaign and our re-approach to Lily was one of sincerity, on behalf of our invested members.
[perfectpullquote align="full" cite="" link="" color="" class="" size=""]"Dear Ash, Lily is continuing in our engineering development and test efforts. Please contact us early in the coming year with your request. Thank you," Mike Madeleine (Lily), 9th Dec 2016[/perfectpullquote]
The refund policy continues to extend to all Lily customers and no doubt Lily have suffered greatly financially as a consequence of announcing delay after delay. It is unlikely that Lily would still be viable as a company if they had not received their early $15m investment equity which supplemented their customer-backed preorder capital (approx $34m in 2015).
We just hope that 2017 will bring positive news to the many thousands of backers for this optimistic but now potentially outdated campaign. We hope to be proven wrong with our speculation that Lily is no longer a viable competitive product in a swamped drone market.
You can review the FCC application and approval in full via the following link: https://fccid.io/2AHWSLILY00.
---
Have you invested in Lily and what are your thoughts concerning the shipping delay? Be sure to comment below, also join the DroningON Discussion Group to chat with fellow Lily backers.