Page 6: Scores and Conclusion
Scores and Conclusion
With the analysis completed, it is time to see how the competitors did in comparison.
It is important to highlight that DroningON has not tested any of these drones directly and consequently this article is a 'best efforts' attempt to bring together specifications for comparison. Please do alert us to any mistakes or omissions by using the comments section below.
Also note that any current press/media tests of the pre-order campaigns (Lily, Staaker and Snap) have been based on prototypes, they are all still yet to deliver a production model which may not live up to their commitments.
Full Comparison Matrix
The purpose of this comparison is to assess the overall value for money of each drone package, using the base price as a comparison. The higher the score, the better the drone: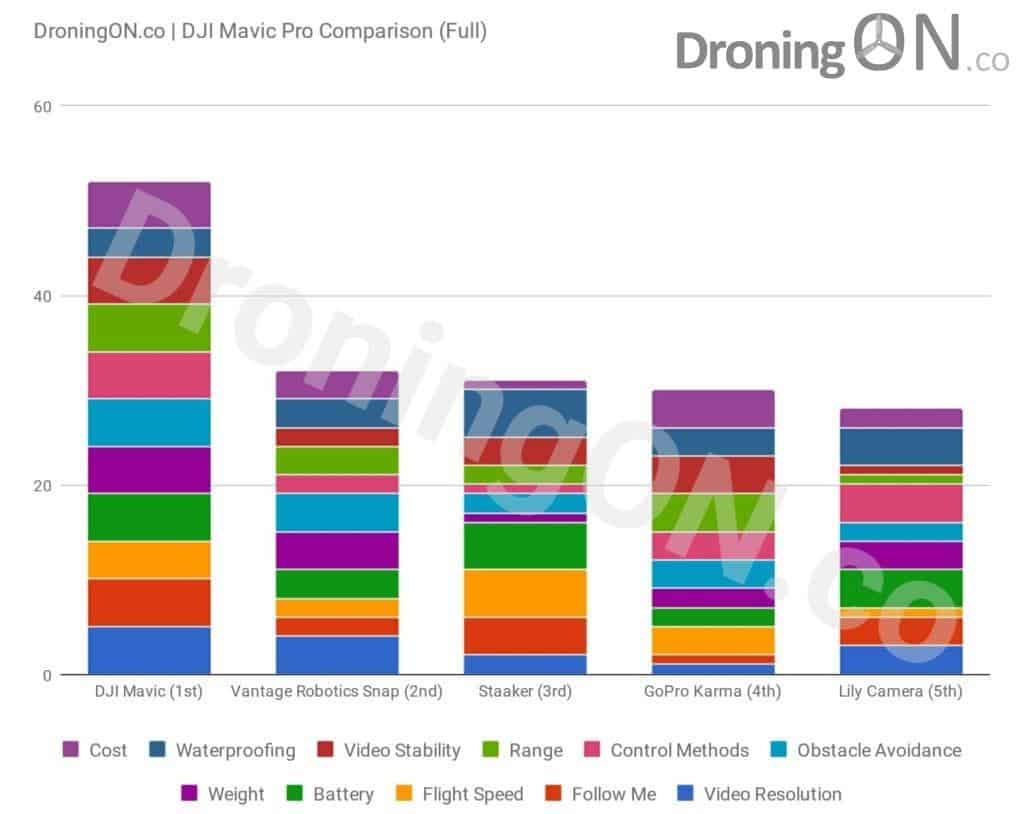 The DJI Mavic wins the assessment based on price, features and other aspects. Snap from Vantage Robotics comes in second followed by the two drones (Staaker and GoPro Karma) which do not natively include inbuilt cameras, due to this they score fairly badly in this round, the assumption with Karma is that most will use their existing Hero4 camera.
In last place is Lily, as one of the older campaigns the technology provided simply cannot compete with modern campaigns. Whilst it excells in waterproofing, the negatives outweigh the positives with its inbuilt, non-mechanically stabilised, low resolution (1080p) camera, plus internal non-removable battery, short flight time and unknown battery replacement process.
Comparison Excluding Camera
On the basis that neither Staaker or GoPro Karma ship with a fixed inbuilt camera, here is a comparison with that element removed from the comparison: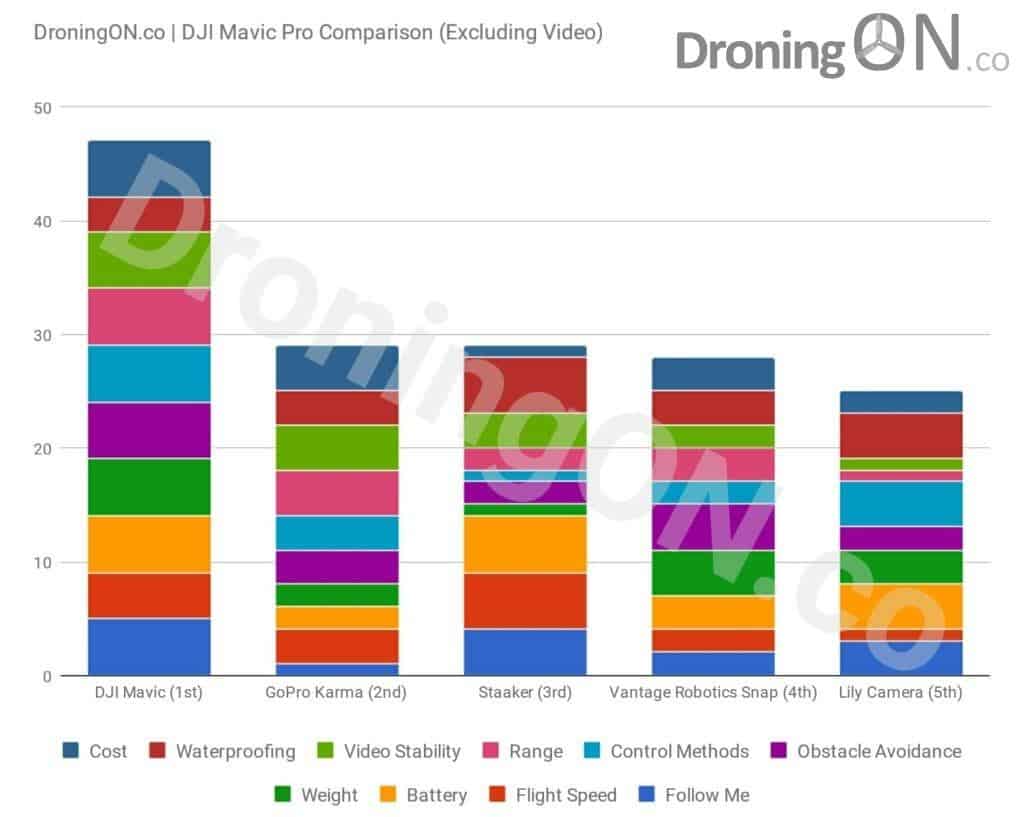 With consideration of the camera removed, Snap from Vantage Robotics moves down into 4th place, this is because the addition of a Hero5 to both the GoPro Karma and Staaker would provide superior video due to its additional EIS. In addition, the 3-Axis gimbals of these two drones vs the 2-axis gimbal of Snap is a major advantage.
The DJI Mavic still holds the top spot whilst Karma now draws with Staaker, largely due to the low cost of Karma and moderate functionality compared to the high cost of Staaker but limited functionality/features.
Lily remains in last place because despite its incorporated camera, a maximum 1080p resolution together with EIS alone cannot compete across the complete assessment criteria elements.
Comparison Excluding Camera and Cost
Finally, on the basis that these drones are similar in price but not quite the same, this final analysis removes consideration of both camera and cost: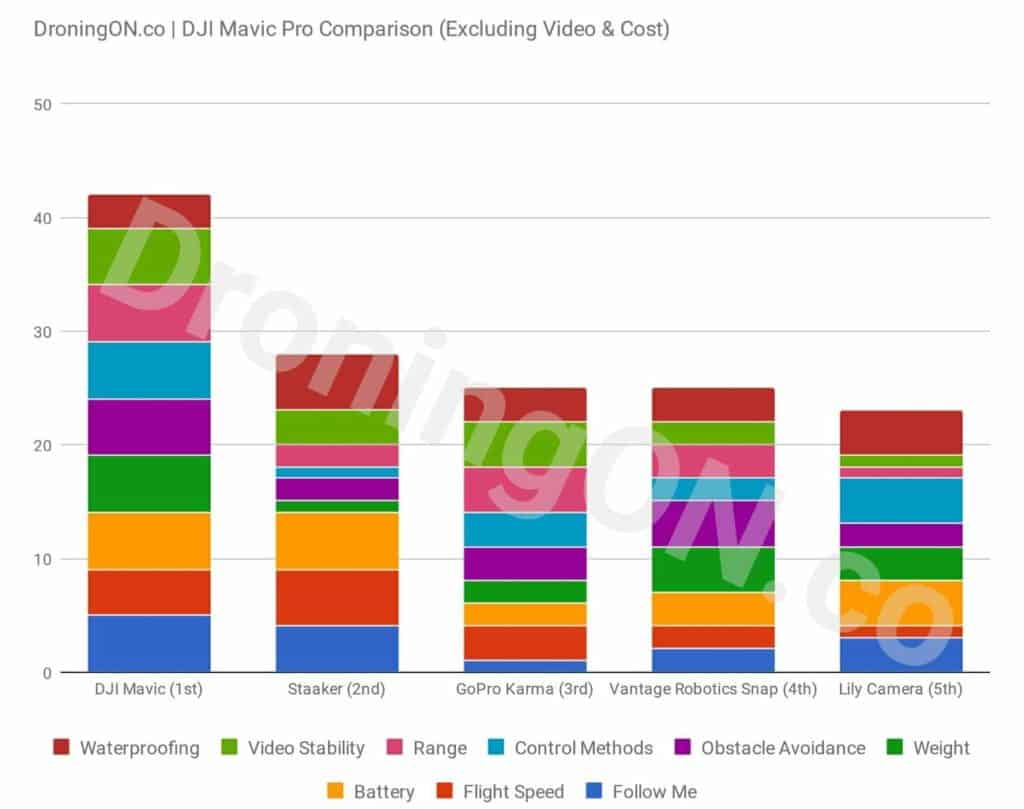 In our earlier article concerning Staaker, we wrote about the excessive cost of this drone, the figure used for this analysis is actually only a a proportion of their published RRP selling price of $1,795 (yes seriously, not a typo) and consequently the above final analysis was really for Staaker who now move into 2nd place.
DJI Mavic still sits in 1st place with the GoPro Karma now skipping back into 3rd position, largely due to limited feature set and a missing 'Follow Me' feature.
Snap slips to 4th and Lily remains in last place.
Conclusion
The DJI Mavic, as mentioned by us in our previous article, is a game changer and as such wins this comparison without struggle. It is a superb piece of kit and inclusive of features and practicality to appease almost all consumers.
Early reviewers complained of poor video quality and sharpness but this has recently been highlighted as 'user error' rather than physical limitation. Of course Mavic is yet to be truly tested by customers but DJI are on a roll with the Phantom 4, Osmo and their constant innovation.
For the four campaigns which remain, a turbulent few months may be ahead, particularly once Mavic is shipped in October and the real-world customer reviews start to appear.
Ultimately the decision is down to the consumer, if you need tracking at 50mph/80kph then Staaker is your only option, if you need a fully submersible drone then Lily is your choice, if you're happy with basic functionality but the perk of a stabilised selfie stick them consider Karma and if a modular concept appeals then Snap might be for you, but remember that the niche positives are coupled with a pile of negatives which should be carefully considered before handing  over your hard-earned money.
---
Page 6: Scores and Conclusion
---
Have you invested in or pre-ordered any of the above? We would love your comments and feedback as well as highlighting any errors or omissions contained within this article. Please also join our official DroningON Discussion Group to join the debate!