Page 4: Control Methods, Range and Video Stability
Control Methods
1st. Mavic: Transmitter and/or Smart phone
2nd. Lily: Tracking Bracelet and/or Smart phone
3rd. Karma: Transmitter
4th. Snap: Smart phone or Bluetooth Controller
5th. Staaker: Tracking Bracelet
Mavic wins this category due to its flexible variety of control methods. Not only does it come with a fully functional transmitter which can be used standalone to control Mavic, but attach your smart phone to it and the advanced control options are opened up. You can also even leave the Mavic transmitter at home and control the drone with your smartphone only (with limited range as this mechanism uses WiFi).
Lily provides a tracking bracelet and a comprehensive app therefore giving moderate control options and effective tracking
Karma provides a clever all-in-one transmitter with inbuilt screen, folding into a single clam-shell design, in addition additional devices can be chained to the Karma Transmitter to allow simultaneous viewing and control of the gimbal whilst the pilot flies.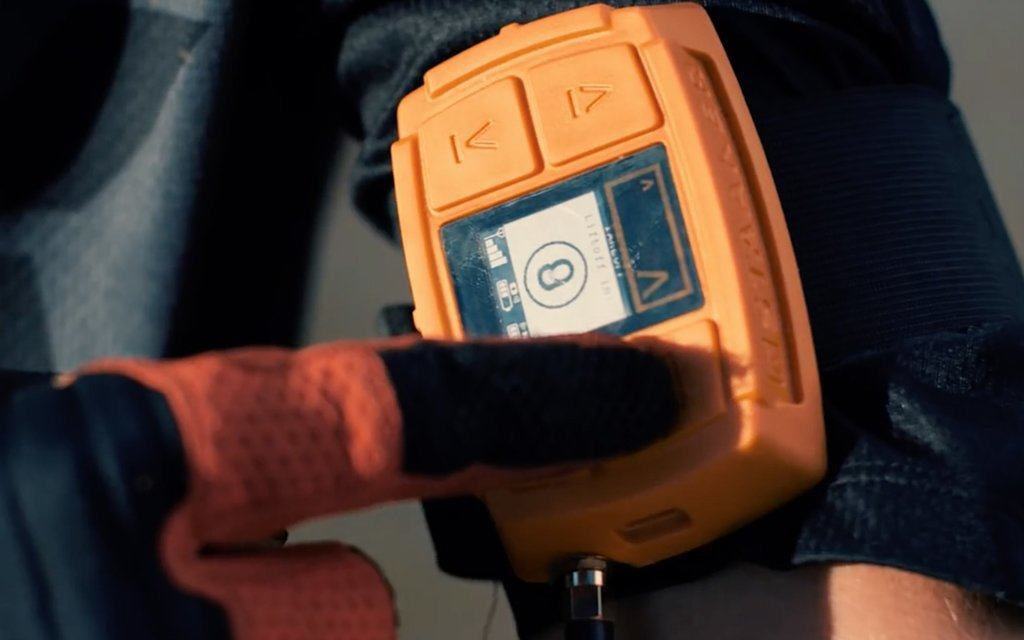 Snap which at its list price only provides smart phone control which is severely limiting. A Bluetooth controller can be paired with the phone but latency would be frustrating, as would shortened battery life of your smart phone. Snap state that they offer DSM connectivity (Digital Spectrum Modulation) via a regular transmitter but this has complications which are described below.
In last place is Staaker which provides only a tracking bracelet with no accompanying app, this dramatically reduces the options for control of the aircraft. In addition, Staaker is the only one of the five which does not provide a live preview, therefore you can only tell whether the footage is decent after you have landed.
Winner: DJI Mavic
Biggest Loser: Staaker
Range
1st. Mavic: 7,000m / 4.35 miles
2nd. Karma: 3,000m /  1.86 miles
3rd. Snap: ~100m (Wifi)
4th. Staaker: 50m / 165ft
5th. Lily: 30m / 100ft
Range is important, not for 'distance records' but specifically for strong signal during flight, 'Phantom 3 Standard' owners know too well the frustrations of limited range with a drone capable of so much more.
The Mavic introduces a new LightBridge replacement called OcuSync which gives an impressive 4.3 mile range (7km) via the compact transmitter. But an added benefit is that if you've forgotten the transmitter, flip a switch on the side of Mavic and you can use just your smart phone alone, with limited range of course as it uses WiFi but this is still a great flexible feature.
Karma initially quoted a maximum quote of only 1,000m but have since updated their specification to suggest a "Maximum Distance" of 3,000m.
Staaker and Lily have proprietary tracking bracelets which remove dependency on a smart device, but they are software limited to fly no further away from the pilot than 30m (Lily) and 50m (Staaker). These two drones are primarily designed for autonomous 'follow' and not for aerial photography flights, therefore this could be deemed acceptable but the limited range will frustrate some.
Snap natively utilises WiFi only and so range is constrained to around 100m although range is heavily dependent on the smart phone being used. Vantage Robotics offer DSM connectivity using a conventional transmitter (not included) but you will need to buy an additional WiFi extender to extend the live video feed.
Drone users want reliability, convenience and do not want to have to carry additional accessories such as WiFi extenders which also need powering. Smart phone control is also notoriously clunky and frustrating, consequently these limitations put Snap in last place.
Winner: DJI Mavic
Biggest Loser: Vantage Robotics Snap
Video Stability
1st. Mavic: 3-Axis Gimbal + EIS
2nd. Karma: 3-Axis Gimbal
3rd. Staaker: 3-Axis Gimbal
4th. Snap: 2-Axis Gimbal + EIS
5th. Lily: EIS only
Stability of video is critical for extreme sports where where the movement of the drone is extreme to keep pace of the object being followed. The better the stabilisation technology the smoother the movement of the video.
3-axis mechanical gimbals are at this time the best way to achieve silky-smooth video, they compensate seamlessly across the movement axis (up/down/left/right/twist) to give stable video.
EIS (Electronic Image Stabilisation) is also improving dramatically, this is where video captured at a higher resolution is warped, cropped and zoomed to digitally remove movement but it has disadvantages as with it enabled the maximum capture resolution is generally reduced.  At this time, the end result with EIS is never as impressive as with a mechanical gimbal and artefacting is normally present in the end result.
Mavic combines both methods to provide smooth video whilst Karma and Staaker incorporate only the mechanical element, which is generally more than adequate satisfactory, however Karma scores slightly higher because if you purchase and attached a Hero5 camera then EIS can be enabled in addition to the mechanical gimbal. It is not known yet whether Staaker will support the new Hero5.
A key point perhaps missed by many Snap customers is that Snap features only a 2-axis gimbal, this means that movement is only stabilised on two axis instead of all three, therefore when flying in wind or when performing extreme direction changes, smoothness of video will be sacrificed.
In last place is Lily which features only EIS, this is a big problem. In wind or rough weather, the video will be excessively cropped and/or warped and zoomed leading to lower quality video.
Winner: DJI Mavic
Biggest Loser: Lily Camera
---
Page 4: Control Methods, Range and Video Stability