On the 14th June, Vantage Robotics announced that their long-awaited drone 'Snap' had started to ship to pre-order customers, but fourteen days later and Snap is still yet to make an appearance.
So where is Snap…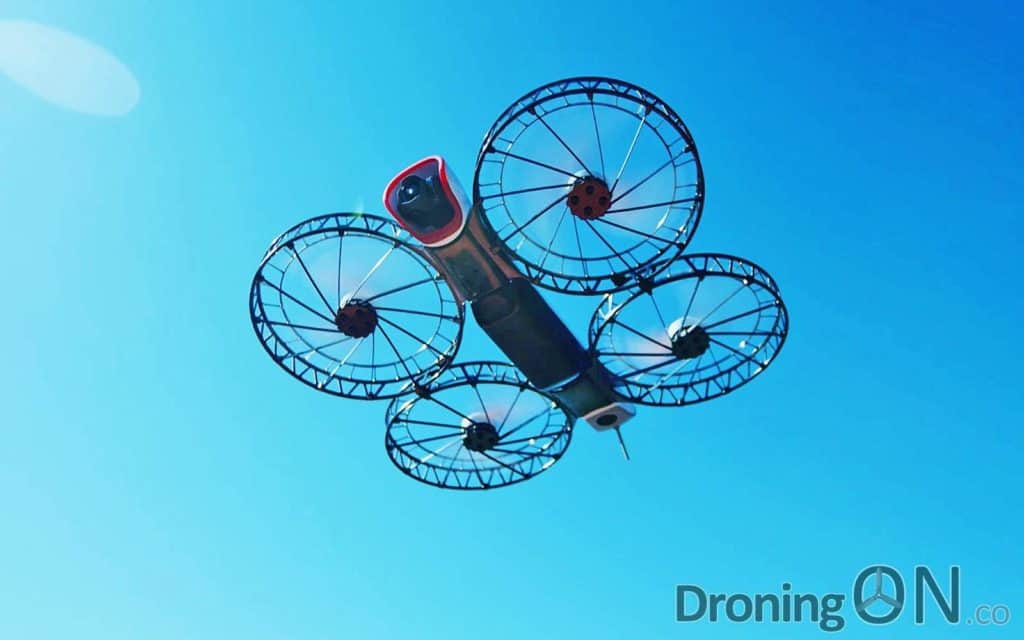 Pre-order customers for this innovative drone have remained extremely patient considering the multiple delays to the Snap development plan. The beta programme, conducted months ago under NDA, had finished and so the shipping announcement had appeared to be the real deal.
Two weeks since shipping was announced and members of the unofficial Vantage Robotics 'Snap' Facebook group are yet to confirm receipt of their drone. Only a single customer so far would appear to have a Snap, his comment posted as a comment on the Vantage Robotics blog:
[perfectpullquote align="full" cite="" link="" color="" class="" size=""]"Carl – June 22, 2017 at 3:22 pm: Just flew it a little, this is the first drone I have ever flown and I was very impressed with how easy it was to control and how stable it is. It held its position great in a 10mph wind. Current air temperature is 107 degrees Fahrenheit so I didn't want to stay out too long with it. I had no problem launching and landing by hand, it really was almost stupid easy."[/perfectpullquote]
The comment is not accompanied with evidence of video and nor does it contain constructive technical feedback which is surprising considering the two year wait for Snap. At this time, no YouTube or Vimeo posts have appeared either.
Why is Snap so late…
Originally due to have shipped in 2016, Snap is now almost a year late. During our exclusive interview with Vantage Robotics in March this year with Tobin Fisher (CEO), we asked for a realistic shipping date for production models.
[perfectpullquote align="full" cite="" link="" color="" class="" size=""]"We expect to ship productions units beginning in late April and complete pre-orders by the end of May.", Tobin Fisher, CEO, Vantage Robotics[/perfectpullquote]
May has passed and we are now almost in July with production shipping still incomplete.
Over the past 12 months, Vantage Robotics have blamed manufacturer and part-suppliers, as well as software and hardware issues for the delayed production.
Snap is no longer for sale…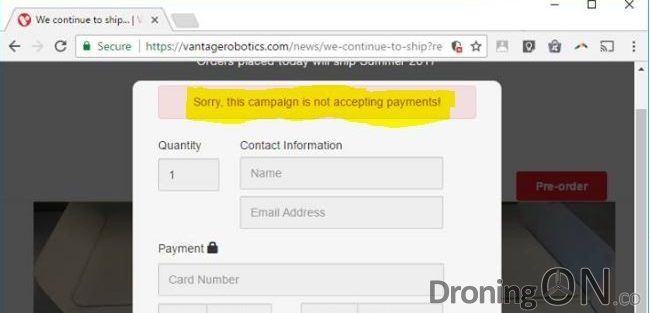 Vantage Robotics committed to cease their pre-order offer price on the 25th June, this has now been implemented and Snap can no longer be purchased via their website.
It is a surprising decision for Vantage Robotics not to have continued to retail their drone at a raised retail price, but this busy manufacturer might be trying to throttle sales in order to catch-up with the pre-order shipping process.
Snap shipping to US customers first…
There is however unfortunate and surprise news for existing pre-order customers, the wait will extend even further for those outside of the USA following confirmation, via a response on the Vantage Robotics Blog, that Snap is currently only shipping to US based customers (click to expand the image below).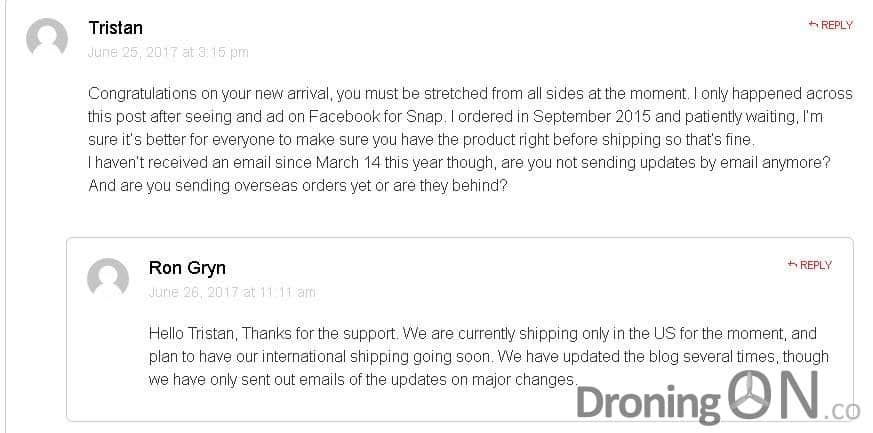 The initial blog post announcing the shipping exercise made no mention of geographic priority and this will deeply irritate many international customers.
A similar geographic priority for shipping was also used during the OnagoFly campaign, whereby the crowd-funded drones were shipped first (and only) to US customers. It was discovered shortly after that the first wave of recipients were unknowingly in a public beta, shipping to the US only allowed simpler returns.
Missing comments, and Android app…
At least four members of the unofficial Vantage Robotics Snap Facebook Group have expressed that their comments and questions, submitted in response to the Vantage Robotics blog posts, have been deleted and/or blocked.
Such behaviour is surprising as the team responsible for this drone have maintained transparency and honesty throughout the campaign.
The Android app is still yet to make an appearance, raising questions around how the beta testing could have succeeded without a functional or even partly-functional Android app.
On the 14th June, Vantage Robotics made the following comments in relation to the Android app:
[perfectpullquote align="full" cite="" link="" color="" class="" size=""]"The Android app still needs a few more weeks of test and debug and will be released thereafter."[/perfectpullquote]
But in February 2017, Vantage Robotics made the following statement as part of their 'End Of January Update' blog post.
[perfectpullquote align="full" cite="" link="" color="" class="" size=""]"Android is coming along well and will be ready to fly by the time we ship, although the full feature set may lag iOS just slightly."[/perfectpullquote]
Vantage Robotics would appear to have a deep project-planning skill-gap as they continue to fail in meeting timescales. For owners of the Android platform, customers will be unable to use their Snap drone, upon its eventual arrival.
Free batteries won't ship immediately…
In May 2016, Vantage Robotics apologised to customers for repeated delays and committed to provide all customers, that had ordered at that stage, with a free spare battery.
[perfectpullquote align="full" cite="" link="" color="" class="" size=""]"We understand that many of you have been eagerly awaiting your delivery and we hate to make you wait any longer. As a thank you for your patience, we will be shipping all pre-order customers a spare battery, so you can make up for lost time flying as soon as you get your Snap."[/perfectpullquote]
It is disappointing and unfortunately ironic that the spare battery, promised as compensation for delays, will not ship on-time and instead will follow at a later stage.
Is there any good news for Snap…
Snap does have real potential and we have tried to be positive about the campaign from the outset, despite numerous delays and an overpriced and non-competitive RRP.
Unlike DJI Spark and other recent pocket-sized drones, Snap can shoot stable 4k video together with its 2-axis mechanical gimbal, it is pocket sized and is extensible/modular.
We sincerely hope that Vantage Robotics can restore the transparency and honesty which attracted customers initially, only by doing so will they retain the pre-orders which financially are no doubt sustaining the company, despite significant overrun in project time.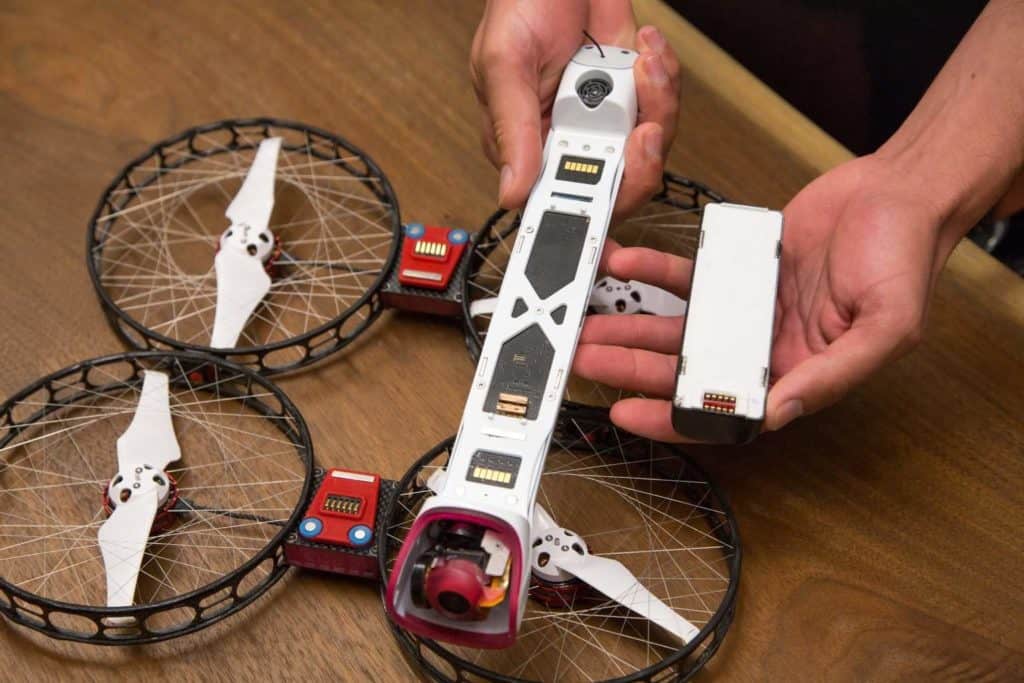 Are you a Snap customer, have you received your drone or are you still waiting? What are your thoughts and are you happy to wait? Comment at the base of the article with your thoughts.
---
Be sure to join the DroningON-endorsed Unofficial Vantage Robotics Snap Facebook Group for the latest news and information.