Snap from Vantage Robotics has travel and drone enthusiasts excited, but scheduled to deliver in Spring 2016 it is now almost a year late and tensions are rising within the pre-order community.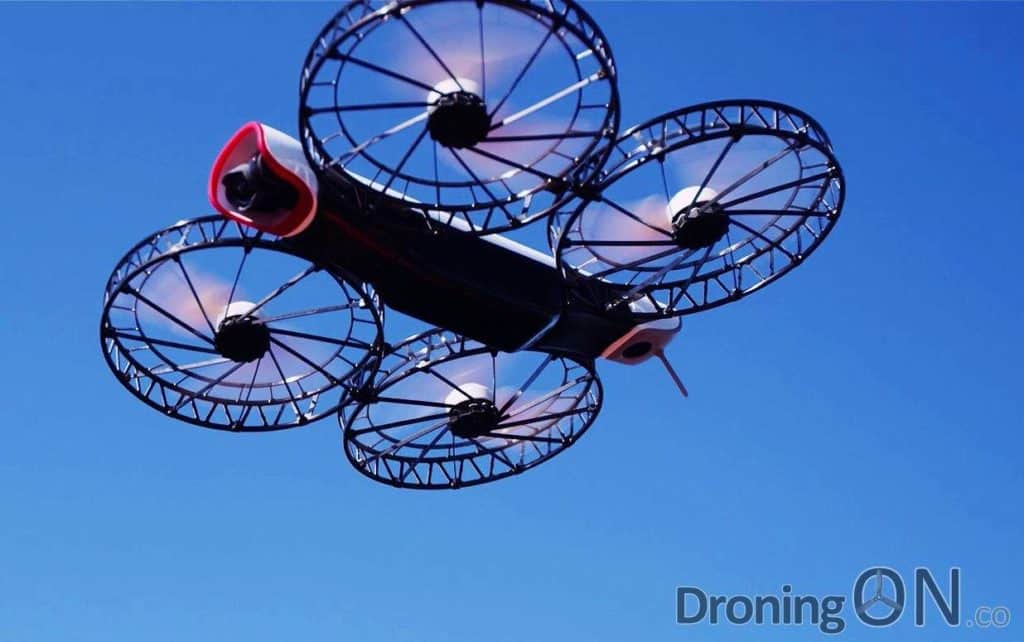 According to 'Inverse.com', Snap has also recently been tested with 'cannabis dealers/smokers' in San Francisco but such reporting is of little consequence to pre-order customers whom simply wish to know when their Snap will arrive.
A recent blog post from Vantage Robotics has demonstrated positive progress with multiple raw videos showing the technical capabilities of Snap, but DroningON still had a few additional questions concerning the project and fulfilment process.
We decided to gain clarity on why Snap has been delayed, how the team are managing expectations and also for an insight into what might be next from this ambitious company, especially following their success during the Necker Island 'Extreme Tech Challenge' competition, run by Richard Branson.
Tobin Fisher, Vantage Robotics CEO, generously gave us some time for a short interview, be sure to comment at the base of the article with your thoughts.
---
ASH (DroningON): Hi Tobin, thanks for taking the time for an interview with DroningON. Snap is now 7 months late, are you confident that Snap is still competitive and unique?
TOBIN: "Yes. Here are a few reasons why:

Snap is the only high performance flying camera in the world that can be safely used around people. This completely changes the video one can capture, the range of places one can fly, and the experience of using a flying camera.
Snap's safety enables a broader range of much more interesting tracking shots. It is dangerous to let any open-bladed quad fly itself around people, which severely limits the potential of using competitive drones for tracking shots.
Snap is extensible. In the future we will release modules that will allow Snap to fly silently, fly for over 1 hour, or fly 60 mph. No other product in the world comes close to this.
Snap is easy. Most high performance flying cameras are designed for hard-core hobbyists who are used to complicated interfaces. We've designed Snap for people who care about capturing spectacular video, not studying user manuals and mastering intimidating interfaces."
ASH: What is your current realistic date for arrival of a Snap drone on the doorsteps of customers?
TOBIN: "We have been shipping beta units for the last 3 months. We expect to ship productions units beginning in late April and complete pre-orders by the end of May."
ASH: How will the order date of customers affect when they are likely to receive their Snap?
TOBIN: "Shipping will be prioritized primarily based on order date. We have offered the earliest customers a place in our beta program."
ASH: In technical and practical terms, why has the project management of Snap failed multiple times to deliver to committed milestones?
TOBIN: "We have explained this in detail in our blogs, so I'd recommend your readers look there for the most detailed answer.

The short answer is that Snap is an exceptionally complicated product and requires the cooperation of a worldwide network of suppliers. Both Vantage and our suppliers have underestimated this complexity on multiple occasions, which has resulted in delays.

Notably, both DJI and GoPro have had similar experiences with their product launches."
ASH: Following multiple delays for the delivery of Snap to pre-order customers, how can customers be assured that Vantage Robotics will deliver a finished and polished product?
TOBIN: "We encourage all of our pre-order customers to regularly check out our vimeo channel (vimeo.com/vantagerobotics). On Vimeo you can see the latest videos from our development team— as well as our beta test team— and we hope that being able to see raw footage from Snap during the final development phases will put our pre-order customers at ease. Our team also tries to be thorough and honest in each of the blog updates that we post to our website.

Beyond those communication channels, we want to reassure our pre-order customers that  multiple investors and the entire XTC judging team have taken a very close look at Vantage and have chosen to invest millions of dollars and award us first prize in the XTC contest.

Snap exists, performs and is like nothing else in the world. We can't wait to get it into customers' hands, but will not do so until we are confident our customers will consistently have an amazing experience."
ASH: Have you considered compensating customers for their patience and loyalty in retaining their pre-order for Snap?
TOBIN: "We are incredibly grateful for the loyalty of our pre-order customers and hate stretching their patience. Our first and foremost compensation is working tirelessly to make the best possible product for them.

We announced several months ago that pre-order customers will be receiving a spare battery, valued at $100. In addition, they will receive a free carrying case, a discount off retail, and access to the first units available."

Snap from Vantage Robotics, being flown above water during beta testing.
ASH: Congratulations on your Necker Island event success, how has this event influenced, affected or improved the quality of the Snap product?
TOBIN: "Our win on Necker has already helped with fundraising, partnerships, and hiring, and we're only a couple months out.

Each of these elements are crucial to bringing together the best possible resources for Vantage to make the best flying camera in the world."
ASH: After Snap is delivered, what is next for Vantage Robotics?
TOBIN: "Vantage's primary focus will always be making it easy for people to create spectacular video.

We are especially excited about the potential for Snap as a tracking drone for capturing adventures.

We plan to release some amazing options for tracking as software updates through this spring and summer.

Our next step on hardware is shipping the additional rotor sets, the range extender, and a dedicated waterproof tracking beacon. These alternative rotors sets will enable customers to do things that have never been done with any consumer drone in the world before. The waterproof tracking beacon will continue to improve our tracking performance and be an especially good solution for water sports."
Thanks to Vantage Robotics for their time, openness and honesty, as well as for providing some photos not previously used or marketed before.
We hope to bring the latest news to the DroningON community as and when we can concerning Snap.
If you are a pre-order customer for the Snap drone, please comment below to let us know your thoughts on Snap and for the responses in the above interview.
---