We gave away a FuriBee DarkMax 220 to a lucky viewer a few months ago but now its time for us to publish our own review of this incredible quadcopter. With a great specification and loads of power, could this kill sales of the HolyBro Kopis 1?

Just 12 months ago, it was far easier and cheaper to build your own high performance quadcopter, but now products such as the DarkMax 220 and Kopis 1 have proven that RTF quads are viable and cost-effective.
Featuring 3K 4mm carbon fiber, the DarkMax 220 from FuriBee (GearBest own brand) includes the latest F4 flight controller platform with inbuilt OSD, VTX, current and voltage sensing and a 4-in-1 BLHeli 30A speed controller board.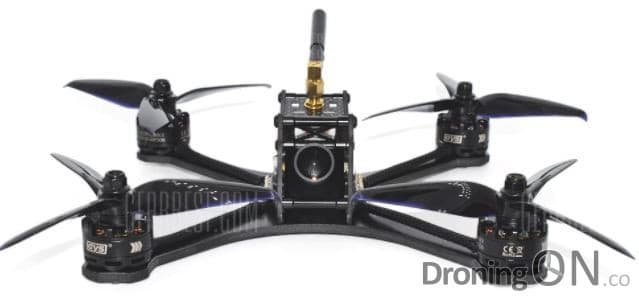 The included props are not budget either, two sets of aerodynamic Gemfan 5152 four-blades are thrown into the deal, which when attached to the 2550KV brushless motors make for a powerful drivetrain.
Watch our video review…
Be sure to SUBSCRIBE to our YouTube channel to be the first to watch our exclusive reviews of new drones.
Part 1: Unboxing, Inspection, BetaFlight Configuration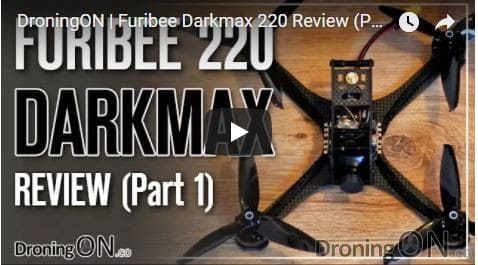 Part 2: Flight Test (attempt 1) – Faulty Flight Controller
Part 3: Flight Test (attempt 2) – LOS & FPV Test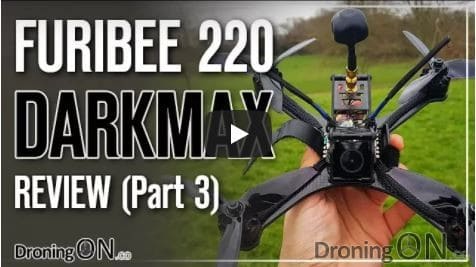 Where to buy…
The FuriBee DarkMax 220 is available only from GearBest where you can grab some discount by using the coupon 'rc18off' at checkout.
The positives…
❍ Solidly built and crash-proof
❍ Loads of power, well spec'd
❍ Includes good quality DYS winglet props
❍ Great camera and VTX with switchable power
❍ Simple design, flush underside, easy to repair
❍ Great value for good quality components
The negatives…
❍ Camera could be better protected
❍ FOV might be too wide for some
❍ Some do ship with faulty FC boards
Full specification…
The high-level technical specification for the FuriBee DarkMax 220 is as follows, based on their current published technical information:
Impact-resistant true X 3K carbon fiber frame with 4mm thick chassis, integrated sports camera mount
ARTOWER F4 PLUS flight control system with OSD, VTX, current and voltage sensor, 4-in-1 BLHeli – S 30A ESC
Efficient flight – DYS SR2205 2550KV brushless motor and the aerodynamic Gemfan 5152 four-blade propeller
960H CCD camera, easily accessible OSD menu, 135-degree FOV, 5.8G 48CH FPV within up to 600m range​
---
Be sure to join the DroningON Discussion Group for the latest news, reviews, exclusives and interviews from the drone industry.
---