Very few RTF racing quadcopters pass our review process without a fair but extensive list of negatives, but the HolyBro Kopis 1 might just be one of the first to leave us with nothing but praise.
Lets cut to the chase, retailing at just over $200/£215, the HolyBro Kopis 1 represents the best value RTF/BNF quadcopter available on the market right now (as of Oct 2017).
No compromise has been made in the design of this quad or in the selection of components for which it comprises. In addition, unlike RTF quads such as the Walkera range, the Kopis 1 does not incorporate any proprietary components.
The 5mm high-quality carbon frame is solid and yet lightweight, the RunCam Swift Mini camera is programmable and provides a lovely clear picture although the focus required adjustment on ours upon arrival.
The T-Motor brushless motors provide loads of power, they easily propel the quad with its 5mm carbon stretched frame into a sky-ward full throttle punch.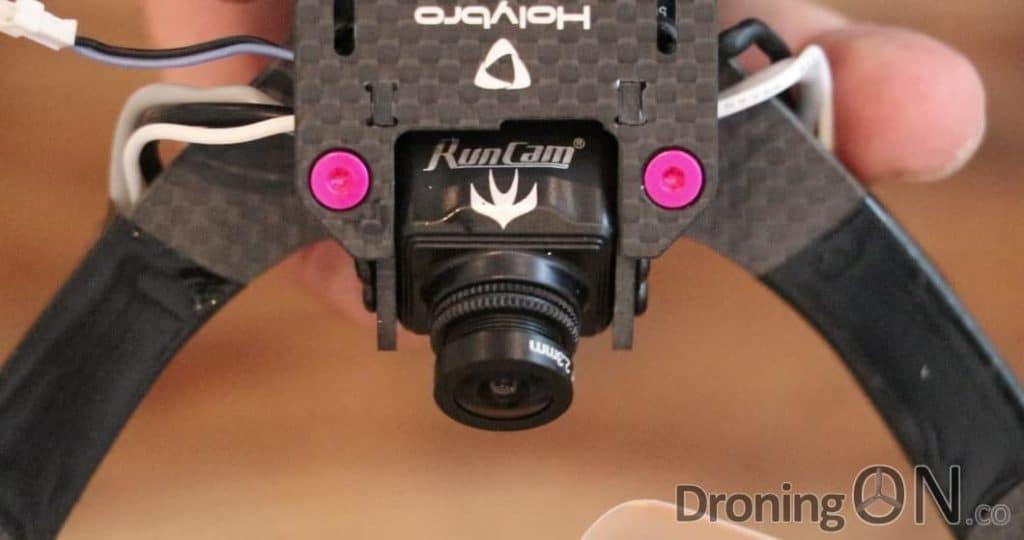 Watch our video review…
Be sure to SUBSCRIBE to our YouTube channel to be the first to watch our exclusive reviews of new drones.
Part 1: Unboxing, Inspection, Binding, BetaFlight, Setup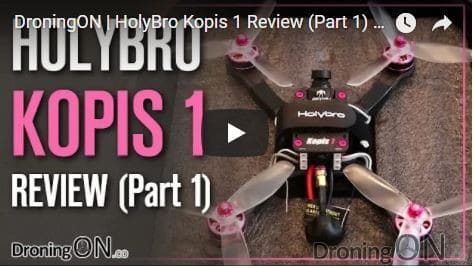 Part 2: Flight Test LOS (line of sight) and FPV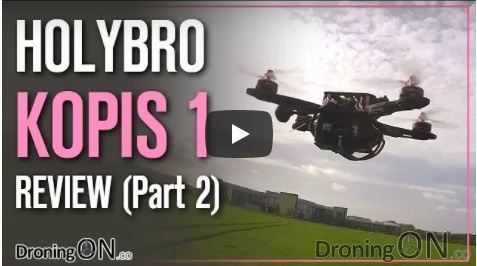 The positives…
❍ Truly great value, top quality components and build
❍ 5mm carbon frame, almost unbreakable
❍ Stretched frame makes LOS flight much easier
❍ No proprietory parts, all components are off-the-shelf
❍ Very detailed and informative online manual
The negatives…
❍ ESC wires are a little exposed/soft underneath
❍ ESCs would be better mounted on top of the arms, not underneath
❍ Doesn't seem to like high C batteries and causes FODs
❍ Camera is exposed against central impacts
Where to buy…
The HolyBro Kopis 1 shipped from GearBest, it arrived quickly and securely as you can see in our unboxing section of part 1.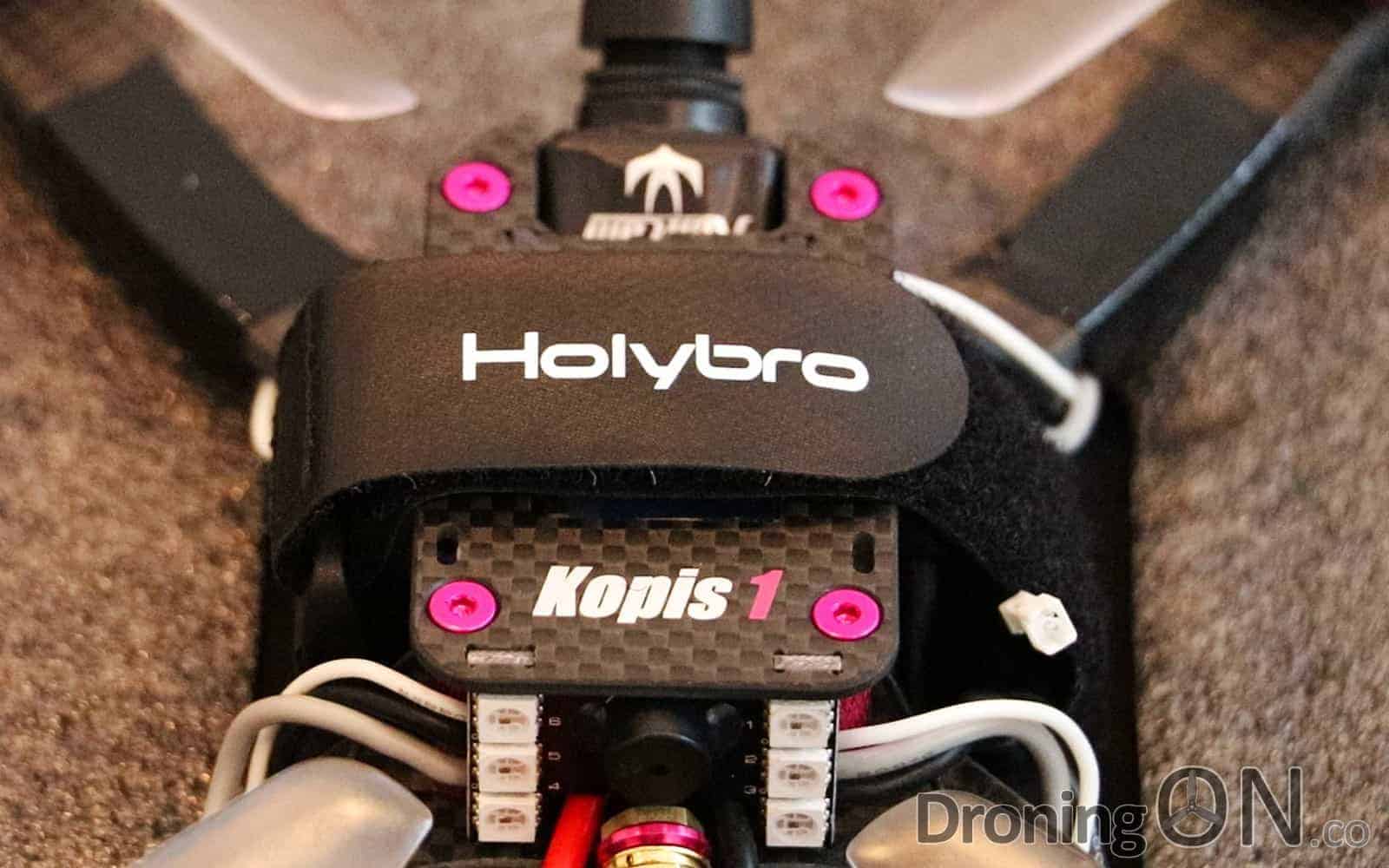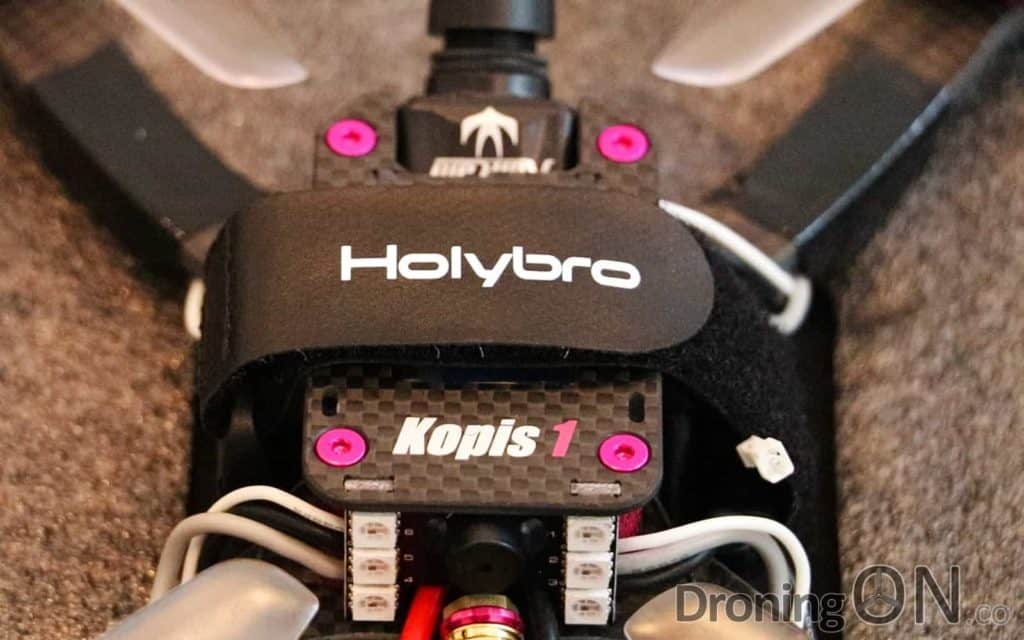 Full specification…
The full technical and components specification for the HolyBro Kopis 1 drone is as follows:
5mm Full 3K Carbon Fiber Twill
Counter-sunk screws for great appearance and smooth finish
KakuteF4 FC with soft-mounted gyro for great filtering of vibration
Betaflight OSD included. Monitor voltage and battery capacity in your FPV goggles. Change PIDs and Rates using your transmitter sticks
Atlatl video transmitter: 5.8 GHz, 40 channel, Transmit Power: 0.5mw(pit mode), 25 mW, 100 mW, 200 mW, 400 mW, 600 mW
MMCX Antenna connector for easy, secure connection. Won't break or come loose like the IPEX connector used on other vTX.
Control the vTX channel and transmit power from the OSD using your transmitter sticks. No more button-pushing.
Programmable LED board controllable in Betaflight. Buzzer included.
RunCam Swift Mini FPV camera, 1/3? 2.3mm lens.
Adjustable camera tilt from 0 degrees to 90 degrees uptilt.
Serial receiver supported (SBUS, iBUS, Spektrum). Legacy PPM and PWM receivers not supported.
---
Be sure to join the DroningON Discussion Group for the latest news, reviews, exclusives and interviews from the drone industry.