FuriBee are on a roll with new racing quad models arriving by the week, the Stormer 220 is their latest offering, an F4 equipped quad with average power-train but featuring OSD, buzzer and LED strip.
FuriBee racing quads have been a little hit-and-miss recently, plagued with quality control issues and occasional inconsistent technical specification, although generally we have been impressed.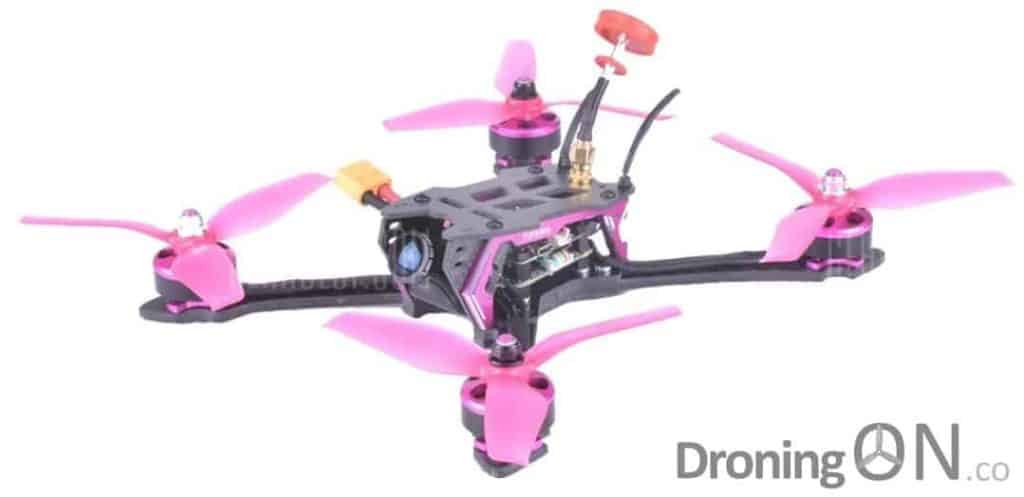 The latest model is a budget 220-class racing quad with a fairly decent specification, although lacking in the power department with given a 4s, we suspect that it would come to life with a 5s.
Ours arrived with the Serial RX misconfigured on UART 6 instead of UART 1, our video review shows the fix on how to solve this.
Watch our video review…
Be sure to SUBSCRIBE to our YouTube channel to be the first to watch our exclusive reviews of new drones.
Where to buy…
The FuriBee Stormer 220 and the FuriBee DarkMax 220 are both available to buy from GearBest via the following links:
The positives…
❍ Includes the brilliant FrSky XM+ receiver.
❍ Well built and feels pretty solid.
❍ Good quality camera and VTX.
❍ Includes F4 flight controller, buzzer and LED strip.
❍ Flies well, very smooth.
The negatives…
❍ Camera tilt mechanism doesn't secure very well.
❍ No flush-mounted screws on underside.
❍ Side-mounted XT60 is vulnerable.
❍ Not very efficient on flight time.
❍ Insufficient power on a 4S, needs a 5S.
❍ FrSky RX UART misconfiguration on some models.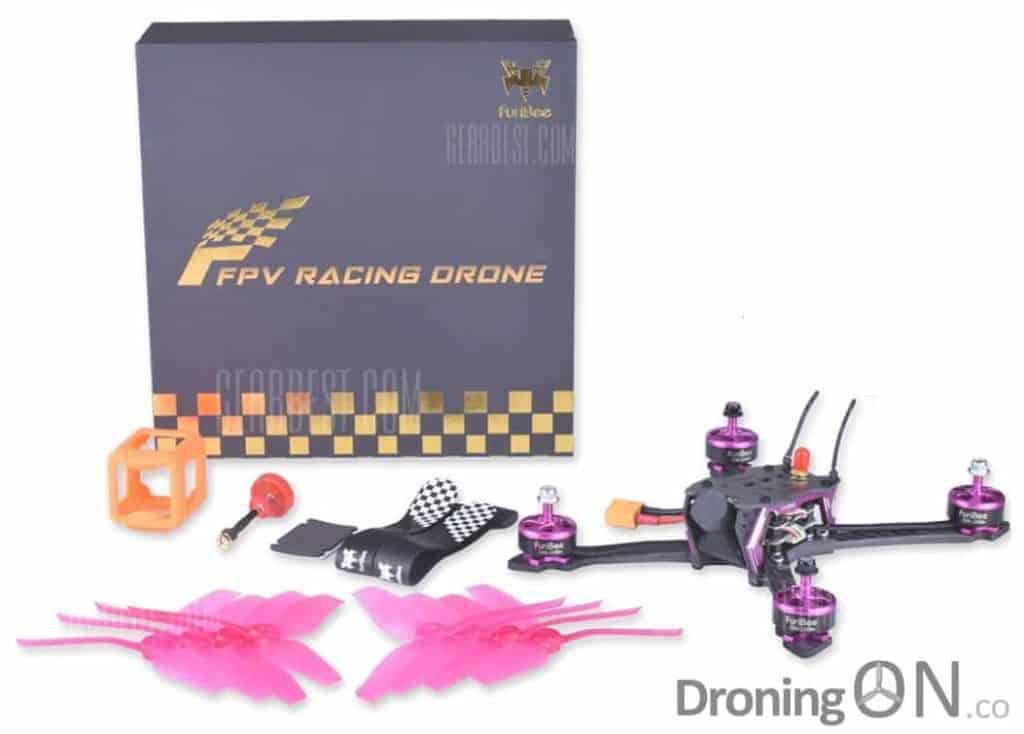 Full specification…
The full technical specification for this drone is as follows, based on their current published technical information:
 Specifications:
– Material: 3K carbon fiber frame
– Arm thickness: 4mm
– Wheelbase: 220mm
– Frame weight: 95gOmnibus F4 PLUS Flight Controller:
– MCU: STM32F405RGT6
– Motion processing unit: MPU6000
– Integrated OSD chip: AT7456E
– Video transmitter: 5.8G 48CH 25MW / 100MW / 200MW
– Image transmission: IPEX-2 antenna connector
– Receiver port: DSMX, IBUS, PPM, SBUS
– LED_Strip port: yes
– LED buzzer module: yes
– Voide INPUT port: switchable from 5V to battery voltage; default input: 5V
– Supported micro SD card: included
– UART3 ports: TX3, RX3
– LC filter
– Built-in 5V 3A BECElectric Speed Controller:
– 4 IN 1 BLHELI-S 35A 3-6S
– Communication protocol: Dshot, Oneshot, Multishot, PWM
– Firmware: BLHELI_S J_H_15_REV16_6Brushless motor:
– Mode: FuriBee 2308
– KV: 2200KV
– Input voltage: 3-6S
– Maximum pulling force: 1865gLED Buzzer Module
– Operating voltage: 5V
 Camera:
– FuriBee HS1177 2.5mm 600TVL
– Lens: 2.5mm
– Wide camera: 130 degrees
– Sensor: CCD 1/3 inches Sony SUPER HAD II CCD
– Resolution:650 tvl ( b / w ), 600tvl ( color )
– Minimum illumination: 0.01Lux
– Operating voltage: 5V-22V
– Operating current: 70mA
– Dimension: 25 x 25mm
– OSD menu: support
– Pixel: PAL: 976 ( H ) x 494 ( V ); NTSC: 768 ( H ) X 494 ( V )
– DNR: 2DNR
– WDR: D-WDR
– Power: DC5V – 22V
– Workplace temperature: -10 degrees to 50 degrees
– Working humidity: 20 to 80 percentAntenna:
– Frequency: 5.8G
– Impedance: 50 ohm
– Gain: 5dBi
– Maximum power: 50W
– Connector: RP-SMA male
– VSWR: less than 1.5:1
– Polarization: RHCP
– Radiation: omnidirectionalPropeller: 
– 5042 three-bladeReceiver
– PNP: no
– BNF: Frsky XM Plus Receiver
– 1.5km long-distance reception with dual antennas
– 16 channels available. Compatible with D16 mode transmitters
– Operating voltage: 3.7 – 10V
– Operating current: 30mA at 5V
---
Be sure to join the DroningON Discussion Group for the latest news, reviews, exclusives and interviews from the drone industry.