Snap drone has allegedly been shipping to patient pre-order customers since June 14th this year, according to Vantage Robotics (VR), but only one video so far has arisen which demonstrates the basics, however the video is not from a regular consumer.
[stextbox id='info']Join the Snap Discussion Group on Facebook for the very latest news and reviews for the Snap drone  https://www.facebook.com/groups/SnapDrone/[/stextbox]
Uploaded to Vimeo just 11 hours ago, this basic video shows the Snap drone being removed from the unsealed box and setup for flight. After snapping the drone together, connecting to its WiFi and launching the app, the owner gives the drone a short indoor test flight, although no video footage is shown from the onboard video, position hold nor other features of the drone.
The video is well rehearsed with minimal audio dialogue to accompany the setup, the drone has clearly already been in/out of the box a few times and the user is very proficient in its setup. The app is already installed on the users device, the battery is fully charged (unusual when shipping LiPo batteries), but all for good reason.
Unfortunately this is not a regular consumer, the owner of the video is a Vantage Robotics beta tester, contrained by what can be said and shown due to an NDA (Non-disclosure agreement). He has had his Snap drone for the last six months, assisting the manufacturer with development and testing.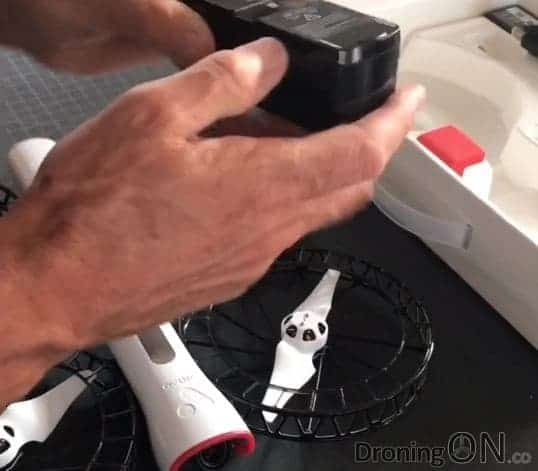 The user 'DJ O'Neil' states that he works for 'Hub Strategy & Communication', a design, advertising and media company based in San Francisco, just down the road from Vantage Robotics. He posted the video yesterday to the VR blog, with his accompanying thoughts.
[perfectpullquote align="full" cite="" link="" color="" class="" size=""]"Over the past (six) months of beta testing, I've been blown away by how freaking difficult it is to build a drone from scratch. The variables are INSANE. Each time I flew, I'd send the guys a note. Sometimes major things like: Snap took off just fine, but lost connection at after fifteen minutes and crashed into a tree (early days). And sometimes minor things like: when you accelerate forward fast, Snap dips a bit, and you have to add throttle, which also inadvertently adds yaw, which messes with the footage.
–
I had a million things; mostly nit-picky little bullshit things. But at every turn, I'd send a text or an email, and these guys would have a solid response. Almost always, they'd already found the flaw themselves and told me of the fix they were working on. Very few times did I point out something new to them. I was so impressed by how they were all over these problems (and continue to be).", DJ O'Neil[/perfectpullquote]
From the flight part of the video, is it clear that Snap is loud when in the air, flying a drone indoors will always produce increased volume when compared to flying outside, but the volume of sound from Snap is a surprise, likely due to the unique prop and cage design.
The ultrasonics from the underside of Snap can be heard working as a series of rapid blips in the video audio after the drone is powered up. The user also comments as follows.
[perfectpullquote align="full" cite="" link="" color="" class="" size=""]"I've got a ton of really nice footage I've shot over the past months; now I just have to get my 16 year kid to edit it and post it for me!", DJ O'Neil[/perfectpullquote]
Pre-order customers will be disappointed that the first video to surface, after a month of shipping, is a low-quality iPhone video of a rehearsed unboxing from an internal beta tester, instead of shots from onboard the Snap drone, or demonstration of the features that customers are desperate to see proven as working.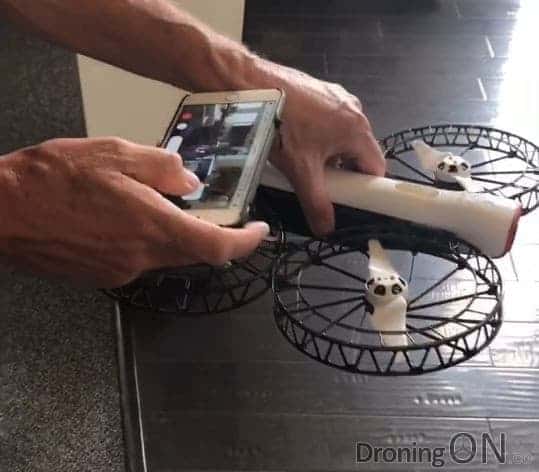 At this time it is unknown as to whether any Snap drones are out in the wild with regular consumers, if you are a customer and have received one, please let us know. In our earlier article we reported that Vantage Robotics had quietly announced that US orders would be fulfilled first, it is therefore possible that these initial orders are to beta testers only, to replace their development models.
DJ O'Neil concludes with the following, which may give pre-order customers some peace of mind, although only genuine video footage and testing from a neutral reviewer/customer will ease concerns.
[perfectpullquote align="full" cite="" link="" color="" class="" size=""]"SO…I'm coming a long way to say this: these guys are smart and they have their heart in the right place. They are doing something unbelievably difficult, and probably underestimated how difficult the undertaking actually was. But after flying this drone, and seeing this team's commitment and intelligence, I have high hopes. I can't tell you how much fun it is to throw this thing into a backpack and just go fly–and have killer footage to look at after you land.", DJ O'Neil[/perfectpullquote]
We have asked Vantage Robotics for comment, they have responded to state "We'll be posting a blog update to address these questions shortly.".
Credit for video and stills: DJ O'Neil (Vimeo)
---
Be sure to join the 'Vantage Robotics Snap Discussion Group' on Facebook, as well as the 'DroningON Discussion Group'.