Technology is getting clever and smaller at the same time, the latest example of which is the new iRangeX RX803 receiver, it might be short-range but it is perfect for weight-conscious quad builders.
Weighing in at only 0.4g-0.6g, this receiver will struggle to be out-classed anytime soon, other than by other models which expand on the limited functionality of the RX803.
This is a basic receiver with a range of around 150m, it does not have diversity antennas and so should only be considered for close-range micro racing quadcopters. Costing less than $7/£6, this receiver is incredible value, subject to it being range and durability tested.
Full specification…
16 Channel SBUS Protocol
Telemetry Output (analogue and digital)
Voltage: 3.3V
Output: SBUS
Weight: 0.4g
Size: 11*9mm
Compability: compatible with Frsky D8 X9D Plus
Look out for a future video where we will be demonstrating how to bind this receiver, as well as range testing it.
Watch our video review…
Please be sure to SUBSCRIBE to our channel to for notification of our latest reviews, news and exclusives.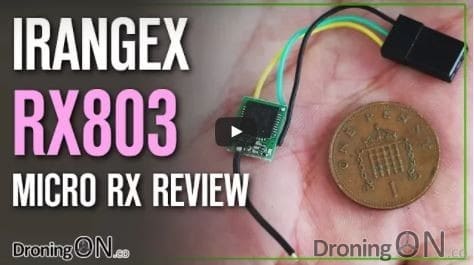 Where to buy…
BangGood kindly provided this receiver for review, therefore we should recommend purchasing from them, not simply because of their provision of the product but because we are always impressed by their pricing and service.
How to bind the RX803…
Binding this tiny receiver is unfortunately not as simple as with other receivers as it does not feature a 'bind button'.
Prepare the Taranis transmitter by creating a new Model memory and setting the receiver mode to 'D8'.
Select the transmitter 'Bind' option which will prompt the TX to start the binding beep sound effect.
Short the GND and DATA pins on the RX803 and then connect power to the Receiver which will start the LED flashing:

The receiver should bind almost immediately.
Disconnect power to both elements and verify that the receiver has successfully bound to the transmitter by connecting the RX to a flight controller and verifying via CleanFlight/BetaFlight.
---
Be sure to join the DroningON Discussion Group for the latest news, reviews, exclusives and interviews from the drone industry.