Eachine have been churning out budget drones for many years now, the first to have caught our attention was the popular Elfie E50, followed by the Eachine E55, but now the latest E52-TX has us excited. In our full review, we even launch it from our hand.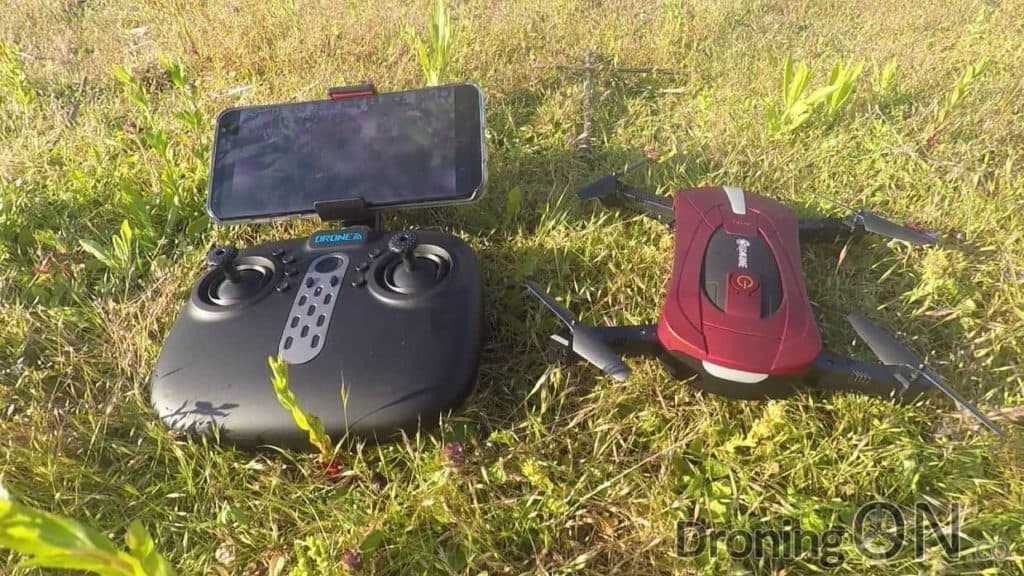 With each Eachine release we see positive improvement in quality, design and functionality, despite Eachine rarely ever increasing the baseline pricing of their budget models.
The new Eachine E52-TX is not just an app-controlled drone because the RTF variant of it includes a transmitter with which you can fly the drone easily indoors or out.
At less than $30/£25 this drone is incredibly cheap, it is not designed for high quality video or photo capture but it without question provides fun-factor.
Whilst the camera provides only a limited 640×480 resolution for photo and video (at 15fps), it has an impressive altitude-hold feature which will make flying of this little drone pretty simple for new pilots.
The flight time of five minutes is plentiful when connected with the transmitter and the live streaming app, although flight time with transmitter alone is more towards 8-10 minutes. Spare batteries are available very cheaply if desired.
Watch our video review…
Please be sure to SUBSCRIBE to our channel to for notification of our latest reviews, news and exclusives.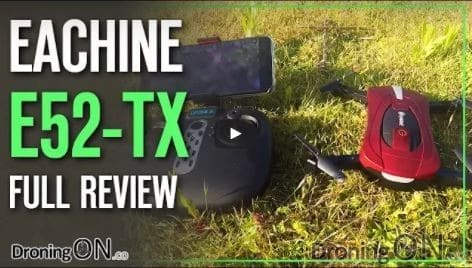 Where to buy…
The Eachine E52-TX is only available from BangGood, shipping can take up to 20 days unless you select a premium shipping option. Buying via our link will not cost you any more than usual, but it will help us to keep reviewing products as we receive a very small commission.
The E52-TX is available in two versions, BNF (flown only by smart-device app) and RTF (includes transmitter).
Raw onboard photos and video…
Unlike premium drones which incorporate an SD card for storage of photos and video, the budget Eachine E52-TX stores photos and video to the smart-device being used to fly it.
These example photos were taken during my flight test, they are raw and unedited at 640×480. The camera is tiltable on this drone but unfortunately during my flight test I did not test other angles.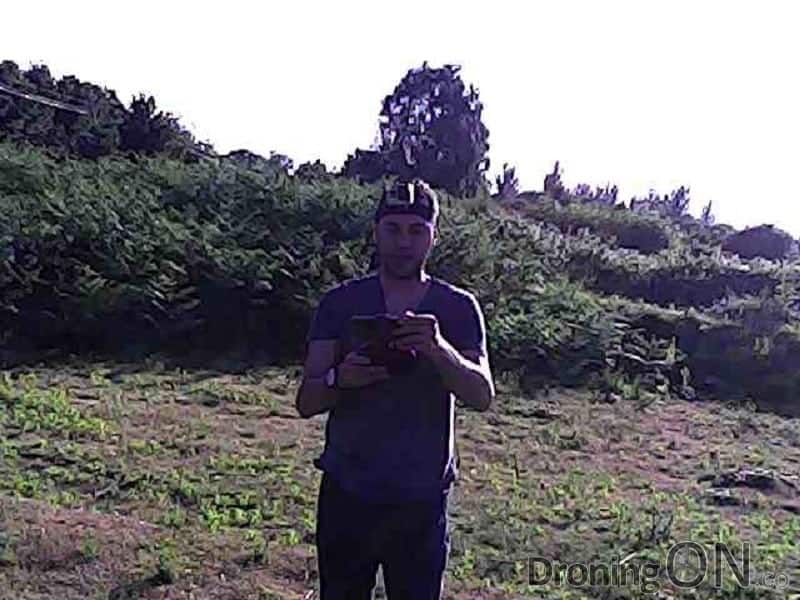 This video was also captured during the flight test, it is direct from the smart-device and unedited. Due to the lack of gimbal and with no electronic image stabilisation (EIS), the footage is jerky. The quality is of course also limited but do consider the price of this drone before judging.
Full specification…
Below are the full technical details for the Eachine E52-TX.
Brand name:

Eachine

Item name:

Eachine E52 RC Quadcopter

Frequency:

2.4 ghz

Channel:

4 channel

Gyro:

6 axis

Product battery:

3.7v 500mAh (Included)

Charging time:

30-60 mins

Flying time:

5-6 minutes (with live video and transmitter)
8-10 minutes (with transmitter only)

R/C distance:

80-100m

Color:

Red and black
0.3MP

Material:

Electronic Components, Plastic

Quad's size:

25.5×25.5×3.5cm (the arms not folded)
15.5×6.5×3.5cm (the arms folded)

Package size:

17.2×9.2x6cm
Comment below with your thoughts on the Eachine E52-TX, if you own one already then let us know of your experiences.
---
Be sure to join the DroningON Discussion Group for the latest news, reviews, exclusives and interviews from the drone industry.