Following the downfall of Lily last week, drone pre-order projects are under pressure to deliver. We have reported on our concerns with Staaker in the past, but the company have also discreetly delayed their shipping date from December 2015 until May 2016.
Staaker, Extraordinary claims require extraordinary evidence…
Staaker often refer to their concept as the 'Worlds best follow-me drone' and yet the Norwegian company are still yet to release footage to evidence the claim.
The most recent footage from has the same issue as footage released previously, the subject being tracked is never center-of-frame and instead is far off to the left or right. For a drone claiming to be 'the worlds best', that is misleading marketing.
This clip from an independent Staaker tester demonstrates the point very clearly.
Look beyond the stunning settings, snow, mountains and waves, instead focus on how the drone tracks the moving subject, particularly consider that Staaker boasts a unique 'predictive' technology to predetermine the direction in which the subject will move. These two additional clips illustrate the same issue.
https://www.instagram.com/p/BOz0VYAhSS6/
This additional clip was posted 5 weeks ago by a girl stated to be a Staaker 'beta tester'.
https://www.instagram.com/p/BN3eHAJBIXe
For the majority of each clip, the subject being tracked is not central. in shot. For an $1800 drone ($1195 with 'limited offer' discount) you would expect the tracking to be entirely central at all times.
Back in August 2016 we had a look at Staaker's early footage and between the video from then until now, we see no improvement at all. We know that the above testers have beta models but Staaker have already commenced production of their final design and so the assumption is that their app/firmware is also virtually completed.
"Be honest to everyone you meet", say Staaker…
Staaker published a Facebook post on the 5th January suggesting that companies should not be afraid to fail. This sentiment will be of deep concern to those that have pledged a minimum of $1195 with a company that are highly secretive, anything but transparent and whom have chosen to secretly delay their launch by 6 months.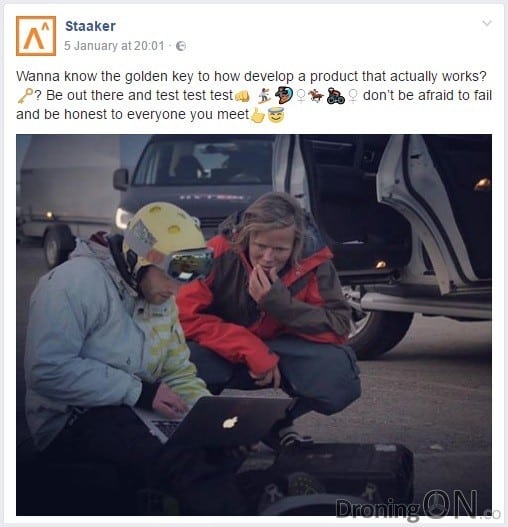 DroningON decided to challenge Staaker by querying the above subject tracking issues, asking constructively why individuals were not center-of-frame during filming.
Staaker reacted immediately by hiding the above comment from Facebook users, then banning DroningON from their Facebook page. We were disappointed that Staaker chose this unnecessary course of action on the basis of a constructive and polite question.
This is a highly unprofessional way in which to manage social interaction, particularly as their initial action was then followed by an irrational and negative smite of our reporting.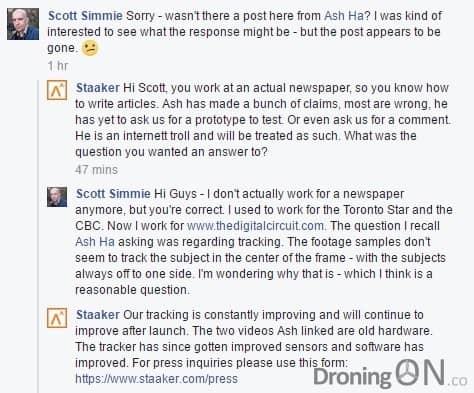 Is Trump managing their Facebook account? Their unnecessarily defensive stance and unprofessional reaction to our constructive questioning has close parallels with Lily. It reminds us of their refusal to answer basic technical questioning, as well as the way in which Kevin Hancox manages the 'Lily Owners Group', deleting and banning Facebook members whom chose to question or criticise the product. Unfortunately, guess who is running the 'Staaker Owners Group' on Facebook.
Following the above events, DroningON and Staaker fortunately commenced dialogue. CEO Ole Jørgen Seeland agreed to unblock DroningON from commenting and our original comment has now been unhidden. Lessons learnt for drone-manufacturers, responding openly to constructive questions is the way to remove suspicion and doubt. Suppressing opinion simply suggests that there are no answers.
Its May 2017 now, not Dec 2016…
Despite their positive rhetoric via Facebook concerning honesty, Staaker have delayed their launch date to May 2017 but barely anyone is aware, despite the delay being actioned in November 2016. Originally due to ship in December 2016, Staaker have attempted to appease existing customers by throwing in a free battery for their existing orders only.
The delay was announced to pre-order customers via an email but no public communication was made via Facebook, Twitter or other social media channels – Staaker clearly wanted to keep the delay quiet, potentially to avoid refunds.
[perfectpullquote align="full" cite="" link="" color="" class="" size=""]"The reasons why we are running behind schedule are several, first our battery manufacturer made the smart battery so that it could only handle half the current we needed it to. The battery is currently being re-designed and is one of two major problems we have had. This is costing us 8 weeks.
The other problem is plastic mold costs. The supplier we had chosen suddenly increased the prices 5x and that pushed us into changing suppliers. This lost us about 4 weeks.
These two problems are causing a knock on effect for other things such as CE and FCC certification. And pushing manufacturing into Chinese New Year that means China is on a 4-week vacation. Causing further delays.", Email sent to customers[/perfectpullquote]
Their website has been updated with the revised shipping date of "15th May for new orders" but their 'News' page have no mention of the issues, nor technical justification for the delay. Staaker are apprehensive to provide a transparent and open running commentary to their customers.
Clarification provided for the protection of customer funds through website update…
Whilst reviewing the FAQs on the Staaker website, we noticed a deeply concerning point which suggested that this project was actually a crowd-funder, not a pre-order campaign. We suspect that many customers were not aware of this point.
Earlier this evening, the Staaker website stated:
[perfectpullquote align="full" cite="" link="" color="" class="" size=""]Why are you charging immediately for my pre-order? Creating and manufacturing is expensive. Being able to use the revenue from your pre-order to pay for manufacturing costs, reduces risk and helps to ensure that we deliver the best possible product and customer service to you.[/perfectpullquote]
This statement would suggest that pre-order funds raised by customers are being utilised right now, which would also raise concerns for safe-guarding customer funds.
Through continued dialogue late this evening with Ole Jørgen Seeland, CEO of Staaker, we have verbal confirmation that customer funds are held within ESCROW, Staaker then immediately updated their website to provide clarity following our conversation:
[perfectpullquote align="full" cite="" link="" color="" class="" size=""]Why are you charging immediately for my pre-order?
All funds collected from customers are held in a secure ESCROW account with our payment provider Stripe. Creating and manufacturing is expensive. Being able to accurately estimate demand, reduces risk and helps to ensure that we deliver the best possible product and customer service to you.[/perfectpullquote]
Stripe are an online payment provider, Ole explains that customer funds will not be available to Staaker until each specific order is fulfilled. DroningON has written to Stripe to validate this claim, as well as to seek confirmation that funds are not accessible by Staaker creditors in the event that the Staaker project fails.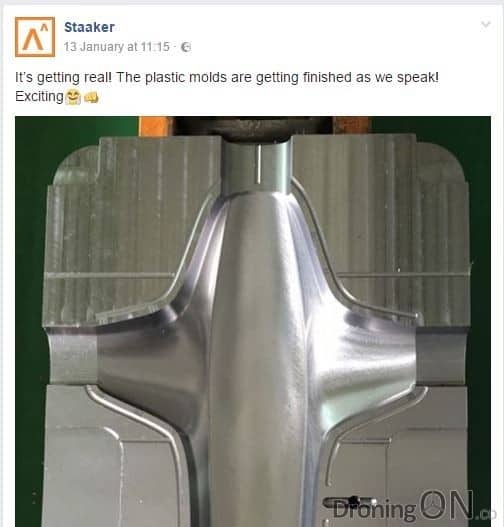 With a five month delay now impacting the Staaker timelines, the business costs, salaries, bills and manufacturing, may cause the pot run dry before the first production Staaker leaves the warehouse.
However, Ole states that Staaker has secured additional funding and that the project has sufficient financial backing to "see it through".
[perfectpullquote align="full" cite="" link="" color="" class="" size=""]"The pot won't run dry before shipping.", Ole, Staaker[/perfectpullquote]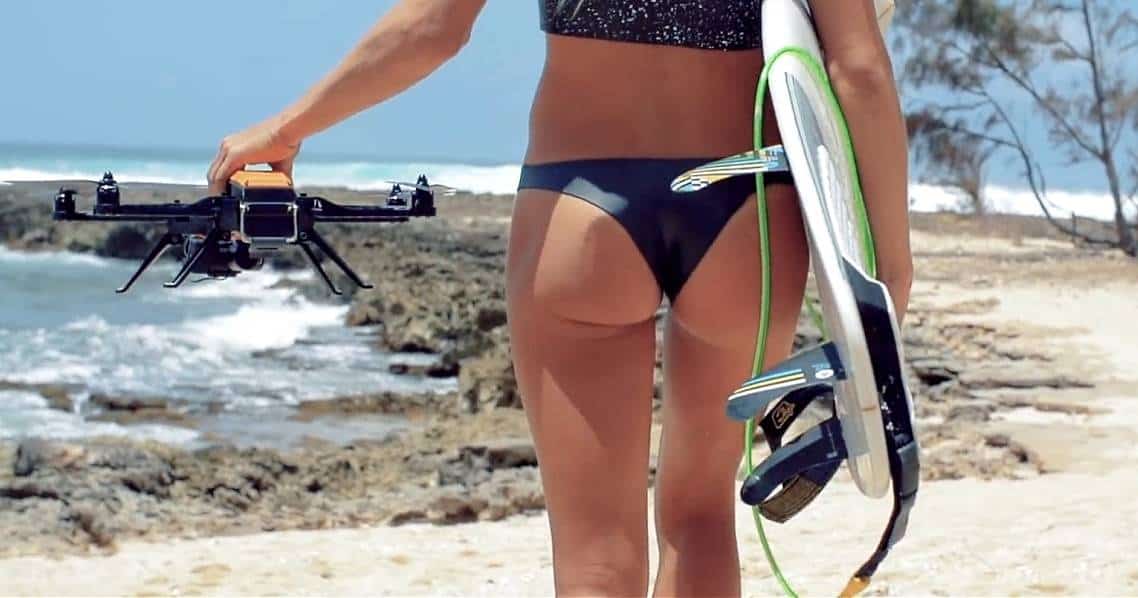 Should DroningON review Staaker…
Staaker stated in their Facebook Comment that DroningON have not yet asked for a prototype to test/review, well we have just submitted a request and if given the opportunity would provide an unbiased and sincere test via our popular YouTube channel – watch this space, we would love Staaker to prove us wrong.
---
Join the DroningON Discussion Group for the latest in news, reviews, exclusives and opinion content from the drone industry.