Micro FPV quadcopters are becoming more popular as they are more accessible to beginners. Just last week we reviewed the Eachine QX90 which we loved. This time we are looking at the slightly larger and more attractive OCDay Razer RF100 (also known as the GearBest GB100).
Many micro FPV quadcopters on the market look far too technical, their PCB's are exposed and they still look like a kit. The OCDay Razer RF100 (GB100) changes that by taking inspiration from the Inductrix FPV and enclosing all of the inside components within a hard and impressive looking shell.
But do the internal components live up to the impressive exterior, watch our full review to find out.
Watch our video review…
Enjoy our full unboxing, inspection, RX binding and flight test video and please be sure to subscribe to our channel by clicking here.
The positives…
For under $90/£60 this is a nice little FPV quadcopter which is ready to fly besides requiring the transmitter and headset.
It is fairly crash resistant due to the nice looking molded shell, unlike the QX90 you don't need to keep fitting the camera upright after each tumble.
It has a nice VTX and camera, signal quality was good, perhaps not as good as the QX90 though.
The camera has a fixed tilt, the angle will be sufficient for most although it may irritate intermediate to expert FPV racers who want more tilt for racing faster.
It comes with USB charging cable which is nice for those that do not have a dedicated lipo charger.
Only weighs 50g with the battery fitted, consequently you get a nice flight time of 5 minutes with 30 minutes to charge.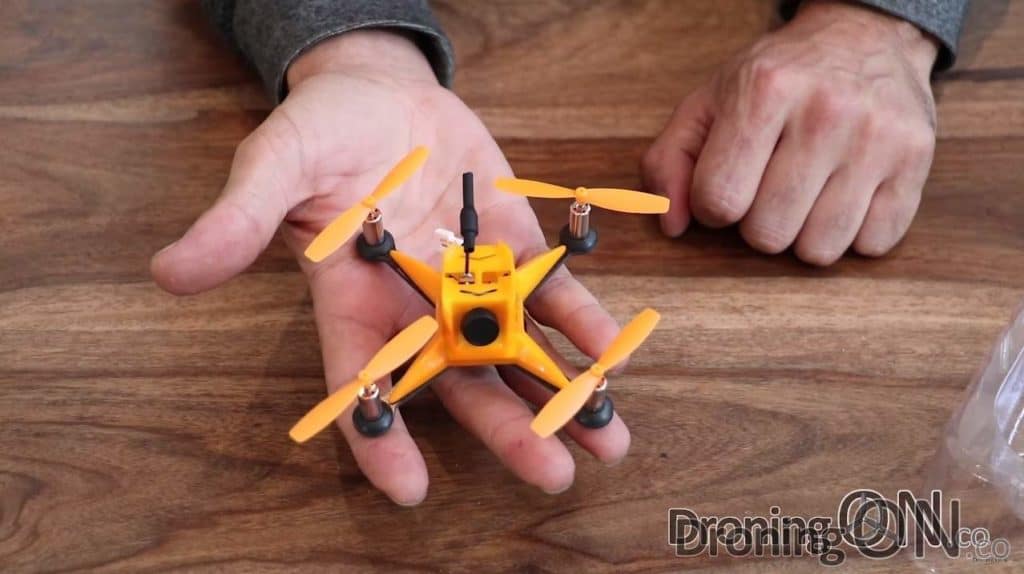 The negatives…
It doesn't come with spare motors which is unfortunate as during my test flight, I managed to break one after a tumble down the stairs.
The battery easily slips out of the holder, I recommend adding a bit of Velcro to it to keep it in place and to avoid upsetting the center of gravity.
The quad feels a bit sloppy and I don't think that the PIDs are quite right, they need some adjustment and I would also add some dead-zone to the yaw as well as it is extremely sensitive.
The Antenna mount position is really vulnerable, mine became loose after just a few bumps – as mentioned during the initial unboxing, it would be worth adding some protection here to avoid the solder joint being stressed.
In addition, the antenna isn't held upright by anything and for that reason, it can flop downwards and get caught in the props.
FOV of the camera is a little too wide, this really is personal preference but the extent of FOV on this camera makes the entire picture quite warped.
The gyro seems to have quite a lot of drift, despite multiple calibrations it is hard to get this quad to sit on the spot without control inputs.
Finally, it has no beeper for battery low conditions, so be wary when flying not to over-stress the lipo battery.
Where/what to buy…
The RF100/GB100 was sent to us from Gearbest for review and they appear to be the only retailer offering it for sale – you can view more information and buy the RF100/GB100 HERE.
Specification…
600TVL camera
NAZE32 F3 flight controller
5.8GHz 25mW 32CH transmitter with DSM2 6CH receiver
Battery: 1 x 3.7V 600mAh Lipo
Flying Time: 5 – 8 minutes
Charging Time: about 30 – 60 minutes
Propeller length: 60mm
Motor: 720 motor ( 45000rpm )
Battery (mAh): 3.7V 500mAh 20C
Camera Pixels: 600TVL
Wheelbase: 100mm
Dimension and Weight
Product weight: 0.050 kg
Package weight: 0.083 kg
Package size (L x W x H): 15.00 x 10.00 x 6.00 cm
Package Contents:

1 x Racing Quadcopter
8 x Propeller
1 x Screw Driver
1 x Charging Cable
1 x 3.7V 500mAh 20C Battery
---
Be sure to join the DroningON Discussion Group for the latest in quadcopter, drone and FPV news, reviews and chat.