We may be a little late on this one but it was worth the wait as we finally have a review of the ultimate mid-range 2.4ghz RC transmitter, the impressive FrSky Taranis X9D-Plus.
There are many budget RC transmitter sets available on the market today but very few will be sufficient as to span your entire RC sport/hobby, catering for quads, planes, helicopters and gliders.
The FrSky Taranis X9D was a very popular set and the new 'Plus' model has built on that success by providing minor enhancements over the original set, as well as the full functionality set that users are already familiar with for under $220/£170.
Watch our video review…
Enjoy our full unboxing, inspection, RX binding and model setup video and please be sure to subscribe to our channel by clicking here.
The positives…
❍ Low cost considering vast functionality.
❍ Quieter than its predecessor.
❍ Haptic vibration alerts, handy if flying with headphones.
❍ Coloured back-lit screen.
❍ Easier firmware upgrades via SD.
❍ Includes bigger 2000mAh battery.
The negatives…
❍ Build quality is good but not great.
❍ Supplied SD card is low-quality.
❍ Standard antenna can be improved.
❍ Would benefit from scroll-wheel.
Where/what to buy…
We bought our Taranis from BangGood, they have reliable stock although they unfortunately do not offer a choice of screen back-light colour, although few suppliers do.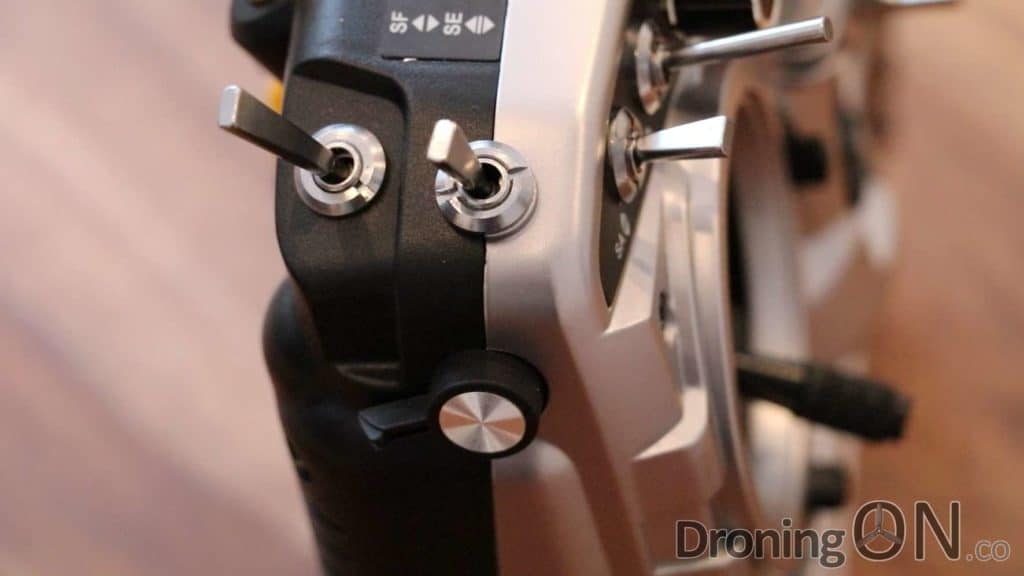 Other Taranis elements, spares and accessories which may be of interest are as follows:
► Spare Batteries
► Replacement Screen
► Replacement Shell
► Replacement Display Cover
► Replacement Gimbals
Useful links…
During our review, we mentioned that an antenna modification is very common for the Taranis X9D-Plus, this modification allows the attachment of higher-gain antennas as well as protecting the fragile antenna mount by replacing it with an RP-SMA port.
Full specification…
Full Telemetry RSSI alarms (warns you of signal reception problems before disaster can strike)
Haptic vibration feedback system
16 channels (more when combined with external module)
60 model memories
64 mixers, 9 flight modes
16 custom curves with 3-17 points each, 32 logic switches
Voice or custom sound alerts such as: count down timers, low voltage warnings, landing gear down, thermal mode entered, etc.
Receiver Lock allows you to lock a specific model in the transmitter to one and only one receiver.
Three different types of failsafe: 1 – hold last known commands, 2 – go to a programmed state (cut throttle, flaps down, etc.), 3 – no output. (triggers flight controllers with "go home" feature)
USB and SD card slot for system expansion
Quad bearing gimbals that are silky smooth
State-of-the-art open source software
Super low latency for ultra quick response (9ms)
Large 212 X 64 backlit dual colour LCD screen
Real-time data logging
Receiver lock (program locked to aircraft – limited to FrSky receivers running PXX protocol)
JR style module bay for additional RF modules
Selectable flight mode (1, 2, 3, or 4)
2 timers, count up or down, throttle %, talking, etc.
Trims – Adjustable from course to extra fine with extended and exponential trims
Standard trainer jack
ARM Cortex M3 32-bit 60MHz
Sticks and pots can be calibrated by the end user
Multiple language support (Radio arrives configured for English language)
Integrates with CompanionTX – a FREE computer program that is a transmitter setup buddy. CompanionTX (Windows/Mac/Linux) is used to set-up models with the wizard, save, edit and share your models and settings as well as simulate your transmitter or model setup
USB connection for firmware upgrades, sound editing, R/W to the microSD card and integrate with CompanionTX.
---
Be sure to join the DroningON Discussion Group for the latest reviews, news, interviews and exclusives!