SwellPro are well known for their waterproof Phantom-inspired drone but they have just entered the world of FPV quadcopter racing with the introduction of their Swift 2 Racing quadcopter.

Introducing the 'SwellPro Swift 2'…
DroningON were very fortunate to have been sent a Swift 2 for test and review along with select other quadcopter and drone reviewers.
Priced at just under $600 (£500) this is not a cheap product and therefore our expectations were high during unboxing and inspection. During our test flight we will look at the "130kph" claim of this new racing quadcopter.
It also includes a transmitter which is actually a rebranded Turnigy TGY-i6s which at least means that support is accessible as well as future firmware updates.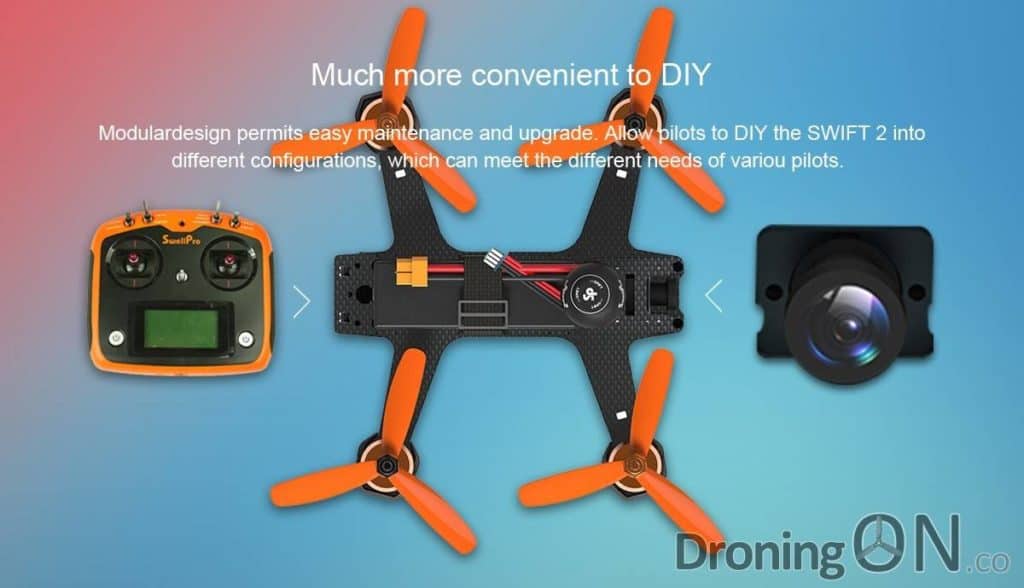 Our review video(s)…
We initially set out to review the Swift 2 in a single review video but did not want to rush the flight test and so we have split the review into two parts.
PART ONE: Unboxing, Inspection and Cleanflight…
In this first part of the review, we unbox, inspect and also checkout the Cleanflight configuration of this RTF quadcopter. We also discover a hardware issue on this specific model which fortunately appears to be only due to it being an early release model.
PART TWO: Setup and Flight Test…
Finally we get the quadcopter setup and ready to flight test where we attempt some LOS flights with 3 cell and 4 cell batteries as a comparison, as well as experimenting with some acrobatics and speed testing.
Enjoy the videos and be sure to SUBSCRIBE by clicking here.
BONUS FOOTAGE: FPV Tree Dodging…
We took the SwellPro Swift 2 for some FPV tree dodging, great practice for improving close proximity flying and throttle control. Despite the crash at the end, the Swift 2 was undamaged and flew again within minutes!
BONUS FOOTAGE: Indoor Punch…
We powered the SwellPro Swift 2 up earlier today and gave it a quick indoor punch test and we were impressed. It is an incredibly balanced quadcopter, solid and stable. We cannot wait to complete the test flight.
https://www.instagram.com/p/BNwvs9SBYDv/
The Swift 2 is NOT waterproof…
SwellPro are well known for their 'Splash' drone, a 'Phantom-like' clone but with the unique feature of full waterproofing. Prepare yourselves for a sight that would normally horrify the average drone owner, a quadcopter intentionally hitting the water.
https://www.youtube.com/watch?v=NQcZROtA5UI
But their latest product, the Swift 2, is quite different and has caused confusion for other reviewers lucky enough to have been sent a test model, and therefore we should clarify.
The 'Swift 2' is not waterproof, despite other reviewers suggesting that it is. The coatings on the PCB of the Swift 2 are merely for circuit protection from dirt and dust, do not dunk this expensive quadcopter into water.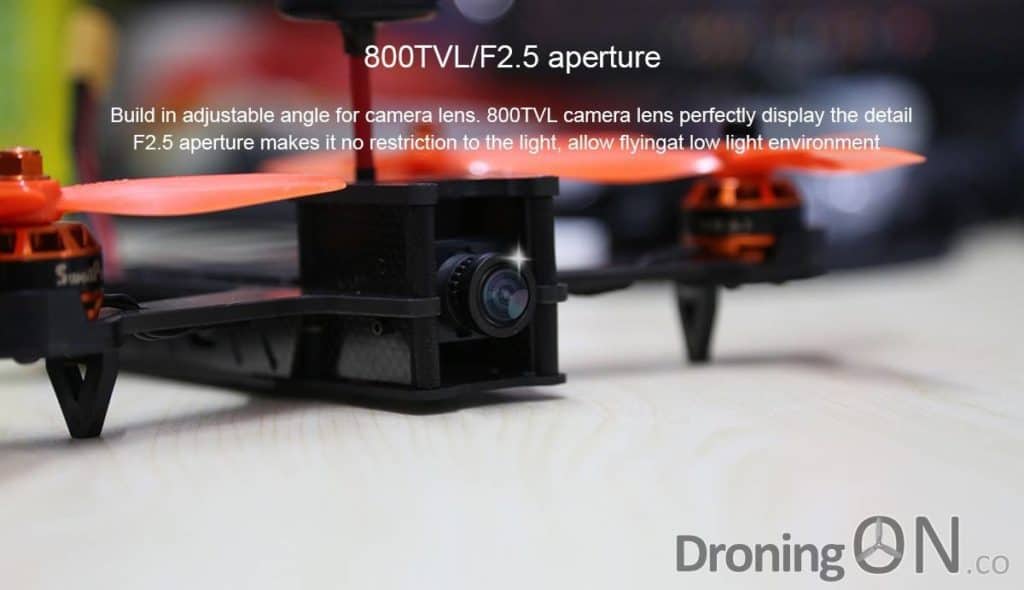 The positives…
❍ Solid build with carbon construction.
❍ Good 'high performance' specification.
❍ Perfectly balanced and tuned straight from the box.
❍ Includes spares, with props, tools and undercarriage elements.
❍ Cleanflight-based, no proprietary config like other RTF quads.
❍ Great camera, lens and VTX with switchable power.
❍ Nice OSD with a nice flight summary screen.
The Negatives…
❍ Should include 4s batteries instead of 3s.
❍ The USB port is potentially fragile, hopefully a one-off issue.
❍ It is high priced, but it is aimed at the flyer, not the 'builder'.
❍ The 2.4ghz antennas should be better protected.
❍ The package options should include a BNF version.
Price and Where to buy…
You can buy the Swift 2 quadcopter directly from SwellPro using the following link. There are two versions, the 'FPV Version' is the same but includes a small FPV monitor display so that you can view the output of the FPV camera live.
The SwellPro Swift 2 is not cheap but it does include everything that you need to fly, except for FPV goggles. There is also no compromise on power or the quality of components.
If you buy a Swellpro Swift 2, let us know your thoughts, comments and reactions by using the comments panel below.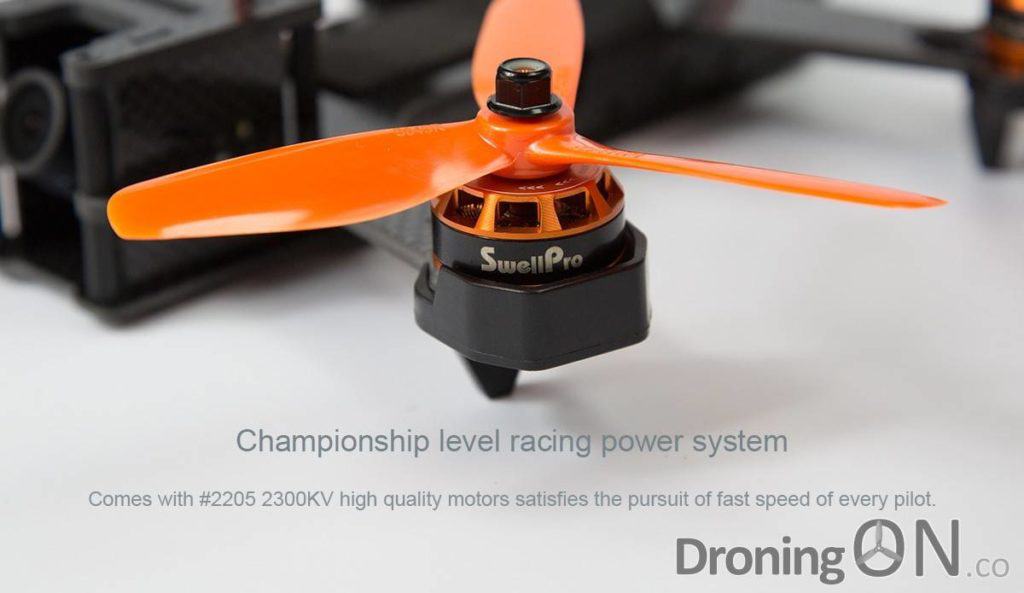 Specifications…
The SwellPro Swift 2 specification is as follows, correct at the time of publication and captured from the SwellPro website.
Max flight speed up to 130km/h
220mm rotor-to-rotor diameter
With #2205 2300KV motors
Equipped with 5-inch 3 blade propeller, can choose the 4-inch or 5-inch, 2 blade or 3blade propeller.
2 x 3s 2600mah Lipo battery
120°wide angle FPV camera lens
800TVL/F2.5 aperture
With touch setting OSD screen, 1KM range
5.8G real time video transmitter
Quick exchangeable 5.8G clover antenna
---
Be sure to join the DroningON Discussion Group for the latest, greatest and enlightening discussion.