Announced late last year, Hover Camera has finally been launched and is available for order, but unlike its competitors it is apparently shipping immediately, under its new name of 'Passport'.
Following a minor rebranding, Hover Camera Passport is available to buy today for $549 (£450) from the Zero Zero Robotics website but this price tag which was correctly speculated in our earlier article, may price this new compact drone out of the market.
Boasting 4K video but equipped only with electronic stabilisation instead of a mechanical gimbal, Hover Camera Passport should be popular with users that do not intend to fly it in wind, but early reviews are suggesting that even in nil-wind it just is not good enough.
The fully enclosed rotors may also appeal to sections of the market that are buying to use indoors and/or in close proximity to people, this niche feature competes directly with Snap from Vantage Robotics, but the Hover Camera Passport drone arrives at a far lower price-tag.
When connected via a 5GHz WiFi connection (available on most modern phones) you can expect a range of around 20m, flying time will be approximately 10 minutes per battery in zero wind. The standard package generously comes with two batteries and even a dual battery charger.
Hover Camera will not win any records for speed but is capable of travelling at  ~18 mph.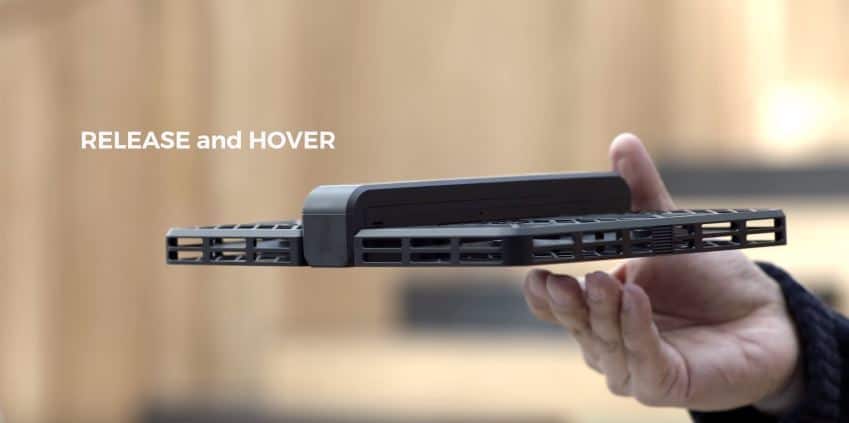 Powered by Qualcomm's Snapdragon Flight platform and controllable only via smart-device, options are slightly limited for advanced control, but weighing in at only 250g, Hover Camera Passport is not for high-altitude cruising shots, it would appear to be truly a selfie camera.
We have a lot of respect for Zero Zero Robotics for avoiding the pre-order money-collecting concept popular with today's startup drone organisation. ZZR have instead finished the product and are only now accepting orders having finalised it ready for shipping, although it should be noted that USA and China will be shipped first, other countries will follow within 1-3 months. This reduces end-user frustration and takes the burdon off the manufacturer so that they can focus on quality and delivery.
You can read more about Hover Camera Passport by clicking here.
---
Be sure to join the DroningON Discussion Group for the latest gossip, chat and first look reviews at new products.