'Snap' (Vantage Robotics) and 'Hover Camera' (Zero Zero Robotics) are two new contenders joining the extensive line-up of drones competing in 2016, but how do they compare?
Crowd-fund and 'pre-order' drone projects have a fairly poor reputation in recent times due to headline-grabbing failures such as 'Zano' earlier in 2016, but lessons have been learnt and new entrants to the market are responding with comprehensive communication, progress updates, demonstration videos and most importantly, viable projects.
Two such drones are 'Snap Drone' developed by Vantage Robotics and 'Hover Camera' by Zero Zero Robotics, both plan to deliver this year and they're unique because unlike others, they're truly portable and will never require prop-guards.
The companies…
The key for success with any such venture is project management and a stable company responsible and accountable for delivering to the backers. If the company lacks appropriate experience or expertise in consumer delivery then the project can end in disaster. As a backer, doing your research is key so lets review the two companies involved…
Vantage Robotics (VR):
Founded in 2013 by Tobin Fisher and Joe Van Niekerk, this is a fairly new company run by two sports enthusiasts, specifically kite-boarding, climbing and mountain-biking which leads us to believe that 'Snap' will be sports-compatible. The company is head-quartered in San Francisco, California with just the single office from our research.
Here's what VR have to say about themselves:
[perfectpullquote align="full" cite="" link="" color="" class="" size=""] "The team at Vantage has over half a century of combined experience developing and manufacturing high tech products. The company has the backing of investors who have taken over 20 high tech companies from seed or founding through acquisition or IPO, including Twitter. We have done nothing over the last two years, but focus on making the best flying camera the world has ever seen." [/perfectpullquote]

Snap Drone – Shielded blades
We can't find trace of any additional project deliveries and their own statement above suggests that 'Snap' has been their key focus since the formation of their company.  This is reinforced by the lack of a non-product focused 'corporate' site.
Both founders boast a Stanford education and expertise in relevant specialities, including engineering, development of autonomous vehicles, motion tracking and gimbals, this is all good news.
The Vantage Robotics LinkedIn page states that they employ 1-10 employees which seems honest and realistic for a fairly new organisation whom are conscious of running costs.
Zero Zero Robotics (ZZR):
Founded in 2014 by Meng Qiu Wang and Tony Zhang, this is also a very new company run again by Standford educated management. The company is head-quartered in Beijing but with additional offices in San Francisco, Shenzhen and Hangzhou.
Here's what ZZR have to say about themselves:
[perfectpullquote align="full" cite="" link="" color="" class="" size=""]"Creators. Inventors. Tinkerers. We are the mad scientists creating actual smart technology – today. We are the ones who push the boundaries and redefine what is possible in robotics and technology. Simply put, we build smart robotics. Technology with Embedded AI creating a much more consumer friendly experience. Through the technology we have developed in our laboratory, we have been able to accomplish what no one else before has been able to , with flying camera drones."[/perfectpullquote]
Meng has a background in artificial intelligence algorithms and boasts specialities in technology that they have named "Embedded AI", a minimised AI-specific PCB. There would appear to no mention of a sports-interest in interviews with the founders, we therefore suspect that Hover will have less of an 'action' focus.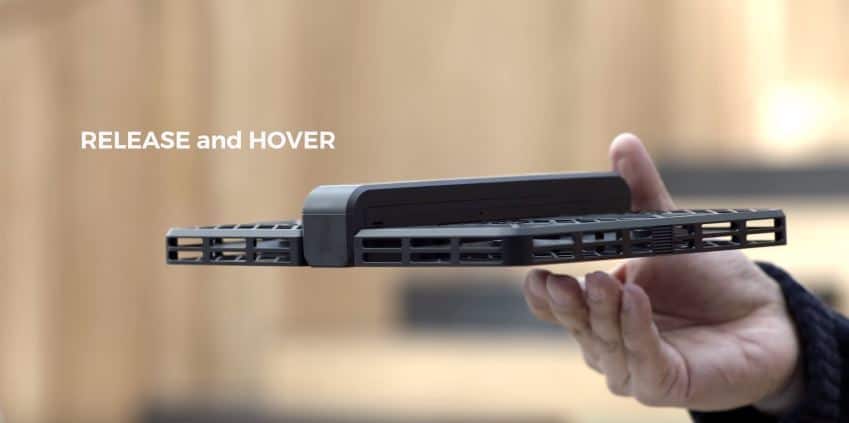 We can't find trace of any additional project deliveries and their own statement above suggests that 'Hover Camera' has been their key focus since the formation of their company. This is reinforced by the lack of a non-product focused 'corporate' site.
The Zero Zero Robotics LinkedIn page states that they employ 51-200 employees, due to the numerous office locations this could indeed be accurate, in a recent interview a figure of 80 employees was given.
One key piece of information relating to ZZR is their recent disclosure of $25m in funding from prominent investors including IDG and GSR Ventures amongst others.
IN SUMMARY, both companies state that they possess the experience, education, and expertise required to develop and deliver a drone-related project, however the lack of previous product portfolio for both is perhaps a concern.
The $25m financial backing of ZZR is a key point as it demonstrates that investment companies whom have assessed the company, its strategy, product and team believe their plan to be viable. ZZR also have the larger team and therefore more capacity to deliver.
The drones…
These new drones are generously feature-packed and share a unique portable quality in that they de-construct to a truly backpack-friendly size. In addition both feature a unique way of shielding the blades of the motors, by encasing them within a structural cage, forming the body of the drone.
Feature comparison…
In terms of specification, we have devised the following matrix to analyse the two side-by-side, noting that at this time far more information is available for the specifications of 'Snap':
| Feature | Hover Camera | Snap Drone |
| --- | --- | --- |
| Cost | $600 (410 GBP) | $915 (625 GBP) |
| Camera & Video | 13mp + 4k video | 12mp Sony Exmor IMX 377 (1/2.3 inch)n4096x2160p @ 24/30 FHD: 1920x1080p @ 24/30/48/60/96/120nHD: 1280x720p @ 24/30/48/60/96/120/192/240 fps |
| Lens | Unknown | 82 deg fixed focus |
| Autonomy | Throw-and-balance, auto-follow (face + body recognition), 360 pano, self-positioning, optical flow. | Air tripod, virtual wire, geo-fence, free-follow, hold position, out and back, orbit, auto-ground-avoidance, simple yaw control, position-hold, return to home, dynamic geofence. |
| Battery | Unknown | 4S 3000mAh liLion, 1hr charge time |
| Gimbal | Electronic image stabilisation only. | 2-axis mechanical + electronic image stabilisation |
| Size | 18.2cm x 13.2cm x 3.25cm | 35 cm x 23 cm x 5cm |
| Max Speed | 20mph (previously stated @ 4.47mph) | 33.5mph (15m/s) |
| Hover Accuracy | Unknown | +/- 1.5 m lateral, +/- 0.2 m vertical in sonar range, +/- 1.0 m vertical above sonar range |
| Bitrate | Unknown | 60Mbps |
| Weight | 238g (includes battery) | 570g (includes battery) |
| Range | 50m via WiFi | 150m via WiFi, 1km with DSM controller |
| Obstacle Avoidance | Yes | Partial, downward facing only |
| Downward Optical Flow | Yes, 3mp | No |
| Flight Time | 7-8 minutes | 20 minutes |
| Motors | Unknown | Brushless |
| Control Input | iOS, Android | iOS, Android (Phone or Tablet), DSM Controller, Bluetooth Game Controller |
Initially we had believed that these two new drones were designed to compete for the same market but from the feature analysis above (despite a lack of clarity for 'Hover Camera'), it becomes clear that this is not quite the case.
[perfectpullquote align="full" cite="" link="" color="" class="" size=""]"Snap is 7.5x faster in the air than Hover Camera…"[/perfectpullquote]
Whilst the raw video quality is fairly balanced between the two, other key aspects such as video stability, size, weight, speed, range and battery life are not.
Weight and Speed
Snap is approximately twice the weight of the Hover Camera, but despite this is 7.5x faster in the air, Hover Camera is only capable of a mere 4.47mph. This would allow Snap to keep up with most physical sports whilst leaving Hover Camera in the dust. This immediately rules out Hover Camera for use by action-sports enthusiasts where speed for modes such as 'Follow Me' will be key.
UPDATE: Hover Camera contacted us shortly after publishing this article, they corrected the speed specification, claiming that Hover Camera is actually capable of up to 20mph, we have adjusted the specification table accordingly.
Control Range
Range is another consideration, although not as important from an autonomous flight perspective. When using 'Follow Me' or tracking modes, generally the drone is invisibly tethered to the WiFi signal and as a consequence it remains within close proximity to the controlling device. Range will however be an issue if your intention would be to fly the drone manually from a static location, in which case Snap is the clear winner with it's capability to utilise the proprietary 'DSM' technology, giving an impressive 1km in total range.  We do however doubt the 150m range suggested by Snap over WiFi, this is rather optimistic in our opinion.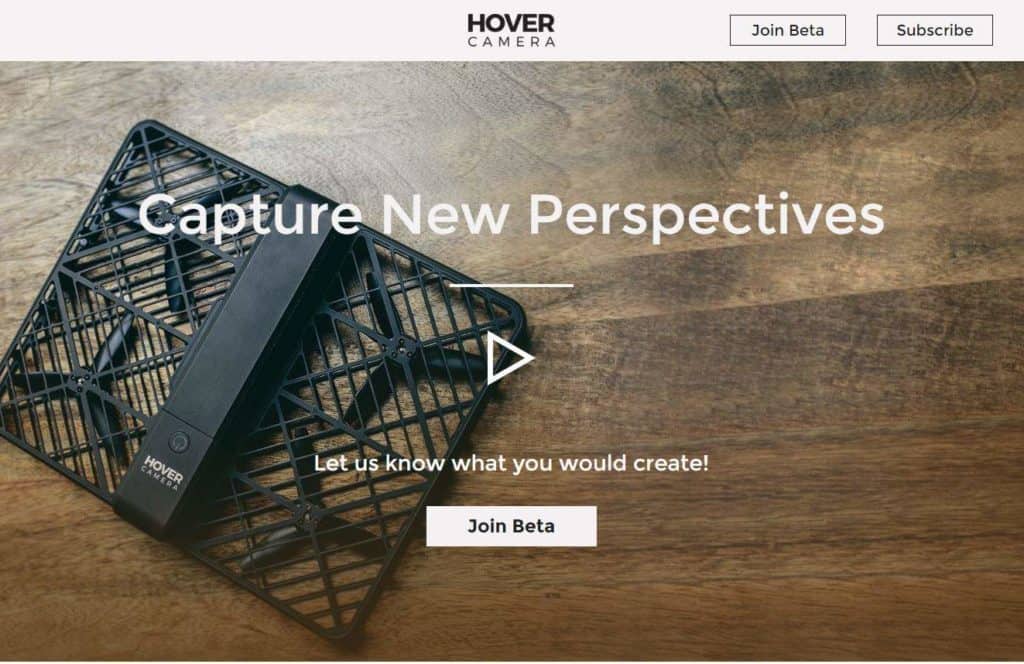 Battery Life
Battery life is another key differentiator with Snap providing almost 2.5x the flight time and even packing an unusually high-voltage '4 cell' Lithium Ion battery, most small quadcopters generally utilise a 2 or 3 cell power supply. Landing and changing batteries can be an inconvenience when you just simply want to enjoy the sport/activity that you're filming.
Video Stabilisation
Whilst the video camera specification is almost equal between the two, the stabilisation element is not. Snap features an impressive mechanical micro-gimbal bundled together with EIS (Electronic Image Stabilisation), whilst Hover Camera only incorporates EIS. Without question, Snap will therefore deliver far smoother video with less distortion as per the following example footage released just last week.
Autonomous Flight
Both drones feature a set of autonomous flight modes although Snap provides far more. Of interest to most backers will be the 'Follow Me' mode whereby the drone will track your movement and capture you in video automatically. Generally this feature utilises GPS but instead Hover Camera impressively features a unique visual facial and body recognition algorithm which may allow it to track a subject more accurately than Snap, in addition Hover Camera would be able to track people indoors where a GPS signal isn't accessible, unlike Snap which would only be capable of outdoor 'Follow Me'.
Vantage Robotics have confirmed that Snap will feature 'free follow' tracking functionality but not at initial launch.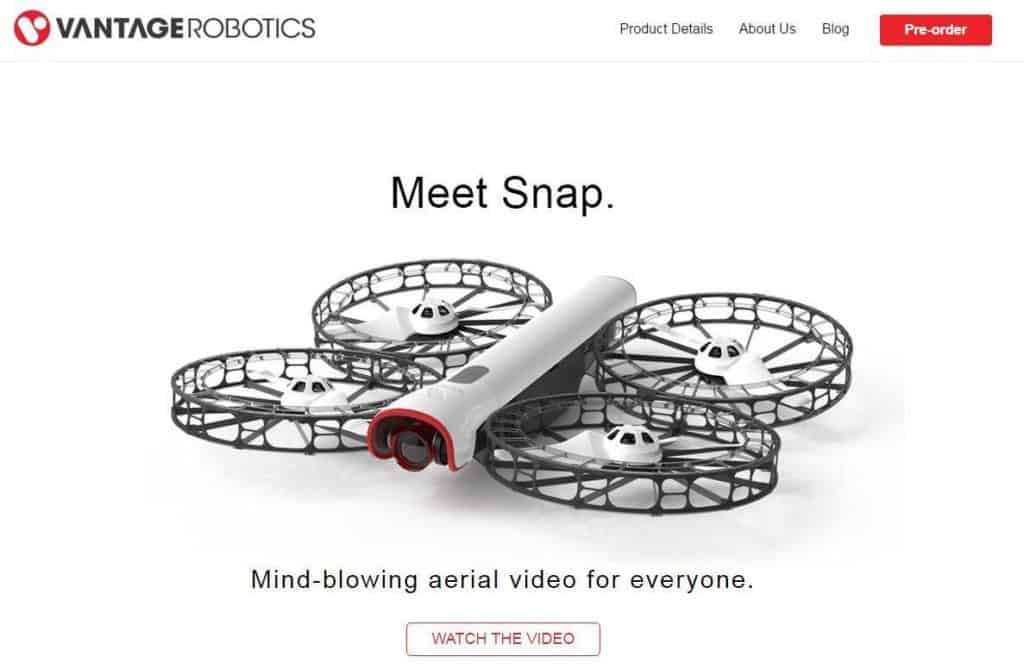 Hover Assistance
To air stability during hovering indoors/outdoors, Hover Camera incorporates a downward Optical Flow sensor, this would provide it with the ability to hover on the spot without using GPS (so it will work indoors as well), this is impressive for a drone of its scale. Snap does not feature downward optical flow for indoor hover stability but this might be a future accessory.
Obstacle Avoidance
Obstacle Avoidance (OA) is always a hot topic, these two drones both feature OA but the implementation for each is quite different. Whilst Hover Camera features forward facing OA (via image sensing), Snap only features downward OA but in the form of a sonar sensor (more accurate), this will help Snap to avoid ground collisions but will not preventing it from crashing into an object in front of it..
In summary…
Whilst these two drones share similar dimensions/size, we believe that they're for very different markets. There is a cost difference of $300 with the Snap costing a little more, but its additional features justify the gap in price.
The following points should help you to decide:
Choose Snap Drone if…
You'll be primarily flying outdoors (increased range options and better speed) but also occasionally indoors.

You want to film fast-paced action-sports (due to 33mph top speed).

You will be flying and filming over ground with varied terrain (ground-avoidance sonar will avoid collision with ground which ascends).

You won't be flying where front-facing obstacle avoidance will be required (although a future accessory may be produced).

You need truly stable video (due to the combination of mechanical gimbal and EIS).

You will be flying in wind or gusty weather.
Choose Hover Camera if…
You'll be primarily flying indoors (optical flow sensor will provide indoors stability during hover and face/body recognition will remove the need for GPS)

You want to film only walking pace sports or action (5mph max speed).

You will be flying in areas where front-facing obstacle avoidance will be necessary (Snap will release an accessory at a later stage, but not on initial launch).

You will be satisfied with non-gimbal EIS stabilised video only (Hover does not feature a mechanical gimbal).

You will be flying outdoors in minimal wind, it is unlikely that Hover Camera can cater for anything more than a breeze.
We hope that this guide has been useful and we would like to hear your comments, so post below and let us know of your views!
And, join the discussion in the 'DroningON Discussion Group', click here!
Note: The above review and comparison is based on current published specifications which may be subject to change prior to release. AS more details are released, we'll update this so be sure to subscribe for updates.