With the launch of the new DJI Mavic Mini, some consumers are wondering if this new model is an upgrade or not. This buyers guide will help you to decide which is right for you.
The DJI Mavic Mini was launched in late 2019 and has impressed the market with its minuscule size and weight, but with such minimization comes compromise on features and specification. This guide will break down the differences and help you to decide whether you should buy it or not.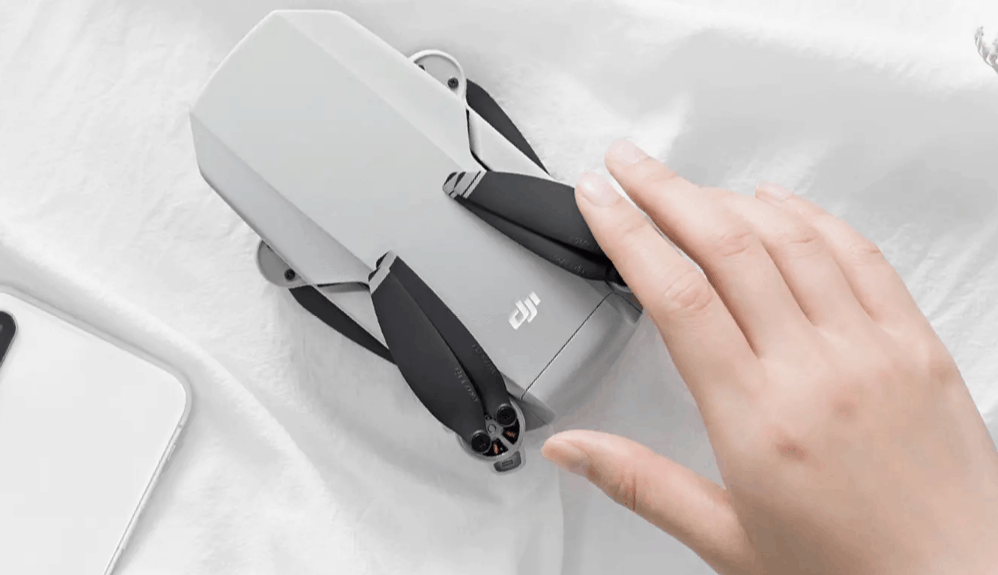 Portability, weight and size…
The key selling feature of the DJI Mavic Mini is its size and weight, clocking in at only 249g with battery, compared to 905g for the DJI Mavic 2 Pro/Zoom. When folded, the DJI Mavic Mini is 65% the size of the bigger siblings.
While the DJI Mavic Pro and Mavic 2 are incredibly portable drones when folded, the DJI Mavic Mini is substantially smaller and far lighter, therefore it is the better choice for the traveler or the less frequent drone user who wishes to carry a drone with them, without feeling the obligation to have to use it.
If weight and size is not a concern then the DJI Mavic Pro/DJI Mavic 2 is the better option, these drones are of a far higher specification, more resilient to stronger and gusty winds, a more stable flying platform overall and also far stronger, more rugged aircraft.
Video resolution and bitrate…
Camera resolution and bitrate relate to the quality of the video and photos produced by the drone. The 'resolution' is literally how big the videos/photos are, the larger the pixel size, the better the quality, while the 'bitrate' is responsible for the amount of data in the image, the more data the more detail and less noise.
Upon launch, most of the community were disappointed that the DJI Mavic Mini would only provide 2.7k resolution @ 30fps from its 3-axis mechanically stabilized camera. The bitrate of the video also maxes out at 40mbps in comparison to the 60mbps of the DJI Mavic Pro, but far below the impressive 100mpbs of the DJI Mavic 2 Pro/Zoom.
2.7k at 40mbps (30fps) is more than adequate for the newbie or infrequent and occasional drone user who simply wants to capture the rare selfie or scenic shot. But for those who wish to produce cinematic masterpieces, a higher resolution and bitrate is essential.
In addition if 'slow motion' at high resolution is a requirement then the DJI Mavic Mini will not provide satisfactory results.
Drone regulations…
For many years, the market has been asking for a sub-250g drone which is precisely the gap filled by the DJI Mavic Mini. The UK has just introduced mandatory testing for drone operators if they wish to fly drones which exceed 250g, for those who do not wish to certify in drone operation, the DJI Mavic Mini is the obvious choice as the larger DJI Mavic Pro/DJI Mavic 2 would require licensing in such scenario.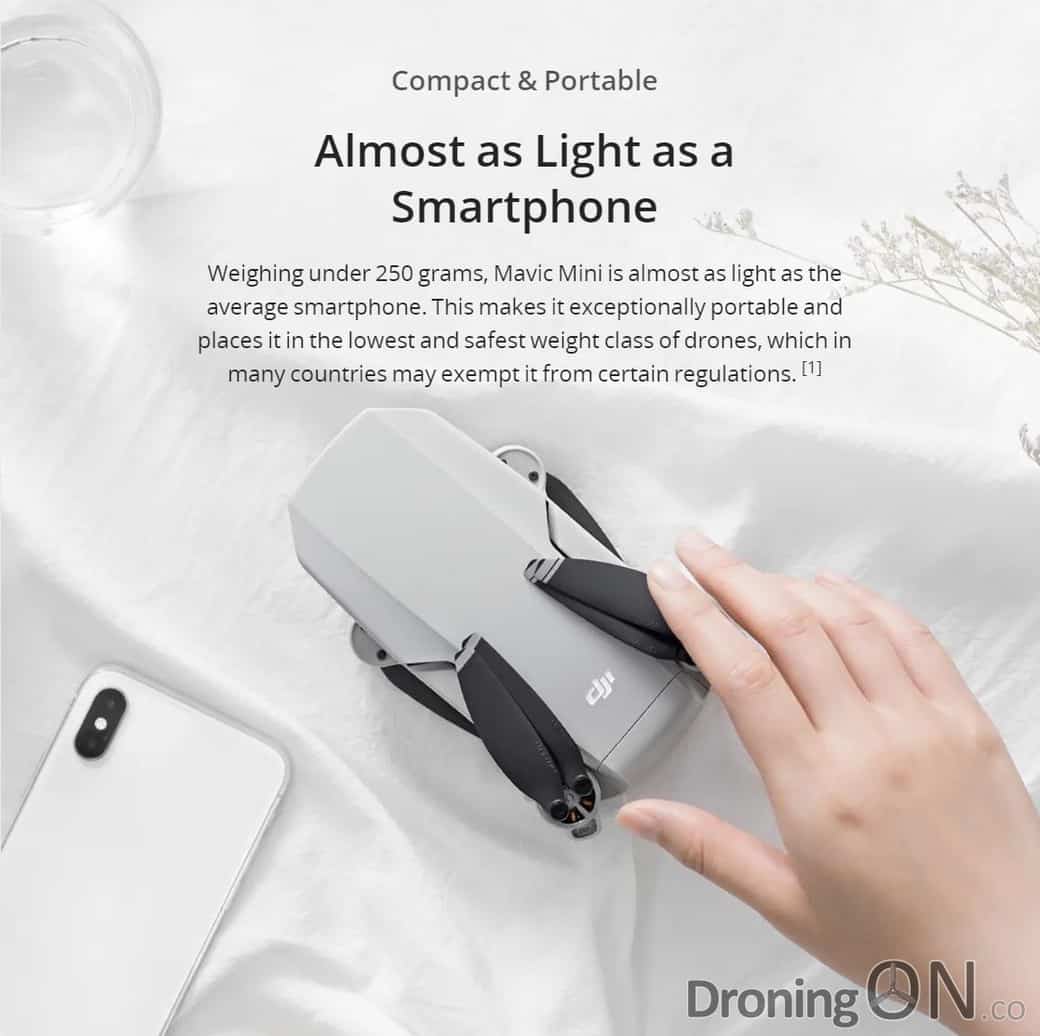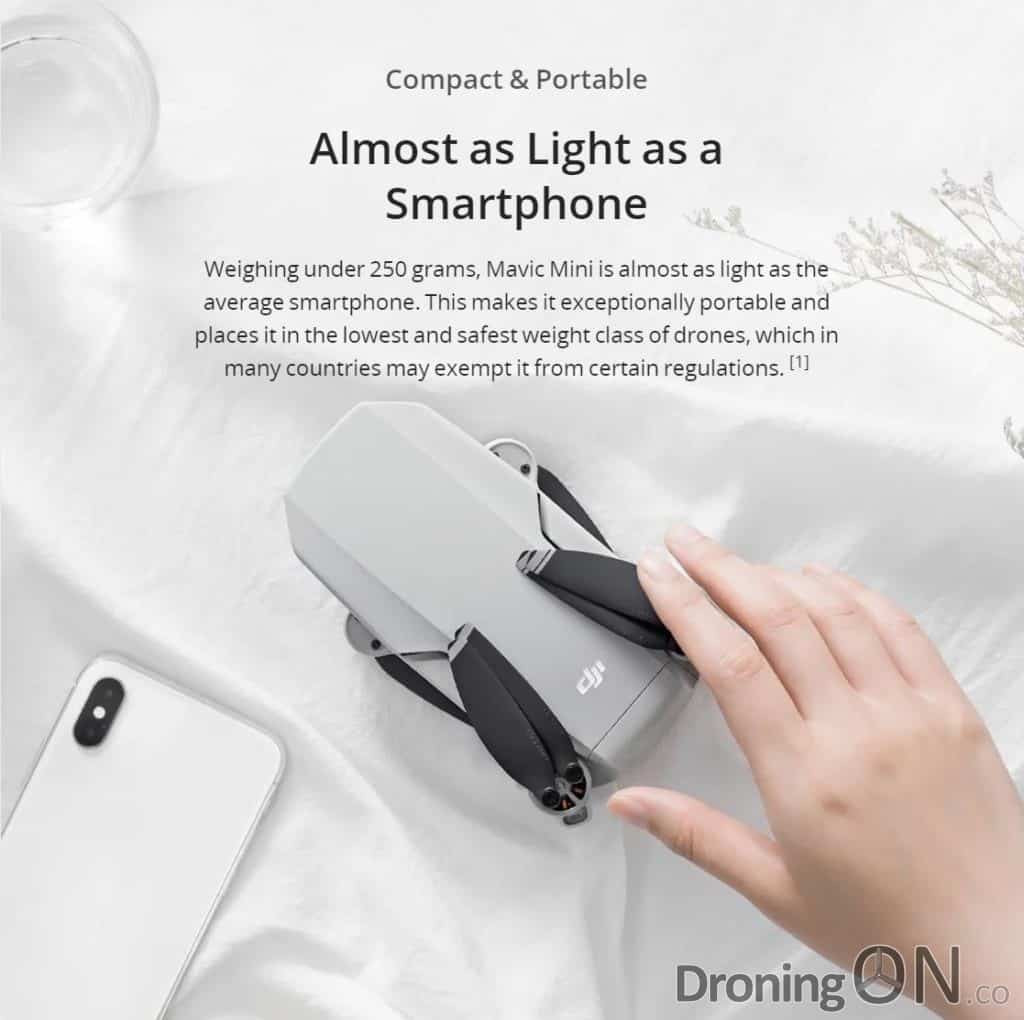 On the other hand, registration/licensing is low-cost and easy to pass/obtain, therefore compromising on satisfaction of the hobby by purchasing a lesser capable drone would just be silly. However, consideration should be given to the potential for authorities reducing the weight from 250g in the future, DJI has set a new benchmark which may push fiercer regulation.
It is important to note that despite the 249g weight of the DJI Mavic Mini, common sense and safety must always be of a highest priority, this means not overflying crowds or flying close to buildings or possessions which do not belong to you. The weight of this revolutionary new drone does not entitle contravention of regulation.
Flying range…
Aviation law for drones in most countries insists that the operator retains the drone in visual line of sight (VLOS) for the duration of use, this means that the drone must never be flown so far away to the point at which the person in control can not see it.
The DJI Mavic Mini is unfortunately WiFi-only meaning that it does not take advantage of the proprietary 'OcuSync' which provides longer and more solid range, used by the DJI Mavic Pro and DJI Mavic 2 Pro/Zoom. WiFi is a busy and flooded frequency spectrum, in over-use in most cities and therefore prone to unreliability and inconsistency, obstacles nearby are generally a challenge for WiFi.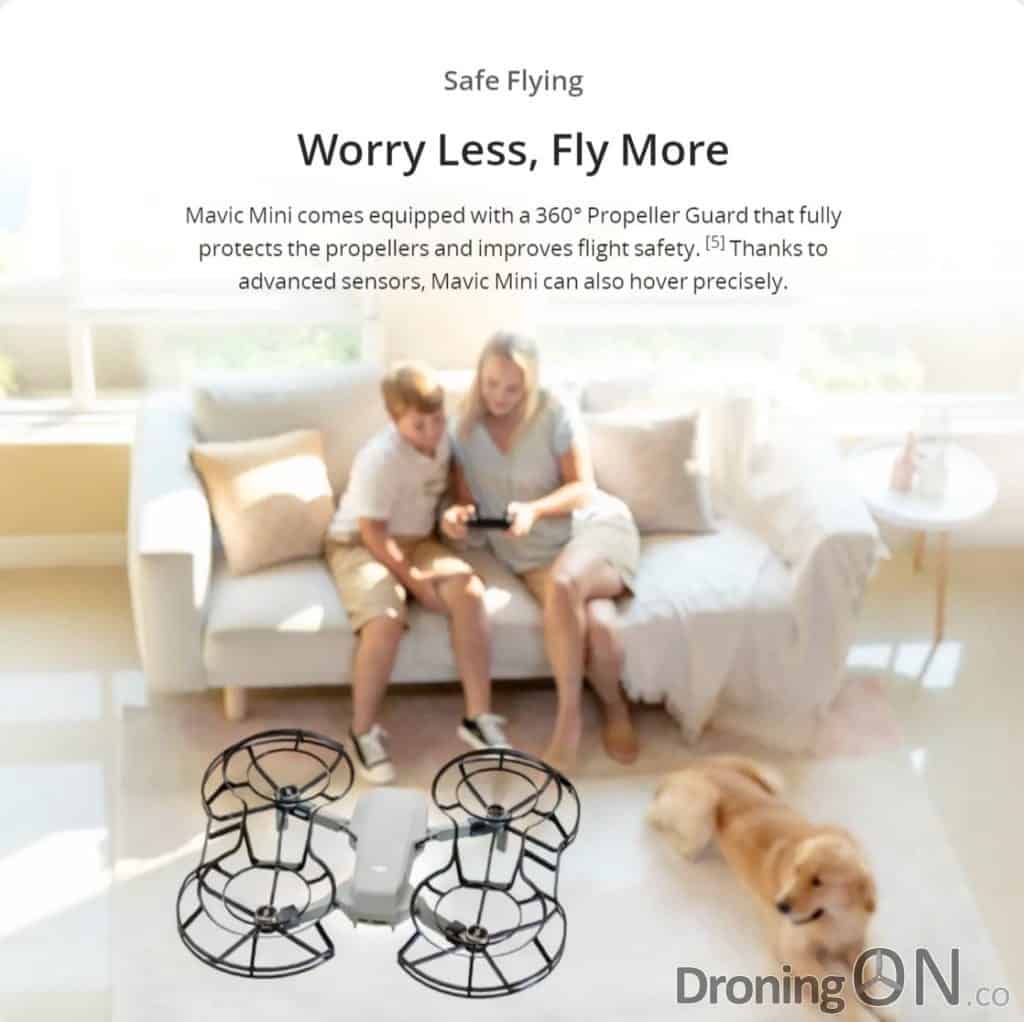 From our own testing, the furthest range that we have achieved with a WiFi drone was 900m, but this was about as far as it was possible to fly. If you'll only ever be flying your drone a short distance away then the WiFi-only DJI Mavic Mini will be adequate.
If you intend on flying longer-distance, around uneven terrain, in urban areas or towards the end of LOS (Line Of Sight) then you should avoid the DJI Mavic Mini because WiFi can struggle with these elements. There is no guarantee that OcuSync will overcome them all as there are many variables in play, but OcuSync does for certain provide a far stronger, more reliable signal.
ActiveTrack/follow me…
The DJI Mavic Mini does not (as of 2nd Nov 19) include Active Track or 'Follow Me' functionality. It utilizes a new App called 'DJI Fly'.
As a brand new app it has limited functionality but there is no doubt that the functionality will evolve and improve over time, especially if the community provide feedback and suggestions towards the roadmap.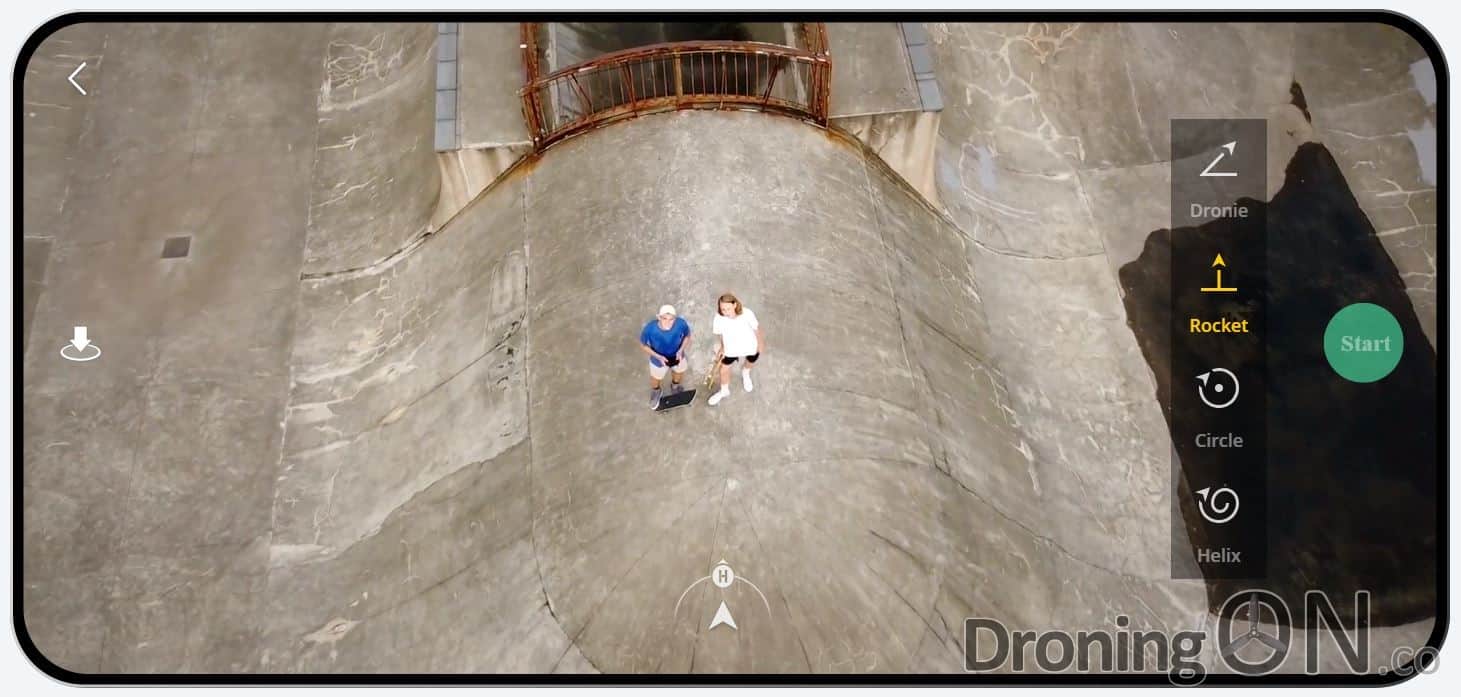 The DJI Mavic Mini is designed specifically with appeal to new and inexperienced drone owners, but also for seasoned drone operators seeking a simpler/quicker device to get airborne and capturing shots. The new DJI Fly app provides a simpler approach to drone control, offering automated 'selfie' shots and flight. If this sounds appealing then the DJI Mavic Mini is more appropriate for you.
If you have past experience operating drones and feel confident to achieve the shots that you desire with advanced controls, video and photo settings, or you're willing to learn how to command a larger and more complex aircraft then the DJI Mavic Pro/DJI Mavic 2 is a better option.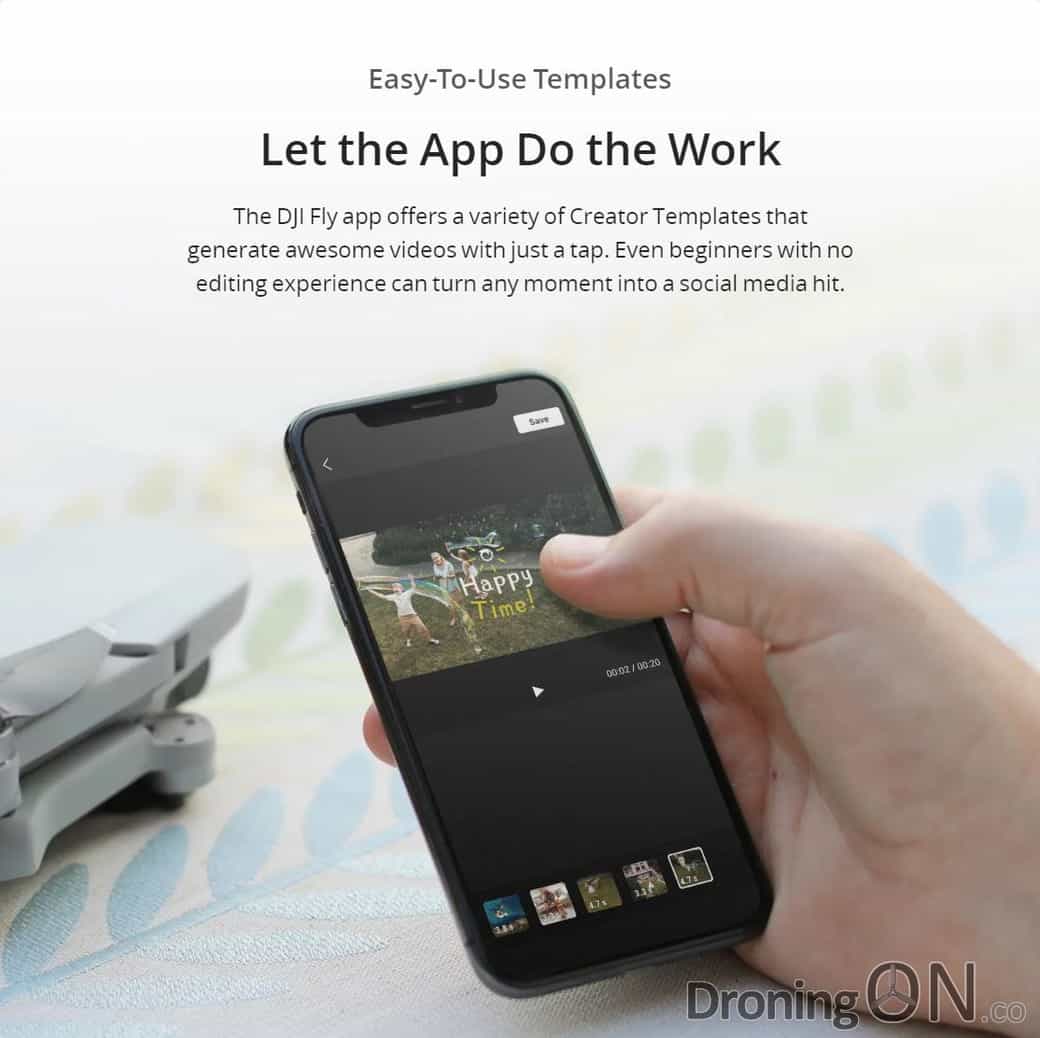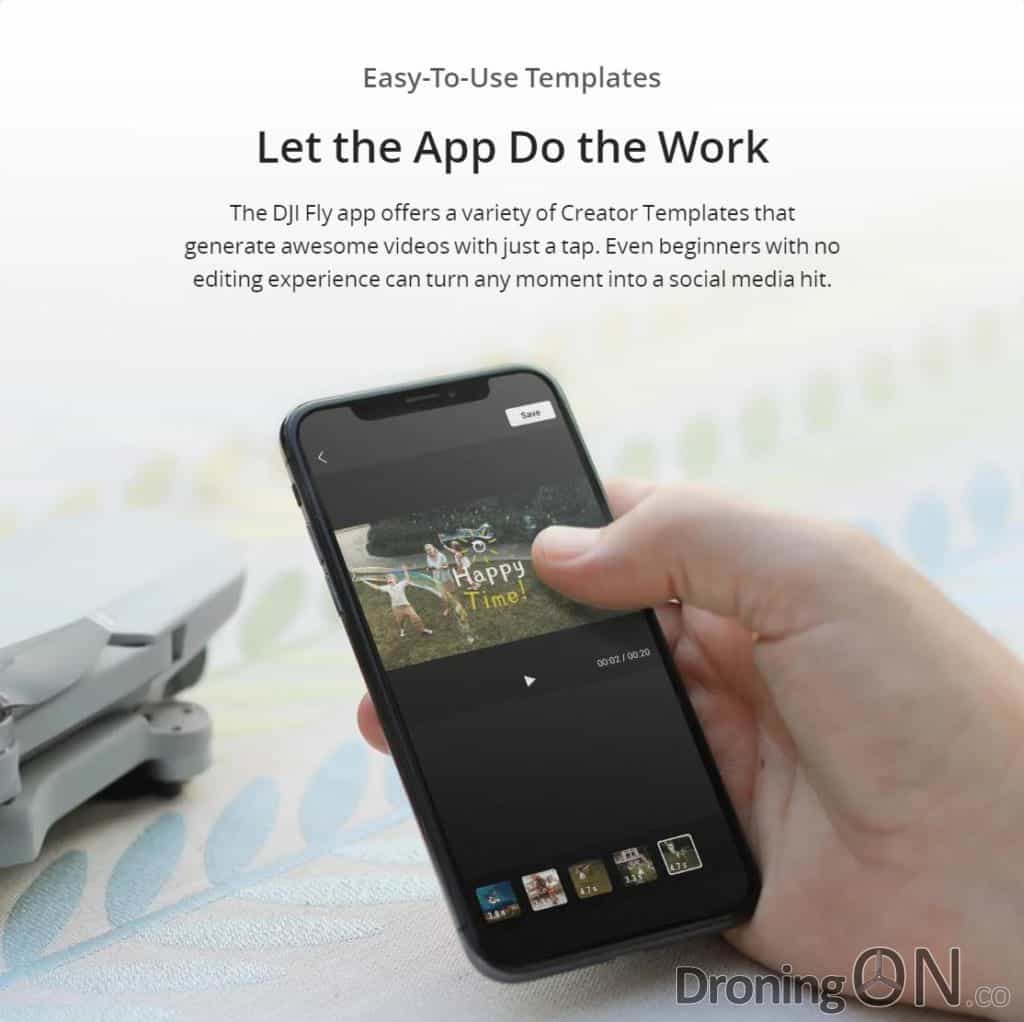 Obstacle avoidance…
In order to keep the weight of the DJI Mavic Mini to a minimum (only 249g) the sensors and circuitry to provide Obstacle Avoidance are not present, but it is possible that a future DJI Mavic Mini 'Advanced' or 'Pro' might include this kind of functionality, DJI often evolve their models and functionality in this way.
A seasoned operator of drones shouldn't require Obstacle Avoidance, a slow and careful start to flying the DJI Mavic Mini will avoid collisions and damage to the drone. The new 'DJI Fly' app provides a 'Beginners Mode' which avoids flight beyond capabilities of a new operator.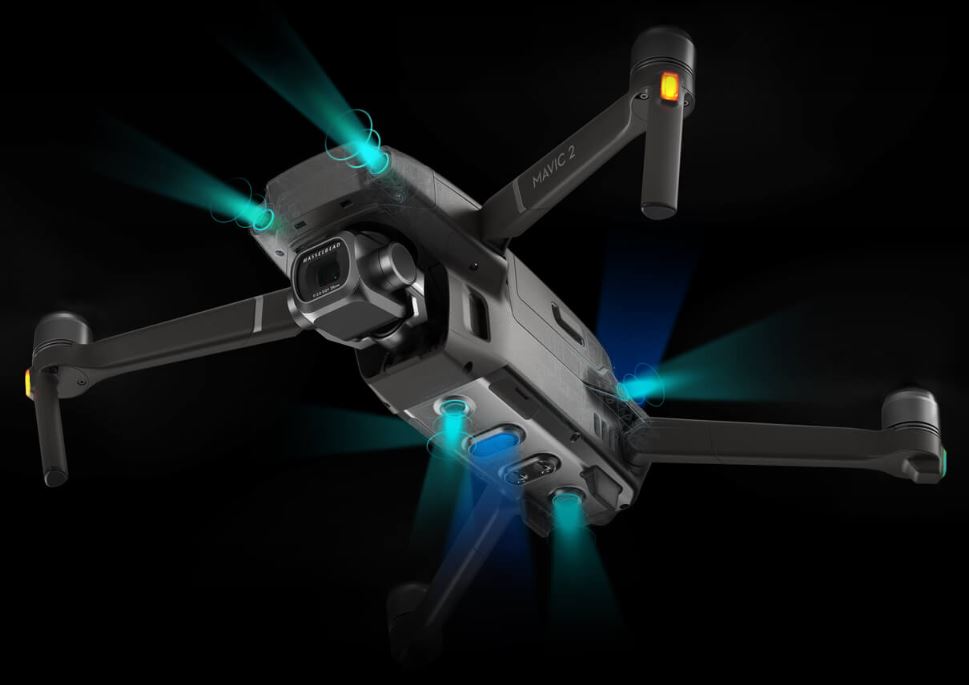 However, as new drone operator, you may feel more comfortable with Obstacle Avoidance functionality to prevent accidental crashes, but with this feature comes the additional size and weight of the larger DJI Mavic Pro/DJI Mavic 2 models.
Flight sensor redundancy…
The DJI Mavic Pro and DJI Mavic 2 incorporate multiple redundant sensors for fail-over in the event of failure. Multiple IMU, compass and even GPS allow the aircraft to resume safe and stable flight, even in the event of a failure of one or more components.
We believe that the DJI Mavic Mini features just a single compass and IMU, while failures are rare it does mean that the drone will be more prone to 'flyaway' than the other models in the range.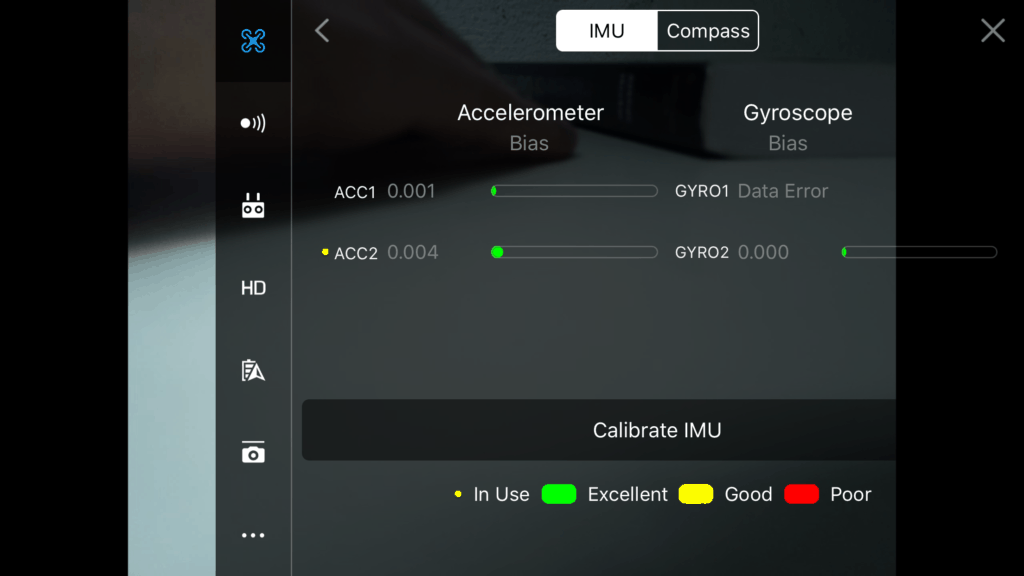 If you're a confident and seasoned operator, you'll be likely to be able to take command of the DJI Mavic Mini in the event of a loss of autonomy, but for the newer operators the DJI Mavic Pro/DJI Mavic 2 may be a better choice for peace of mind.
Flying capabilities…
The DJI Mavic Mini is a lighter, smaller drone and consequently has less power/weight ratio. It's ascent, descent and forward flying speeds are all lower than that of the DJI Mavic Pro/DJI Mavic 2 range.
If you are looking for a simple drone to deploy for basic shots, simple panning or selfie-automation then the DJI Mavic Mini will suit, but for complex tracking, fast-paced following or rapid ascent/descent cinematography then the bigger, heavier but more powerful siblings will be more suited.
Flight time…
The DJI Mavic Mini, DJI Mavic Pro and DJI Mavic 2 Zoom/Pro all offer over 25 minutes of flight time (subject to flying conditions), but the DJI Mavic 2 Pro/Zoom offer the most at a quoted 31 minutes, although in reality at least 3-4 minutes should be removed from the 'on paper' specification to account for varied flying style and wind conditions.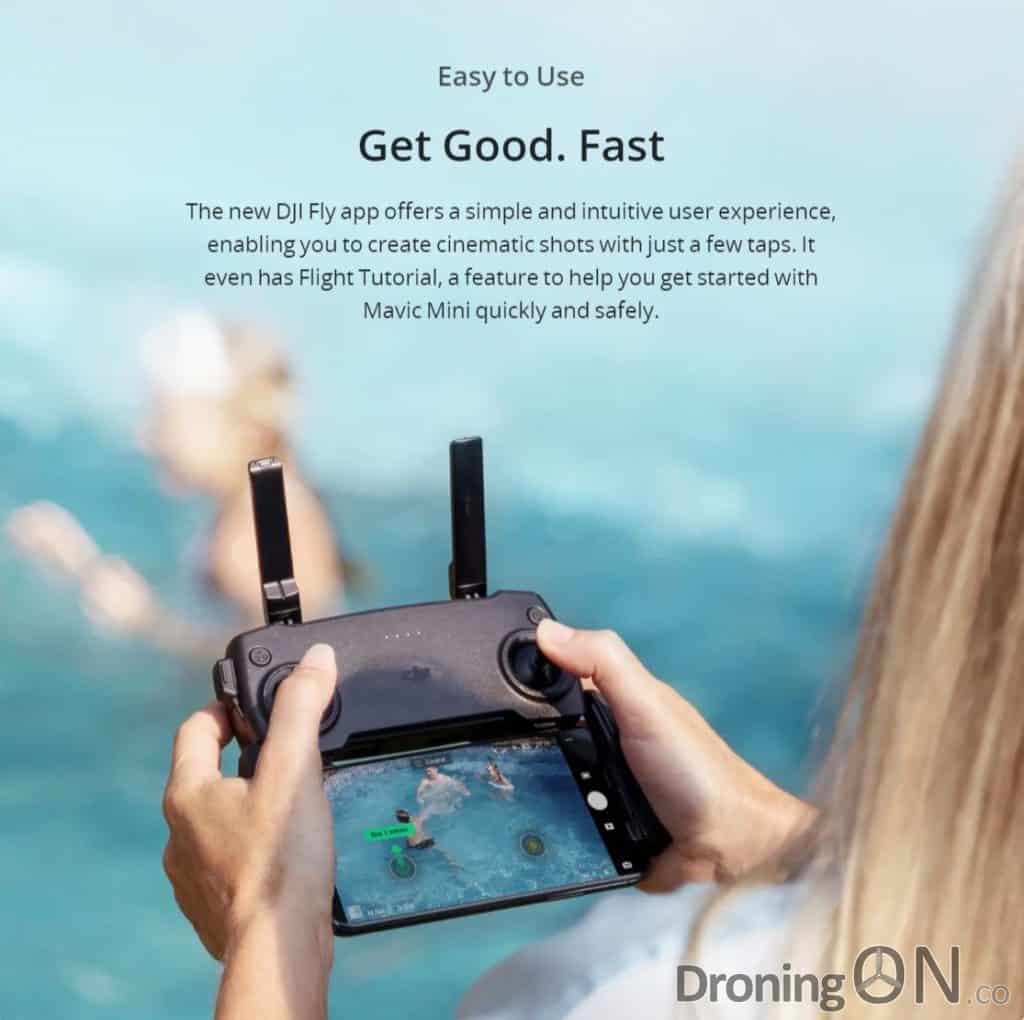 If flight time is your priority, then choose the DJI Mavic 2 Pro/Zoom because it offers the longest flight per battery but also consider the cost of batteries – it can be cheaper to buy a drone with shorter flight time if the batteries are cheaper than the next with a longer per-battery flight time. Next should be the DJI Mavic Mini offering a generous 30 minutes, and finally the original DJI Mavic Pro with just under 27 minutes on paper.
It should be noted that some early reviews of the DJI Mavic Mini have demonstrated issues with holding altitude, this could be a symptom of a drone which is slightly under-powered, this is yet to be further explored and may be just a firmware issue.
---
In summary…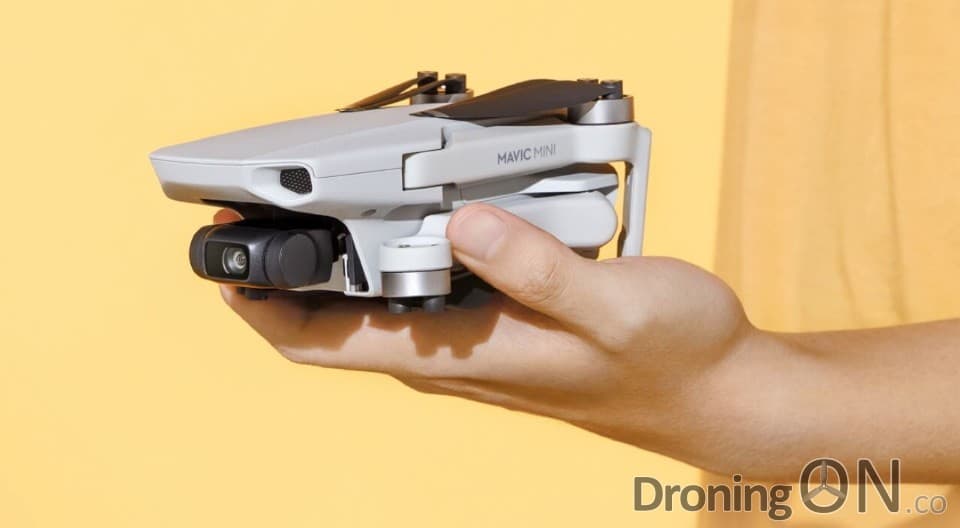 All of the drones discussed in this article are highly capable, market-leading and far ahead of the competition. You can view full specification and pricing for each of the above mentioned drones here:
Regardless of your drone experience or expertise, any would be a fantastic choice and the inbuilt features would ensure that you don't feel 'out of your depth' at any point, so long as you take your time, don't take risks, read the manual and abide by local aviation regulations.
Comment below if you felt that this article was useful, be sure to share it to your communities and keep 'DroningON'.
---
Be sure to join the DroningON Discussion Group for the latest news, reviews, exclusives and interviews from the drone industry!