DJI are on a roll in regards to firmware updates for the DJI Osmo Pocket, the latest V01.07.00.20 update introduces the impressive Hyperlapse feature, consumers will love this!
The latest update to the DJI Osmo Pocket includes a number of additional enhancements which will appeal to owners.
Increased the focus speed and reduced focus pulsing.
Added Hyperlapse shooting mode (note that currently Hyperlapse is only available when using Osmo Pocket, it will be available via DJI Mimo in a later version.
Added voume adjustment for external microphone.
** Buy the DJI Osmo Pocket HERE direct from the DJI Store **
The latest DJI Osmo Pocket firmware update v01.06.00.20 to resolve the focus pulsing issues.

DJI Osmo Pocket, pictured at launch against a blue illuminated background
Since reviewing the DJI Osmo Pocket last year, we have continued to love this little device, a micro-sized 4K camera with 3-axis mechanical gimbal. Instead of carrying our SLR with us for creating YouTube content, we now just use our Osmo Pocket.
See our firmware summary video…
Be sure to SUBSCRIBE to our YouTube channel for the latest news, reviews and exclusives from the industry!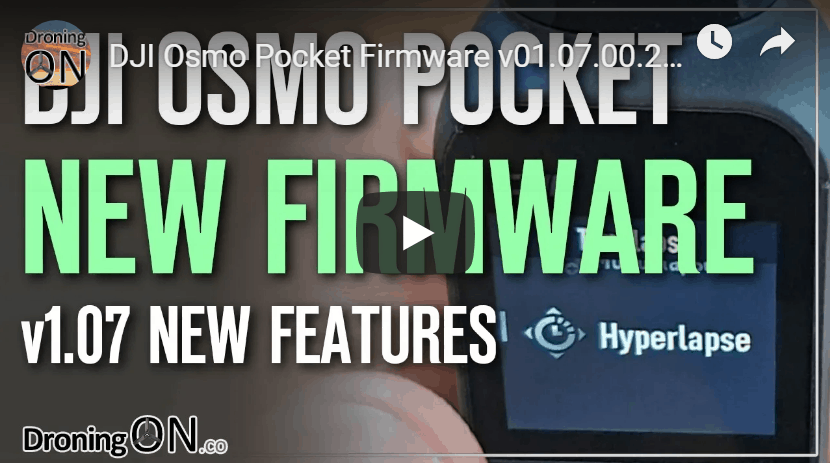 You can also review the earlier DJI Osmo Pocket Firmware update which resolved the substantial 'focus pulsing' issue.
** Buy the DJI Osmo Pocket HERE direct from the DJI Store **
---
Be sure to join the DroningON Discussion Group for the latest news, reviews, exclusives and interviews from the drone industry!