With the recent launch of the impressive DJI Mavic 2 drone, a screenshot of an email to a dealer, apparently from DJI, is circulating announcing the 'End Of Life' (EOL) for several popular drone and photography products.
UPDATE 3rd Sept 18: DJI Support has now confirmed this EOL list as authentic and genuine.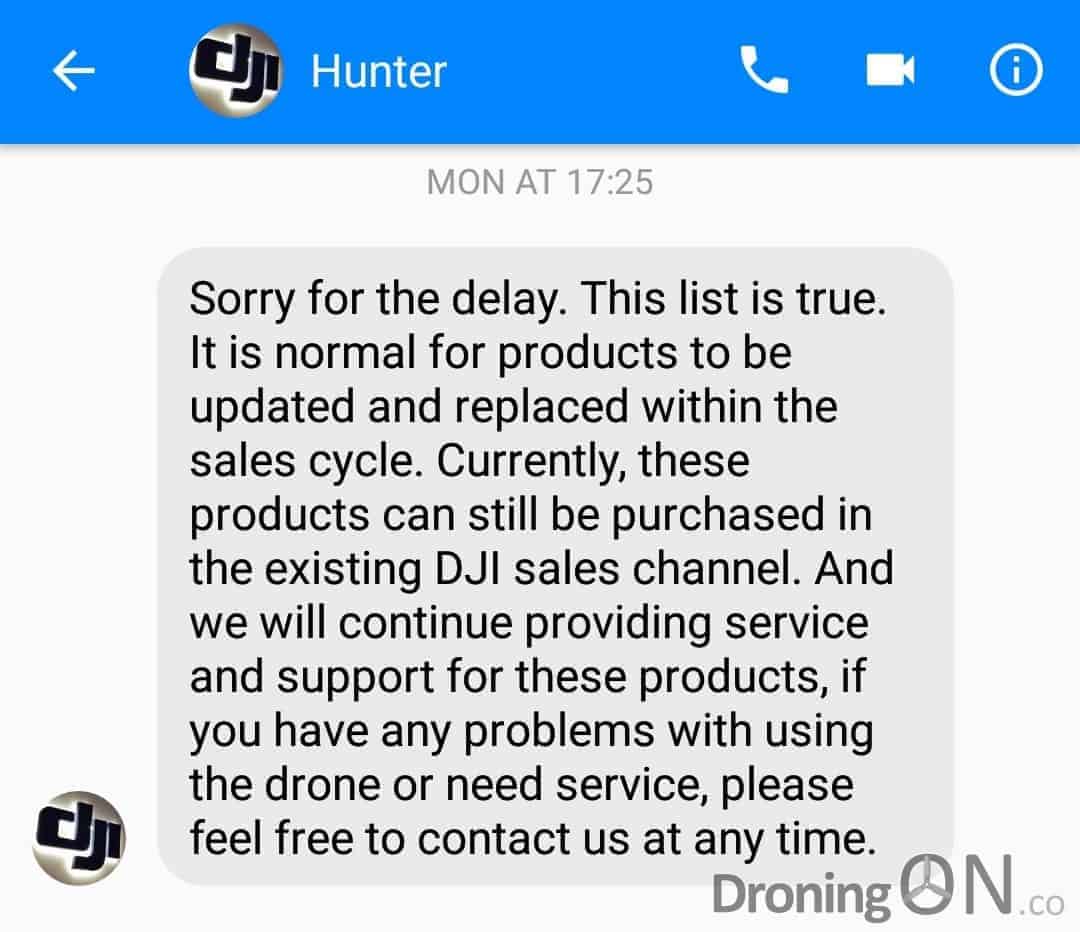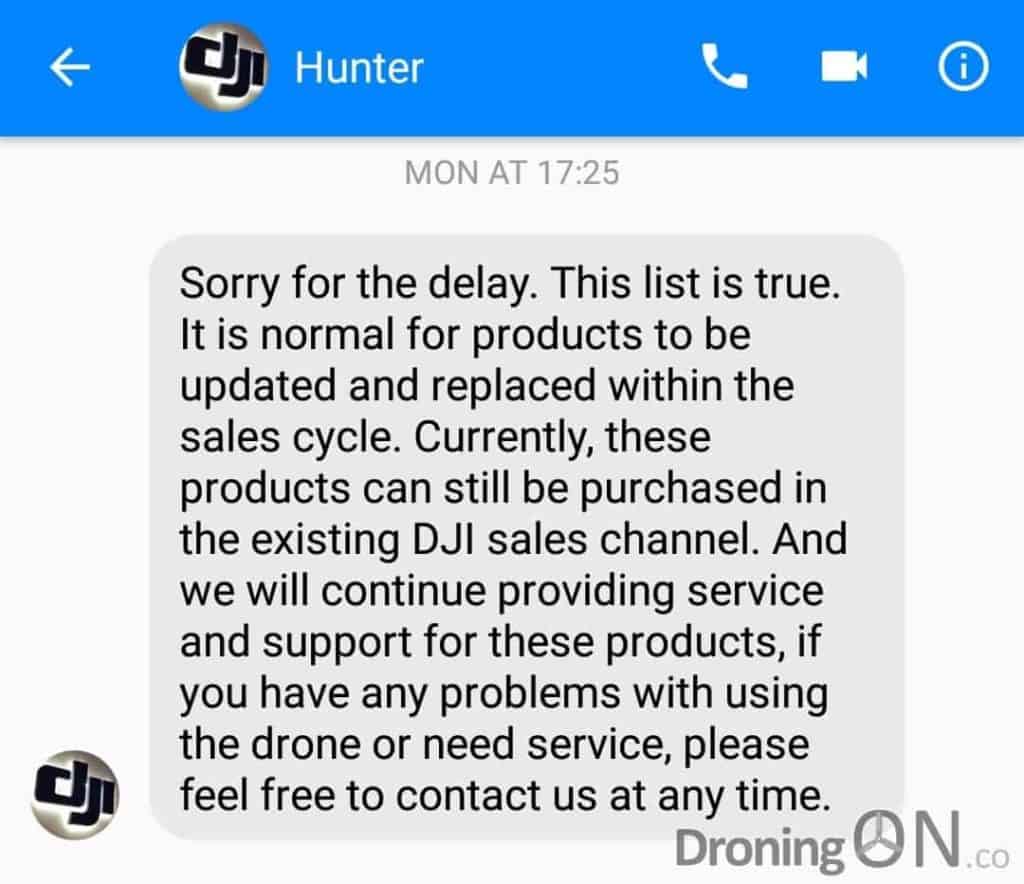 The notification allegedly sent to the dealers via email and a PDF attachment included the following product listing:
The attached PDF file includes a more detailed summary incorporating confirmation that the EOL notification commences from 30th August 2018.
The notification states 'iFlight Technology Co. Ltd' at the base, which is a company owned and operated by DJI.
The communication has also appeared as a translation into what would appear to be Chinese language.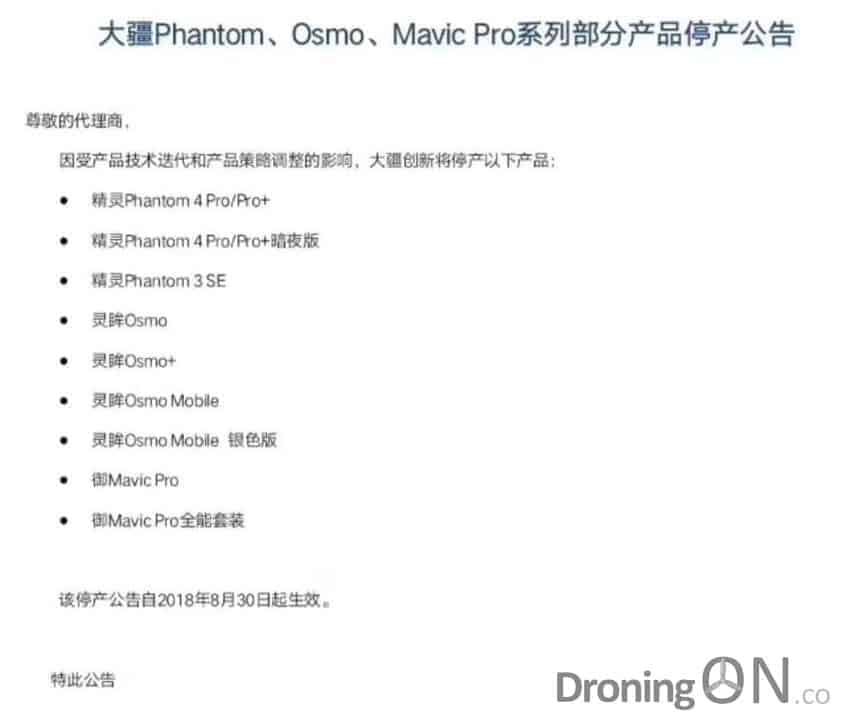 The most notable observation by most will be the termination of key Phantom 4 products (the Phantom 3 SE being an expectation however). EOL leaves just the Phantom 4 Advanced and Phantom 4 Pro v2.0 listed on the DJI website.
The launch of the new Mavic 2 product line has been speculated to to signify the end of the Phantom range, largely because of the 1″ camera sensor offered by the Mavic 2 Pro, overall capability, feature-set and flight time of this new drone.
The Osmo+ remains listed on the website for the time being and it is expected that the Osmo Pro line will also remain until announced as EOL too. The Osmo Mobile has been replaced by its successor, the impressive Osmo Mobile 2, which DJI appear to be prioritizing based on its website positioning
It is also no surprise to see the original Mavic Pro and Fly More Combo listed, although odd that the minor variants (the Platinum and Alpine White) are not listed, but it is to be assumed that these will also be discontinued now that the Mavic 2 Pro and Mavic 2 Zoom are in production.
The success of the two new models will no doubt determine the direction in which DJI decide to take next, not all drone operators require a foldable and portable platform and instead wish for something more robust.
Despite looking similar to the original Mavic Pro, the Mavic 2 is very new in terms of design, build and feature-set. As we witnessed with the original Mavic Pro it had its share of issues which were over time solved besides the gimbal ribbon issue. For that reason, we suggest waiting 3-6 months before investing in this new product to allow time for minor hardware revisions and firmware development.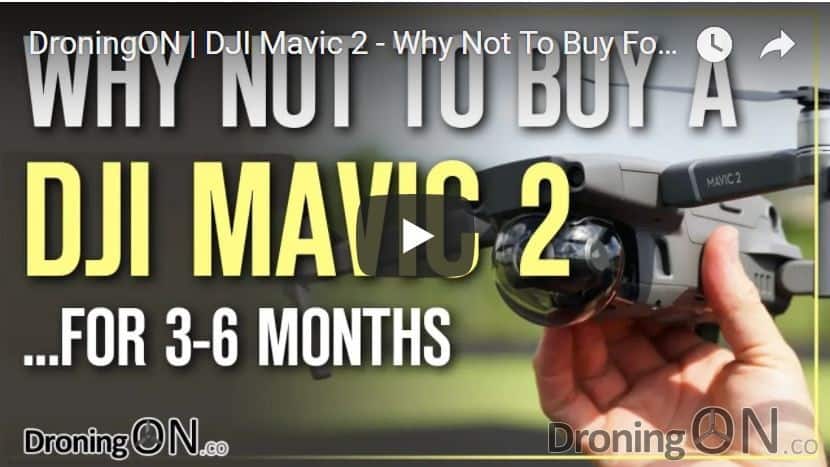 Time will tell as to what we see next from the market-leading manufacturer of drones, DJI,
---
Be sure to join the DroningON Discussion Group for the latest news, reviews, exclusives and interviews from the drone industry.