Yuneec has been in the drone industry for quite some time but in recent years has distanced themselves from the consumer market, but with the launch of their new foldable 'Mantis Q' drone, can they compete against the market lead of DJI.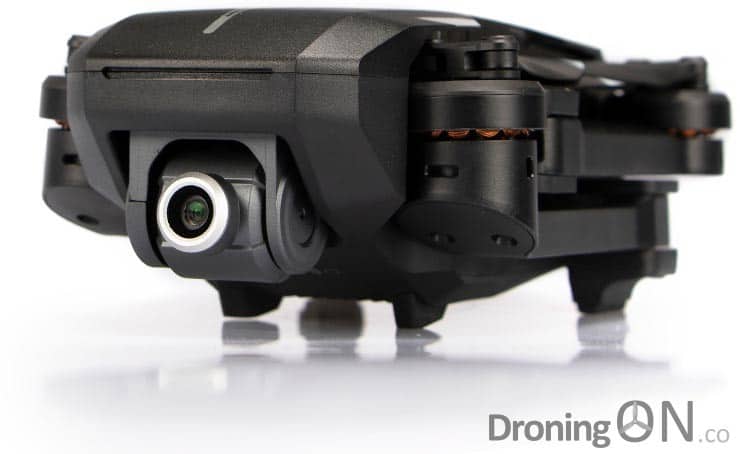 With a sub-$500 price-tag this new drone can not be expected to fully compete with the impressive offering from DJI, but there are two key features of this drone which will appeal to some niche consumers in the market:
Upward gimbal tilt to 20 degrees.
33 minutes flight time.
These two positives are unfortunately met with a major negative in the lack of a mechanically stabilised gimbal, instead the 1-axis mechanical gimbal is only used for upward/downward tilt, consequently stabilised video output from the Mantis Q is limited to 1080p.
For a first drone, the Mantis Q could be a great choice due to the generous flight time of 33 minutes, longer than any other consumer drone currently available.
This flight time allows for flight exploration without concern for short battery life, as with the DJI Spark. The range of this drone is another limitation but no more so than with its DJI alternative (the Spark again).
Our video analysis/comparison…
Be sure to SUBSCRIBE to our YouTube channel to be the first to watch our exclusive reviews of new drones.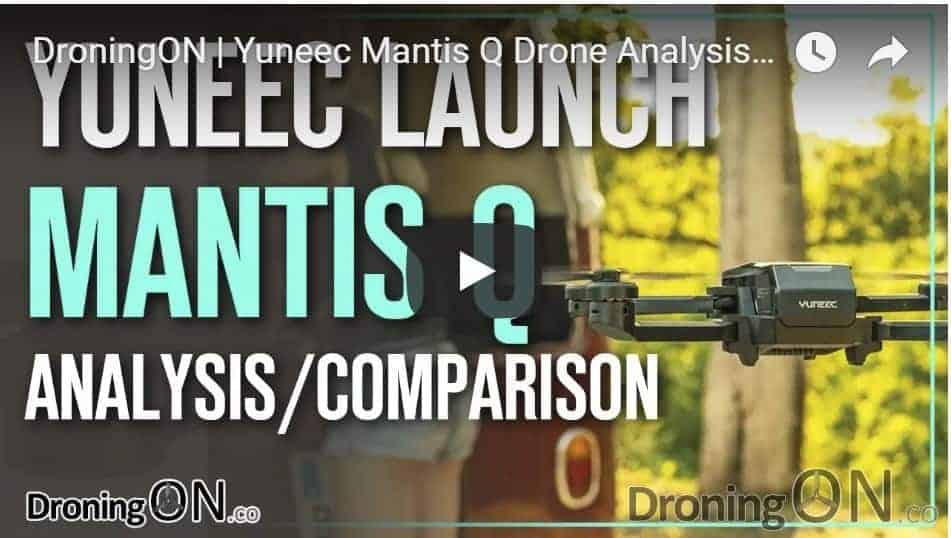 Full specification…
The technical specification for the Yuneec Mantis Q drone follows, captured directly from the Yuneec website, and consequently could change following the publication of this article.
Aircraft
TAKEOFF WEIGHT (INCL. CAMERA AND BATTERY)
16.9 oz
DIMENSIONS
9 27⁄32″ x 7 23⁄64″ x 2 9⁄32″ (LxWxH, unfolded) — 6 39⁄64″ x 3 25⁄32″ x 2 9⁄32″ (LxWxH, folded)
FLIGHT TIME
Up to 33 min (in no wind environment at a constant speed of 15.5 MPH)
MAXIMUM RATE OF ASCENT
Angle/Manual Mode: 6.7 MPH // Sport Mode: 8.9 MPH // IPS/Phone Mode: 4.5 MPH
MAXIMUM RATE OF DESCENT
Angle/Manual Mode: 4.5 MPH // Sport Mode: 6.7 MPH // IPS/Phone Mode: 2.2 MPH
MAXIMUM FLIGHT SPEED
Angle/Manual Mode: 13.4 MPH // Sport Mode: 44.7 MPH // IPS/Phone Mode: 8.9 MPH
BATTERY
3S 2800mAh, changeable
RADIO RANGE
4,921 ft (FCC standard)
OPERATING TEMPERATURE
32° F – 104° F
SATELLITES
GPS & GLONASS
Camera
SENSOR
1/3.06 inch CMOS
PHOTO RESOLUTION
4:3 (4160×3120); 16:9 (4800×2700)
PHOTO FORMAT
JPEG / JPEG+DNG
VIDEO RESOLUTION
4K: 3840 x 2160 @ 30fps // 1080P: 1920 x 1080 @30fps or @60fps (with image stabilization) // 720P: 1280 x 720 @60fps (with image stabilization)
VIDEO FORMAT
MP4 / MOV
IMAGE STABILISATION
3-axis stabilized (Electronic Image Stabilization EIS)
CONTROL RANGE
-90° to 20°
VIEW FIELD
117°
EQUIVALENT FOCAL LENGTH
21.5 mm (0.85″)
SD CARD
Class 10 or U3 8/16/32/64/128G
ISO RANGE
100 – 3200
ELECTRONIC SHUTTER
For Photo Mode: 8s-1/8000s / For Video Mode: 1/30-1/8000
EXPOSURE COMPENSATION
0, ±0.5, ±1.0, ±1.5, ±2.0, ±2.5, ±3.0
WHITE BALANCE
Auto, Lock, Sunny, Cloudy, Fluorescent, Incandescent
SCENERY MODES
Nature, Saturation, RAW, Night, Soft
METERING MODE
Spot Metering, Center Metering, Average Metering
PHOTO MODES
Single Shot, Face Detection, Gesture Control
DOWNLOADING SPEED PHOTOS
1 MB/s
Remote
NUMBER OF CHANNELS
10
VIDEO TRANSMISSION
4,921 ft (FCC standard, optimum conditions)
BATTERY
1S 3.7V 3000mAh Li-Ion, built-in
App
REQUIRED OPERATING SYSTEM
iOS 9.0 or above (Voice Control iOS10 or above, Voice Control with local processing iOS11 or above) / Android 5.0 or above (Voice Control requires internet connection)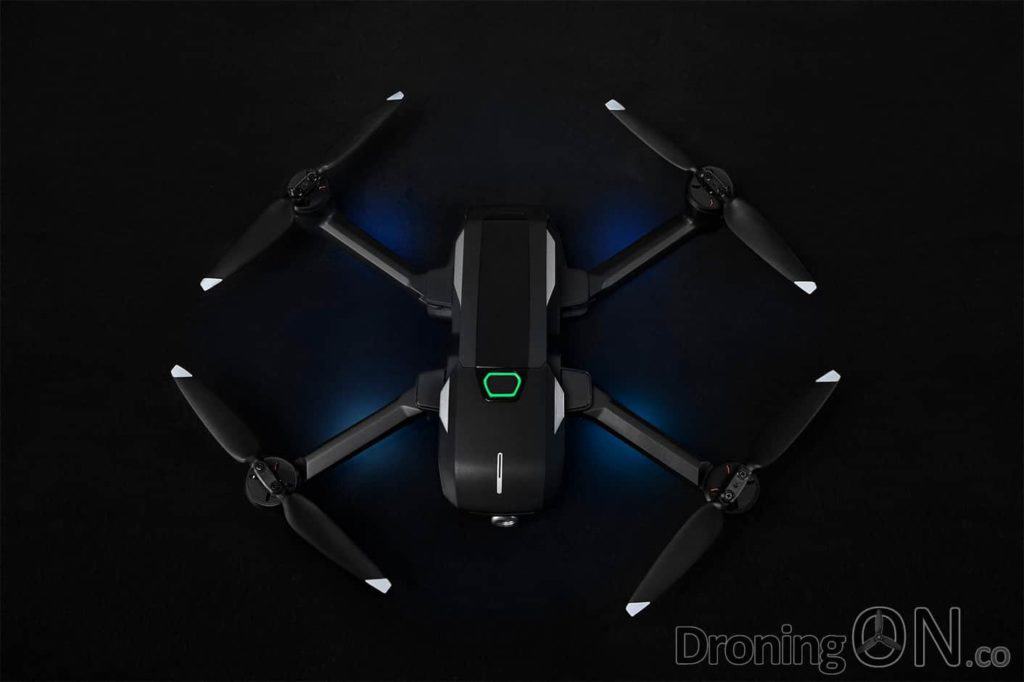 More information…
See full details of the Mantis Q via the Yuneec website:
---
Be sure to join the DroningON Discussion Group for the latest news, reviews, exclusives and interviews from the drone industry.