Compact drones are the current trend and the SunlyTech Alpha Cam 4K might be a worthy competitor – we travelled to Thailand for holidays and took this new drone with us to test and review!

Priced very closely to the brilliant Dobby from ZeroTech, the SunlyTech Alpha Cam 4K is a small-sized pocket drone, offering multiple-GPS technologies, underside optical sensing but also 4K video.
Despite not featuring folding arms, this drone is small and lightweight, it also includes two batteries within the neat and robust storage/travel case, but most notably is its flight time boast of 20 minutes, setting it far ahead of Dobby.
However, a lack of firmware and app updates has left this drone feeling like an unfinished project, we hope that SunlyTech revisit this product and get it updated because it has serious potential.
Watch our video review…
Be sure to SUBSCRIBE to our YouTube channel to be the first to watch our exclusive reviews of new drones.
Part 1: Unboxing, Inspection & App Install/Tour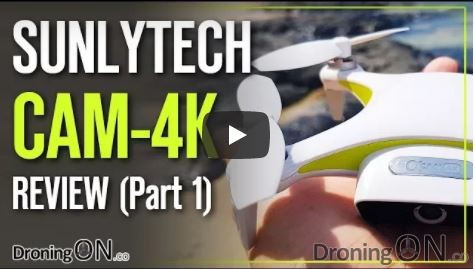 Part 2: Flight Test (Setup, Calibration & Flight Test)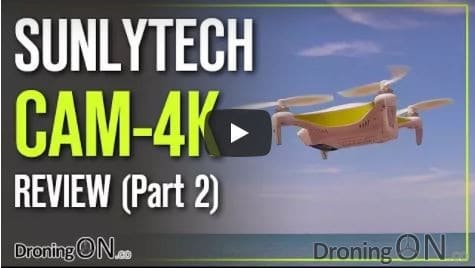 Part 3: Flight Test Continued (wind, follow me and more)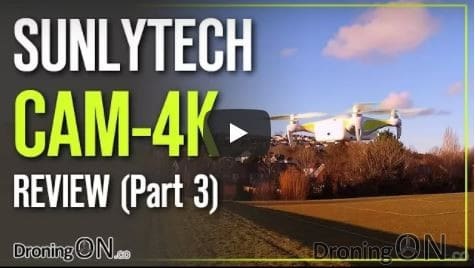 Where to buy…
The SunlyTech Alpha Cam 4K is available from multiple retailers, be sure to check each to find the lowest price.
SunlyTech Alpha Cam 4K
ZeroTech Dobby
The positives…
Available after Part 3 is published…
The negatives…
Available after Part 3 is published…
Full specification…
The full technical specification for this drone is as follows, based on their current published technical information:
 Main Features
● Excellent CPU, DSP, GPU for Voice / Touch / Motion Control and various user-friendly functions
● Crisp images with 13MP camera, 4K UHD video recording, 3-axis stabilization EIS, 2.4GHz / 5GHz WiFi FPV
● GPS-enabled Auto Follow, Point of Interest, Asymptotic Mode help you realize marvelous effects effortlessly
● GPS + GLONASS + AGPS ( auxiliary global positioning system ) for outdoors, optical flow + infrared sensors for indoors
● 20 minutes long flight time provided by the 2000mAh high-capacity LiPo after only 40 minutes' chargingSpecifications:
Aircraft
Size: 128 x 128 x 43mm ( excluding propellers )
Max. flight time: 20 minutes
Max. service ceiling above sea level: 3000m
Max. control distance: 100m ( in the open area without interference )
Operating temperature: 0 to 45 Deg.C
Positioning system: GPS + GLONASS; optical flow + infrared ( more than 15 lux illumination )
Hover accuracy: vertical: + / – 0.1m ( visual positioning ); + / – 0.5m ( GPS ); horizontal: + / – 0.3m ( visual positioning ), + / – 1.0m ( GPS )
Camera
Image sensor: 1/3.06 inch CMOS
Effective pixels: 13MP
Lens: 90-degree FOV, F2.2
Photo shooting mode: Facial Recognition, Beauty Mode, Time-lapse, Panorama, Burst Mode
Video filming mode: Auto Follow, Point of Interest, Asymptotic Mode ( coming soon )
Video recording: 1080P 30fps ( EIS ), 4K 30fps
ISO range: 100 – 3200
EV range: -12, -8, -4, 0, 4, 8, 12
Storage format: JPEG, MP4
Internal memory: 16GB ( including system file )
Interface: micro USBBattery
Capacity: 2000mAh
Energy: 15.2Wh
Voltage: 7.6V
Battery type: 2S LiPo
Charging environment: 5 to 40 Deg.C
Discharging environment: 5 to 40 Deg.C
Max. Voltage limit: 8.7VApp
App name: SUNLY FLY
Image transmission: VGA
Delay: 160ms ( depending on actual environment and mobile device )
System requirement: Android 4.3 or later, iOS 8.0 or laterWiFi
Frequency: 2.4GHz, 5GHz ( default )
Transmit power: according to different laws and regulations
---
Be sure to join the DroningON Discussion Group for the latest news, reviews, exclusives and interviews from the drone industry.