DJI together with Ryze has launched a new drone product line, this time its called Tello and it is focused on the entry-level and educational market, retailing at only $99/£99.
Ryze Tech, a drone start-up company, has completed development of its first drone, in conjunction with DJI. The new product is called the 'DJI Tello', it will officially at CES 2018 in Las Vegas.
[perfectpullquote align="full" bordertop="false" cite="" link="" color="" class="" size=""]"The Tello is a toy drone that balances fun, form and function, with the goal to provide a fun and awesome flying experience for kids and the kid in every adult. Weighing around 80g with a body that is approximately the size of a smartwatch, it can be activated with a quick toss and return to land in the palm of your hands in a matter of seconds."[/perfectpullquote]
Unlike the DJI Spark and DJI Mavic, this new entry-level drone does not capture full HD photos or video but it does provide an acceptable 720p resolution to match most other budget drones in this price-bracket.
With an appearance very similar to the Wingsland X1 and Parrot Mambo drones, this drone was created in collaboration with
Providing the following basic features, this sub-$100 drone will appeal to those that have not yet had an opportunity to own one of the premium DJI products.
The DJI Spark is available for under $500 and yet it still too costly for some, especially for educational facilities, therefore the new DJI Tello will definitely appeal.
13 minutes flight time.
720p image quality.
100m range
Dual diversity antennas
Throw-And-Go feature.

8D flips and stunts.
Bounce Mode
Inbuilt storage.
Support for 'Scratch' programming.
The drone also offers a 'programming' feature targeted at educational facilities.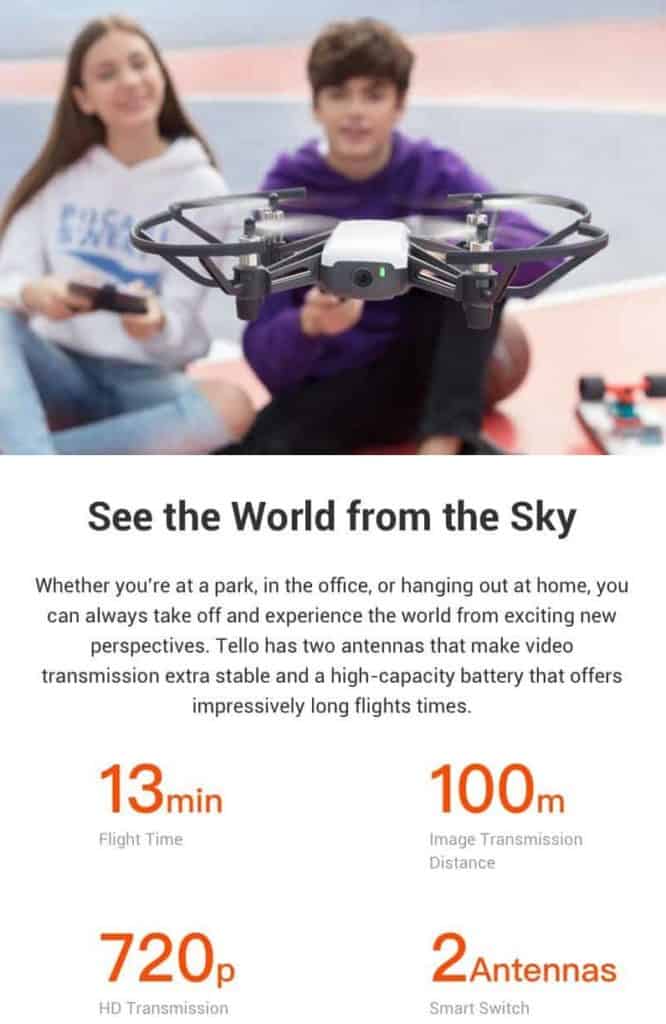 Limited accessories are available at this time and there is no mention of a transmitter yet. The top shell of the drone is detachable and so it can be changed for alternative coloured shells.
Out of the box, the DJI Tello ships with 4 x Props, 4 x Prop Guards and 1 x Battery.
[perfectpullquote align="full" bordertop="false" cite="" link="" color="" class="" size=""]"Tello houses an HD camera and comes with a pre-programmed one-touch flight function called "EZ Shot", letting you capture a 360 video, fly in a circle and command Tello to fly "Up & Out"seamlessly. Now you can spend more time posing for the camera and capture amazing footage, and less time controlling it. Whether you're doing a flip, tossing it into the air or racing it through an obstacle course, controlling the Tello is made simple thanks to the advanced computer vision and stabilization technology that's packed inside."[/perfectpullquote]
We will have more information when available, but in the meantime click here to visit the DJI Product Page for the new DJI Tello.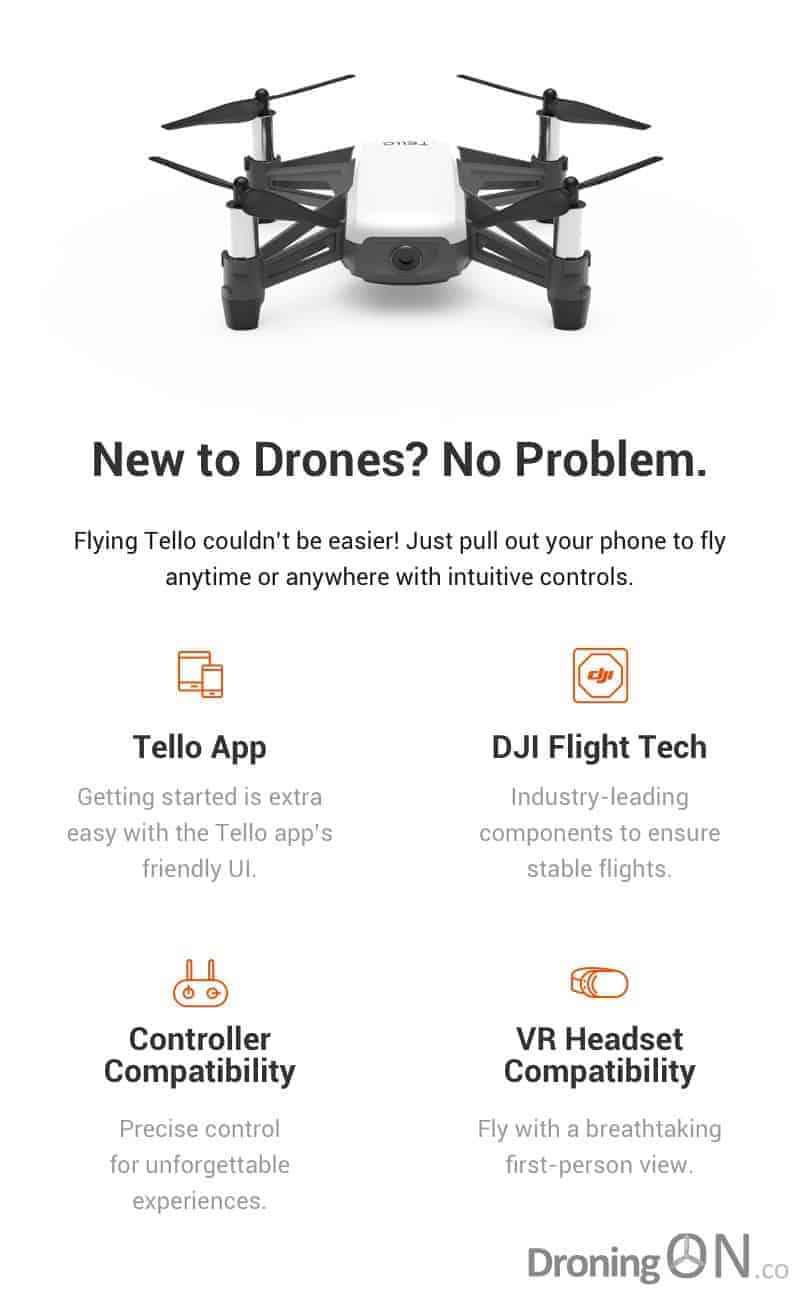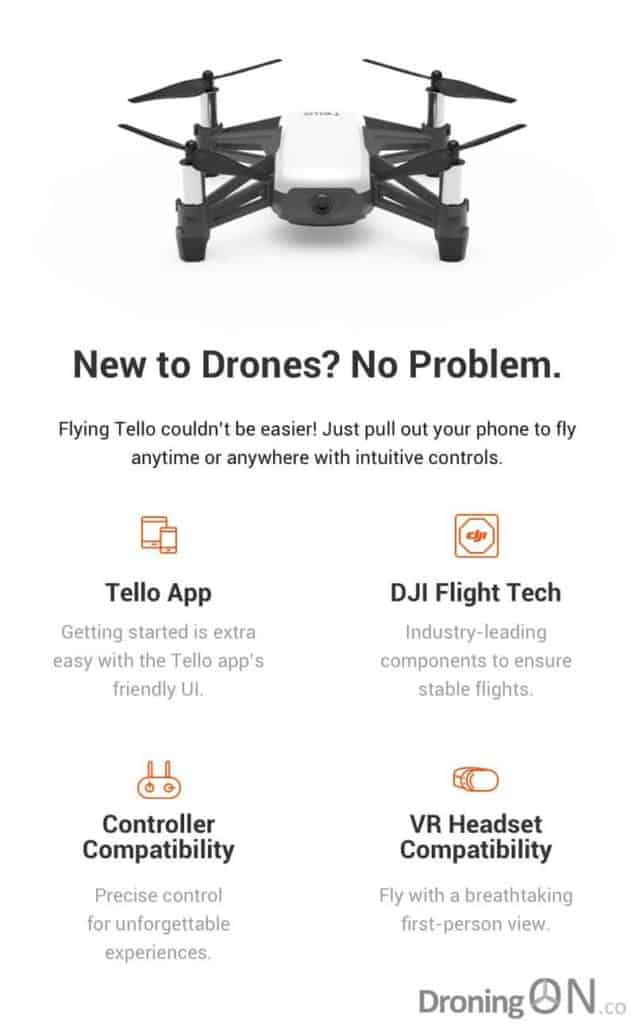 ---
Be sure to join the DJI Tello Facebook Group for the latest news, reviews, information, tips and tricky!