Following the launch of the S6 last year, Wingsland has been fairly quiet, but they have just launched their new X1 FPV racing drone, a budget quadcopter for less than $80/£76.
Focusing in the past on photography and videography drones, Wingsland has shifted their market focus for the launch of the latest portable drone, the X1.
[stextbox id='alert']Currently 30% off the Wingsland X1, only £76/$80 and in stock! – Click here for more details![/stextbox]
The X1 is a racing-drone inspired quadcopter which can be controlled by WiFi or the R6 transmitter available from some retailers, although not all as it has not yet officially launched.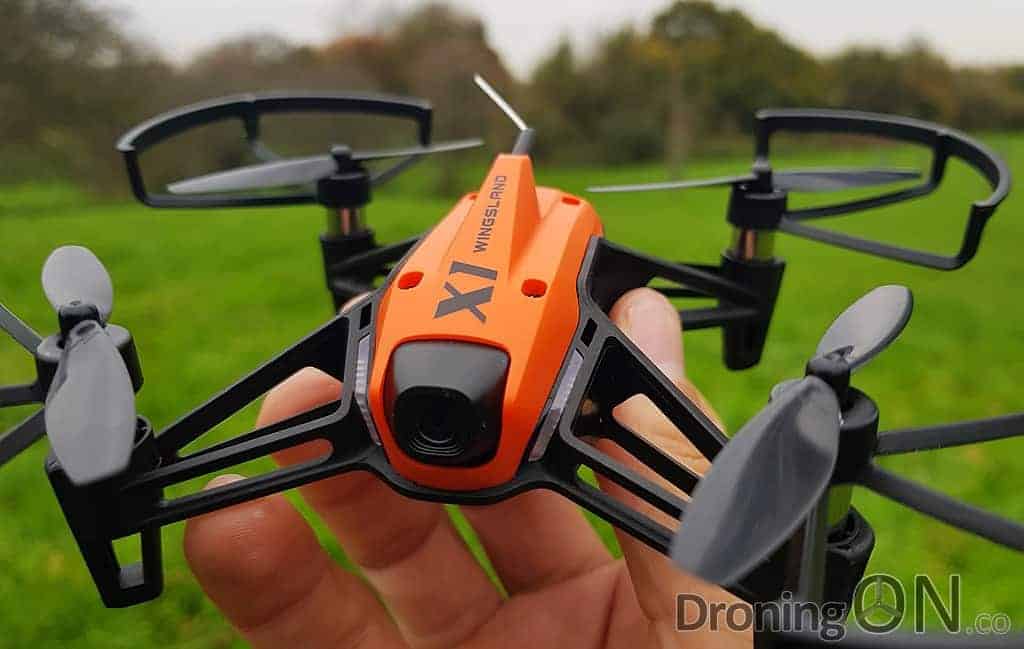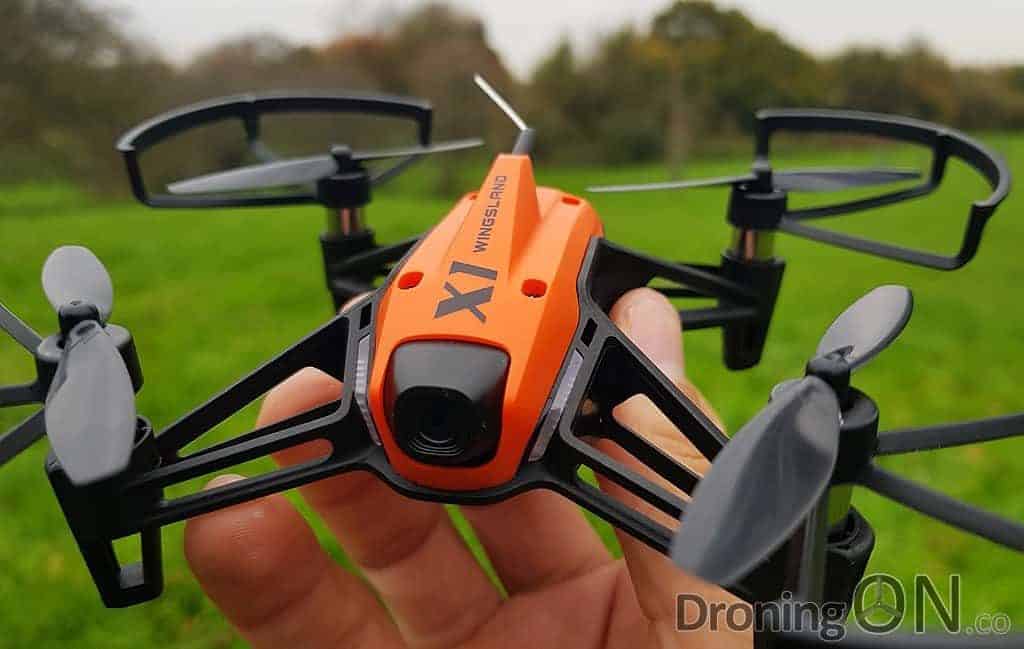 However the X1 is a racing drone with a twist, not only does it feature integral prop-guards which can be swivelled into place, but it also includes optical flow (OF), a downward facing camera which tracks the ground.
This additional feature allows the drone to hold its hover position without GPS, therefore the pilot can release the controls at any point and the X1 will hover on-the-spot, making it an ideal first drone for indoor or outdoor flight.
It is important to note that this drone is not designed for beautiful photos or video, it is for fun and speed. For this reason, it does not incorporate an onboard SD card and so media is stored to the smart device. In addition, it does not have GPS for stability, instead it utilises Optical Flow.
Watch our video review…
Be sure to SUBSCRIBE to our YouTube channel to be the first to watch our exclusive reviews of new drones.
The positives…
❍ Great flight time, between 7-8 minutes, more if not flying fast.
❍ Good range and low latency live feed despite being via WiFi.
❍ Great build quality and presentation, as per usual Wingsland.
❍ Optical flow works very well indoor and out.
❍ Very controllable, despite app interface.
❍ Folding prop-guards are a nice feature, can also be removed.
The negatives…
❍ Awkward/badly designed battery latch.
❍ Needs faster sensitivity mode for advanced pilots.
❍ No on/off switch on the drone, not very convenient.
❍ Video and photo quality is very low, but its a racing drone.
❍ 360 'Flip' feature isn't yet available.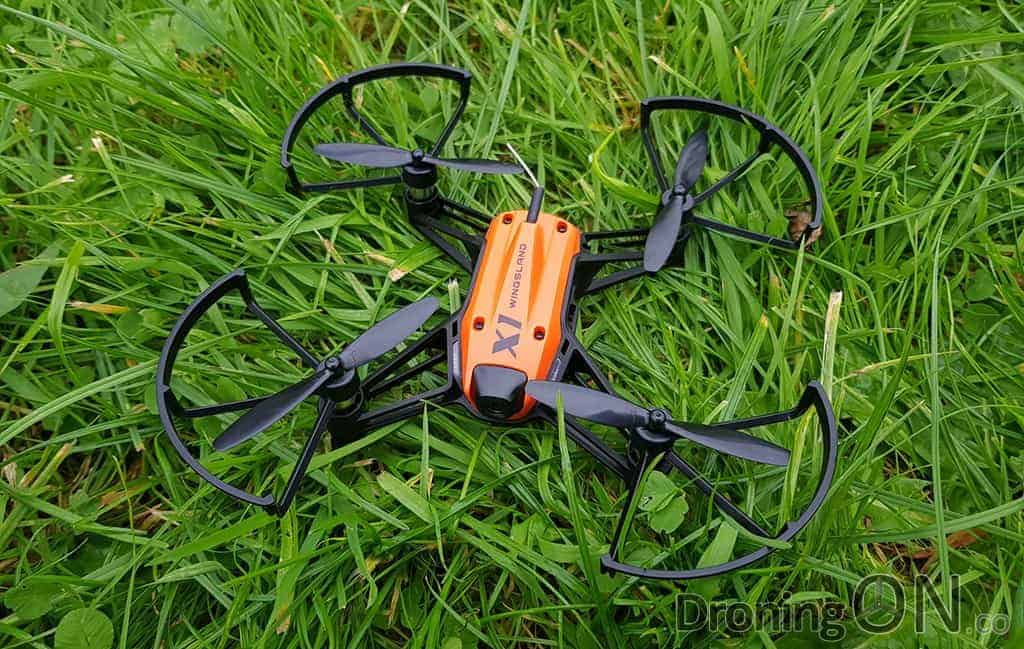 Where to buy…
The Wingsland X1 is available from HobbyWow, other retailers do offer the drone for sale but do not necessarily have stock of it. Also listed is the Wingsland S6 which you can see reviewed here.
Full specification…
The full technical and feature specification for the Wingsland X1 FPV Racing Drone is as follows:
Able to experience and enjoy the fun of competing drone.

Indoor optical flow assisted positioning,easy to achieve indoor hover

Lens can be adjusted up or down 15 °, suitable for crossing the basic configuration, record bit by bit life

Excellent flight control system

High-definition camera, able to capture the wonderful moments at any time

Small and lightweight, only 70g, easy to carry

With expansion module interface, can be extended follow-up accessories upgrade play

Modular protective cover to ensure a safer flight experience, high-strength composite material to make the body solid and durable

Can be quickly installed, the user can replace parts, easy to maintain

Mobile phone APP remote control, flexible operation simple; compatible R6 remote control.

Constantly updated firmware system, to provide more powerful functions
| | |
| --- | --- |
|  Model |  Wingsland X1 |
|  Aircraft Weight |  70g (approx.) battery included |
|  Max Flight Time |  Approx. 7 Mins (Vary depending on environmental conditions and usage patterns ) |
|  Max Ascent Speed |  1 m/s |
|  Max Descent Speed |  0.6 m/s |
|  Max Flight Range |  100m |
|  Max Tilt Angle |  30° |
|  Hover Accuracy |  ± 0.5m (Optical Flow Sensor) |
|  Work Temp. |  41°F (5℃) ~ 105°F (40℃) |
Camera Specification:
| | |
| --- | --- |
|  Adjustable Angle Range |  0° ~ 30° |
|  Photo Res. |  640*368 |
|  Video Res. |  640*368 |
Battery Specification:
| | |
| --- | --- |
|  Battery Capacity |  600 mAh |
|  Battery Voltage |  3.7 V |
|  Battery Type |  Lipo 1S |
|  Charging Time |  30 mins (Express Charge Mode) |
|  Charging Voltage |  5 V / 1A |
|  Temperature Range |  41°F (5℃) ~ 105°F (40℃) |
Connectivity Specification:
| | |
| --- | --- |
|  Type |  Digital |
|  Mode |  Wifi |
|  Range |  50m |
|  DPI |  640*368 |
---
Be sure to join the DroningON Discussion Group for the latest news, reviews, exclusives and interviews from the drone industry.