Investing in crowd-fund drone projects has almost always failed to deliver an advantage. In this most recent case the 'JetBlack' drone from YYPlay has not even delivered to all backers and yet the manufacturer appear to be selling them to online retailers.
The 'JetBlack' drone project was created on Kickstarter in July 2017, it raised almost $30,000 through the support of 234 backers. The drone is a simple concept without autonomy besides the very basic altitude-hold. The camera captures at 720p to an onboard SD card whilst also streaming live video to a smart-phone app.
[stextbox id='info']See our full review of this drone here and be sure to SUBSCRIBE to our YouTube channel![/stextbox]
Committed to deliver in November 2017, many backers are still waiting for their drone to arrive (according to comments posted to the campaign page).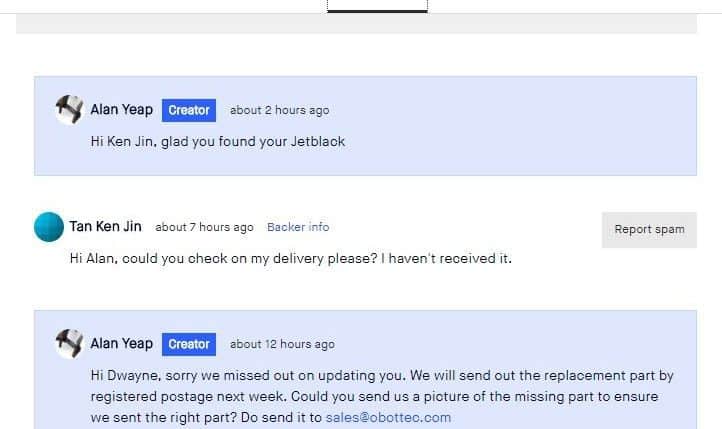 Sadly there is a twist in this campaign, the loyal supporters of this campaign will be shocked to discover that the manufacturer YYPlay has already been shipping stock to multiple online retailers, including HobbyWow and AliExpress ahead of shipping to its own backers that have funded the project.
We were sent a review unit by HobbyWow and this prompted us to investigate the history of the drone, during which we uncovered this scandal.
In addition to being available on multiple online retail stores ahead of the drone arriving with backers, the drone is also available at a much lower price than the perk price paid by Kickstarter backers.
Backers on Kickstarter paid over $89 for their drone package whilst the same deal retails on HobbyWow for only $53, almost half the price. Twelve backers even opted for the "Senior Captain" perk paying $239 for three of the drones.

The campaign does not appear to have been created with a specific funding goal, consequently regardless of the funds raised the campaign would proceed. In comparison to other crowd-funded drone projects, $28,000 is a very small sum of money and would barely cover the tooling, development, design and manufacturing costs.
The campaign page boasts pencil drawings of concept designs, including even a DJI Mavic sketch (on the left side) but based on the funds raised, we suspect that this drone was not 'designed' by YYPlay but that instead the funds were used simply to rebrand an existing budget drone which was already available in the market.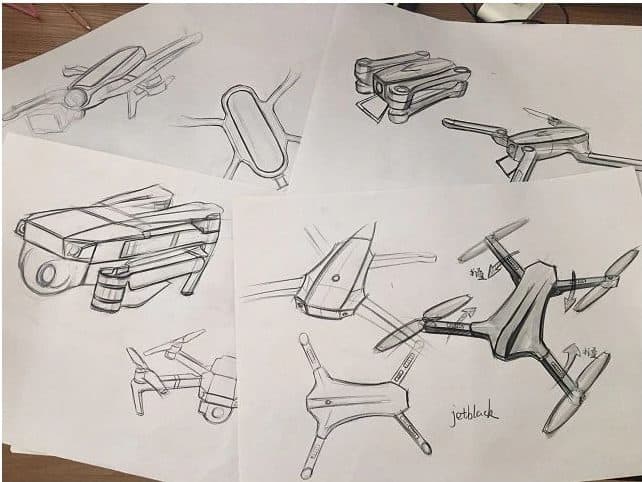 Technically the Jet Black drone is a very basic aircraft, featuring minimal autonomy/sensing and a low-grade specification. The product does not at all justify its perk cost of $89 and in no respect is that pricing 'special' or discounted. Several budget drones launched during 2017 are a better option, such as the Visuo XS809 or the brilliant Eachine E58.
The JetBlack campaign is sadly yet another example of Kickstarter and IndieGoGo failing to protect their users from fraudulent projects, campaigns designed simply to take advantage of consumer-naivety.
See our full review of the Jet Black drone below and be sure to SUBSCRIBE to our YouTube channel.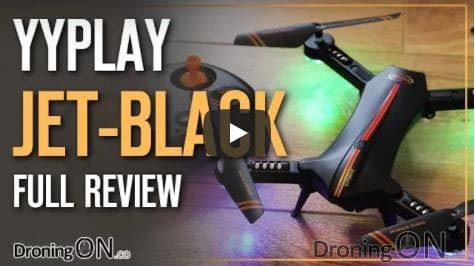 ---
Be sure to join the DroningON Discussion Group for the latest news, reviews and crowd-fund analysis from the drone industry.