[Updated 13-07-17 – Part 5 added – BB Gun Accessory] Last year saw the rise of the smaller autonomous drone, but only the Mavic Pro from DJI succeeded. Wingsland have just relaunched their 'Wingsland S6' compact foldable drone and it looks impressive.
Earlier in 2016, we reported on the initial launch of the Wingsland S6 but shortly after our editorial, we discovered that the model launched was a 'pre-production' version.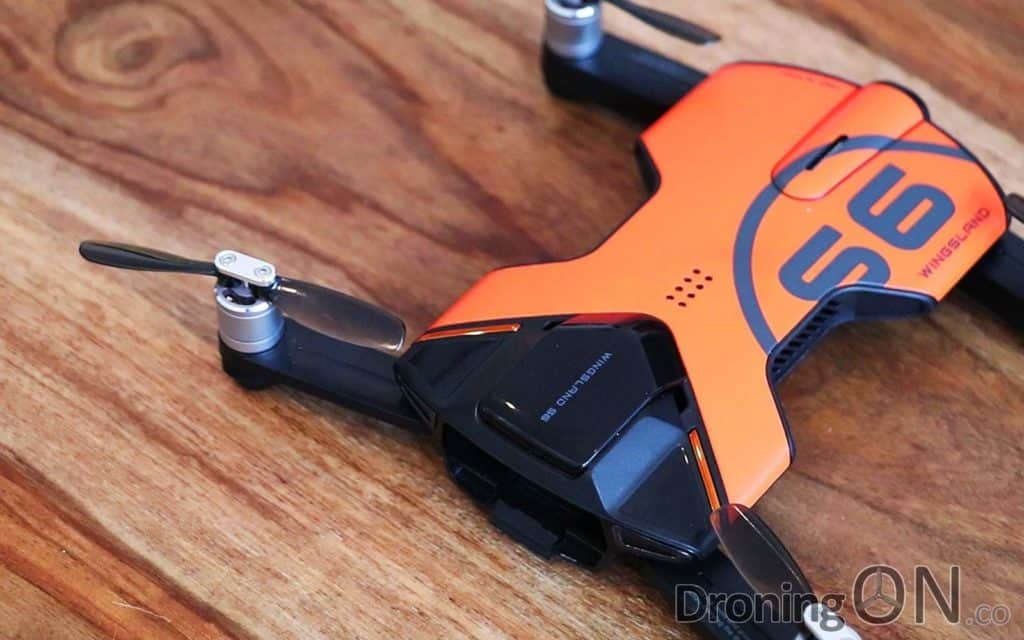 Customers were unhappy with this model, in addition to the firmware and app being relatively prematurely released with barely any functionality.
But the S6 has just been relaunched with a redesigned hardware set and an impressive specification, including 4K camera, dual-ultrasonic sensors, downward facing optical flow camera, GPS and GLONASS and folding form-factor which makes it truly pocket sized.
Watch our video review (5 parts)…
Enjoy our comprehensive review of this new mini intelligent drone, split into 5 parts to make the series easier to follow.
Part 1 (Wingsland S6 Unboxing and Inspection)
In this first video, we unbox and inspect the Wingsland S6 to see how it compares to rival folding quadcopters/drones.
Part 2 (Wingsland S6 Setup and App)
In this next video, we will be downloading and installing the app for Android, upgrading the S6 firmware, testing the flight simulator, calibrating the gyro/compass and then exploring the rest of the app. We also present a clear comparison of EIS vs non-EIS to see just how effective it is.
Part 3 (Wingsland S6 Indoor/Outdoor Flight Test)
Finally, the flight test of the Wingsland S6 is available to view, unfortunately we were forced to delay filming of this part due to technical issues with battery and the drone itself.
Part 4 (Wingsland S6 'Search-Light' Review)
Wingsland have released a set of three accessories for the Wingsland S6, we have just tested the new Search-Light accessory.
Part 5 (Wingsland S6 'Boom Boom' Review)
Wingsland have released a set of three accessories for the Wingsland S6, this review will cover the exciting 'Boom Boom' BB pellet gun accessory.
Where to buy…
Our model came from HobbyWow, they are one of the few retailers shipping the newly revised hardware version. If purchasing from any other retailer, verify that they are not shipping version 1.
PRODUCT LINKS/ACCESSORIES:
Specification…
Battery

Lipo 2S 7.6V 1400mAh (fully charged:8.7V)

Motors

1106 4300KV Brushless Motor

Propellers

3 inch (8 pieces)

Camera

Sensor:1/3.06 inche(CMOS)




Camera: 4K&13MP 




Camera Pitch Limit: FOV 117°




3-axis Electronic image stabilization

Video Resolution

[email protected],[email protected]


Full view shooting




Fast camera




Slow motion recording 4x (1920×1080 25 FPS)

Photo Shooting Mode

13MP Photo




360-degree panoramic shooting




Slow motion shooting




Time-lapse recording

Film Shooting Mode

HD video shooting

Control Mode

APP Virtual joystick




APP motion-sensitive mode

Flight Mode

Beginner mode




Normal mode




Course lock mode




Home point lock mode

APP Functions




(IOS & Android)

App Name: Wingsland Fly




OS Requirement:IOS 8.0(or later),Android 4.4(or later)




Wifi Frequency: 2.4GHz




Max Transmission Distance: 100m

Aircraft control




Camera control




Flight simulator




Beginners guide




Voice prompts




Video edition functions(Add background music, combine videos, subtitle and optional template)

Flight Performance

Flight Time: About 10mins




Max Flight Speed: 8m/s




Max Flight Altitude: 100m

Working Temperature

0-40°C

Positioning System

Outdoor: GPS/GLONASS Dual-GPS System




Indoor: Infrared & Optical Flow Sensor

Maximum Height(GPS): 




 

According to your country's regulations

APP Controlling Distance

100m (open area without interference)

Intelligent Flying Modes

One key takeoff,landing/ One key return home(RTH)/ POI (Point of interest)/ Auto follow me/ 3D Flip/ 360-degree panoramic shooting

Certificates

FCC,CE,SRRC,KCC(MSIP),NCC,WEEE,Rohs

Dimensions & Weight

Dimension

Aircraft Fold: 138 X 79 X 32.6mm/5.433 X 3.1102 X 1.283inches 




Aircraft Unfolded: 138 X 169 X 32.6mm/5.433 X 6.654 X 1.283inches




Aircraft Diagonal Size: 190mm/7.48inches




Package Dimension: 189 X 128.5 X 77.5mm/7.44 X 5.059 X 3.051inches

Weight

Aircraft Weight: 250g(With Battery)/8.82oz




Package Weight: 548g/19.33oz
---
Be sure to join the DroningON Discussion Group for the latest in banter, news, reviews, exclusives and drone chat.