Behind every quadcopter or drone enthusiast is a good battery charger, without which we are grounded. For that reason, we have just reviewed the ultimate charger on the market today.
Charging batteries after a day of flying is seen as a painful and boring chore by most. It is the dull part of returning home, trying to recall which batteries you killed and which need a refresh.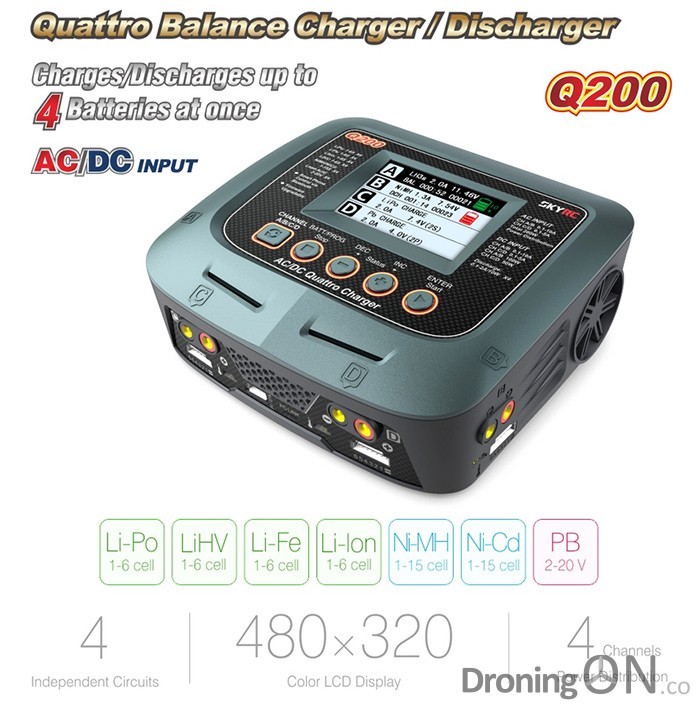 But, charging just got interesting with the new SkyRC Q200 charger from GearBest. Plugging those batteries in for a top-up just become exciting, no seriously.
It may not have a touch-screen but you can independently set the configuration for each charging port, even using a 'memory recall' to immediately setup the charging profile specific to batteries that you often use. It will even connect to your mobile phone via bluetooth, or to your PC via USB.
Following our reviews, we generally give a 'The positives' and 'The negatives' section, but on this occasion we really cannot fault this product.
Watch our video review…
Enjoy our comprehensive review of this new charger, and be sure to visit GearBest if you might be interested in buying one, or click here.
Where to buy…
We bought ours from GearBest and at only £135 ($150) it is great value as it is solidly built, incorporates many safety features, includes bluetooth and PC connectivity as well as featuring a nicely lit full-colour display.
If you buy or have bought the Q200, use the 'Comments' section below to leave feedback, thoughts, opinion and discussion.
Specification…
AC Input: 100 – 240 V
DC Input: 11 – 18 V
Current: Max. 200mA / cell
LiPo / LiFe / LiHV Battery Cell Count: 1 – 6 S
Product weight: 1.335 kg
Package weight: 2.106 kg
Product size (L x W x H): 19.70 x 18.20 x 7.10 cm
Package size (L x W x H): 22.00 x 20.00 x 8.00 cm
---
Be sure to join the DroningON Discussion Group for the latest RC, Drone and Quadcopter reviews, discussion and exclusives.