GoPro launched their first drone earlier this year as an attempt to salvage their falling share-price. Some suspected that GoPro had rushed this product to market and if true then that mistake may accelerate their downfall further.
Initial reactions were positive as GoPro launched their new Karma drone at an impressive event earlier this year, but only weeks later this daring new product was overshadowed by the impressive DJI Mavic, that may be the reason that Karma is perhaps not quite the finished product that it should have been.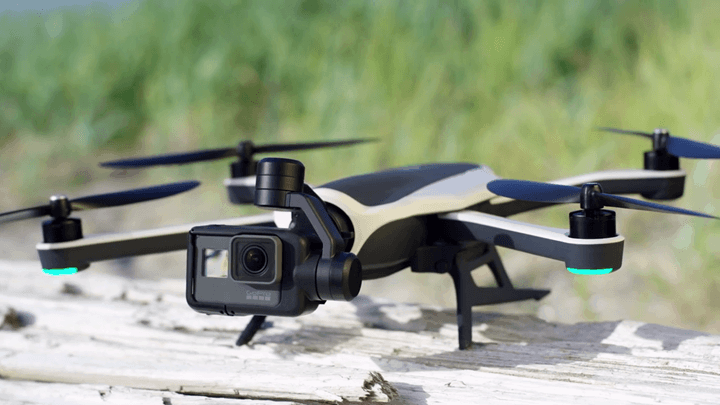 Since Karma arrived with customers, initial reactions have not be overly positive. Karma drones have been reported in fly-away incidents, loss of control, crashing and various other issues including a poor design which causes the Karma to scratch and mark the paintwork of its own folding arms due to vibration.
Here are a selection of the latest videos to appear on YouTube.
iJustine crashes Karma…
The high profile YouTuber known as 'iJustine' was lucky to have received a Karma, but unfortunately crashed it.
In defense of Karma, she is not flying the drone in the most appropriate location, Karma does not have the VPS ground-sensors which DJI drones are equipped with and therefore Karma cannot hover with as much stability and accuracy, but iJustine is fairly proficient in drone flight and flying it within this space should not have been overly challenging.
Flyaway Karma drone…
In this next video, the customer states that his Karma drone simply flew away on its first flight, never to be seen again. The precise scenario is unknown as there is no footage to show.
Power cut…
This Karma is flying perfectly until as if the power was cut, which coincidentally is the issue with the Karma, a faulty power connector.
User error also causes Karma crashes…
Not all crash reports have been due to the Karma itself, some were entirely caused by user-error and it is important to distinguish these against genuine cases of mechanical, software or hardware failure.
Which crashes are covered?
GoPro have offered a generous 'Care' plan which even covers users for accidental damage, the question is whether GoPro will be able to contend with the volume of returns from users that are unable to manually pilot their Karma without the autonomy of other drones such as the Phantom, Mavic and Yuneec.
[perfectpullquote align="full" cite="" link="" color="" class="" size=""]"All GoPro products are covered by the standard one year warranty against manufacturer's defects. Karma, along with our cameras, will have an option of GoPro Care as well. GoPro Care extends the warranty to two years and covers for accidental damage with a service fee. This way you can fly without needing to worry!", GoPro representative on GoPro Forums[/perfectpullquote]
If the user has not opted for the accidental damage care plan, they may be faced with fighting GoPro to prove that any failure was not caused by pilot but by software or hardware error.
Can GoPro save Karma, and themselves…
GoPro need to work fast to address such issues with their new drone, otherwise it will lose credability and fail to win market share.
The company stock price plummeted a week ago and continues to fall, suggesting that the launch of the Karma drone and the Hero5 has not been sufficient as to boost their market confidence.
GoPro will have to work incredibly hard to restore consumer confidence, especially if they are to even consider Karma v2.0.
Finally, the popular YouTube channel 'iPhoneDo' gave a scaving review of Karma in comparison with Mavic, this will definitely unsettle those that have a Karma ordered.
The next six months may be a rough ride for this previously successful company, unless they can quickly evolve the Karma firmware and app development to incorporate additional functionality that was missing at launch.
NOTE: Featured image courtesy of iJustine.
---
Join the DroningON Discussion Group to interact with fellow quadcopter and drone enthusiasts.