DJI has for many years shipped their drones without the option to buy the drone standalone, despite the availability of the 'Smart Controller' and subsequent DJI RC Pro. But with the arrival of the DJI Mini 3, DJI is now offering this impressive and compact controller unit separately.
DJI RC (RM510) is a remote controller that delivers an exceptional operating experience for DJI drones. With a lightweight body, FHD display, and ultra-long battery life, it also features new dual-spring control sticks for more comfortable flying and supports the advanced DJI O3+ video transmission technology. [1] With its powerful functionality, aerial creation is more convenient than ever.
Bundling the drone and controller as a single package has always inflated the price of drones from the market leader DJI, by approximately $100. But DJI seems to be shifting this trend by offering the new DJI Mini 3 Pro standalone without a controller, allowing it to be utilized with the existing DJI RC-N1 controller (from the original DJI Mini, or DJI Air 2S for example). Alternatively it can be linked to the new DJI RC controller, which provides many added benefits.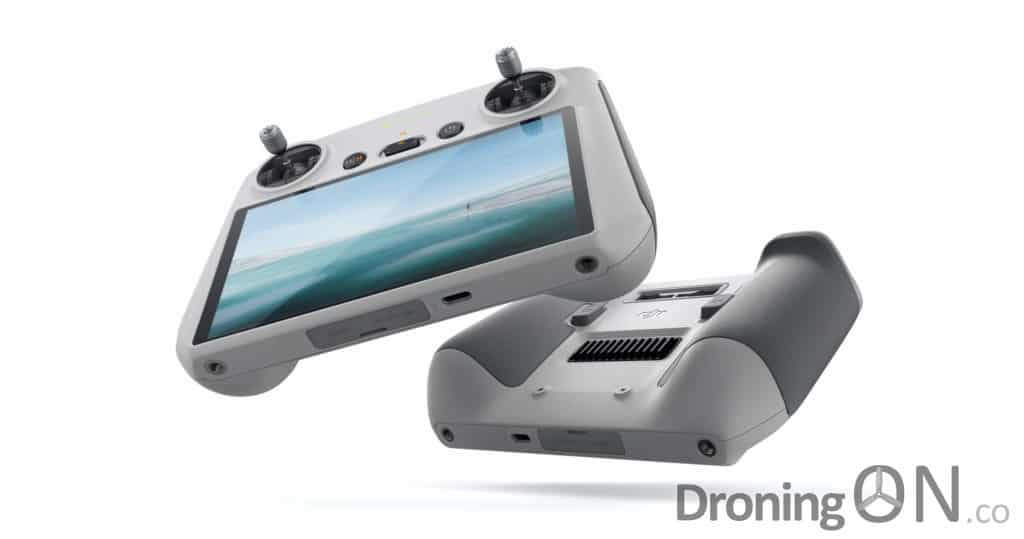 Why buy the DJI RC?
Priced at just $309 (or 299 Euros), the new DJI RC controller is pretty impressive and allows you to get up into the air and flying far quicker than before. No longer requiring the use of your Mobile Phone or tablet, the DJI RC has an inbuilt 5.5-inch FHD Display with up to 700 nits of brightness. The Samsung S22 provides up to 982 nits of brightness and therefore the new controller isn't quite as bright, but will be more than adequate for most consumers.
As of firmware update v01.01.0000, the DJI RC is also now fully supporting the DJI Mavic 3, therefore allowing you to bind the controller with multiple drones, and switch between them.
What are the DJI RC specifications?
Featuring the latest OcuSync 3 technology, it's capable of providing up to 15km (FCC) control and video transmission range, a range which is far beyond that of most drone regulations, but such signal strength at least provides a robust signal, less prone to break-up and disconnection.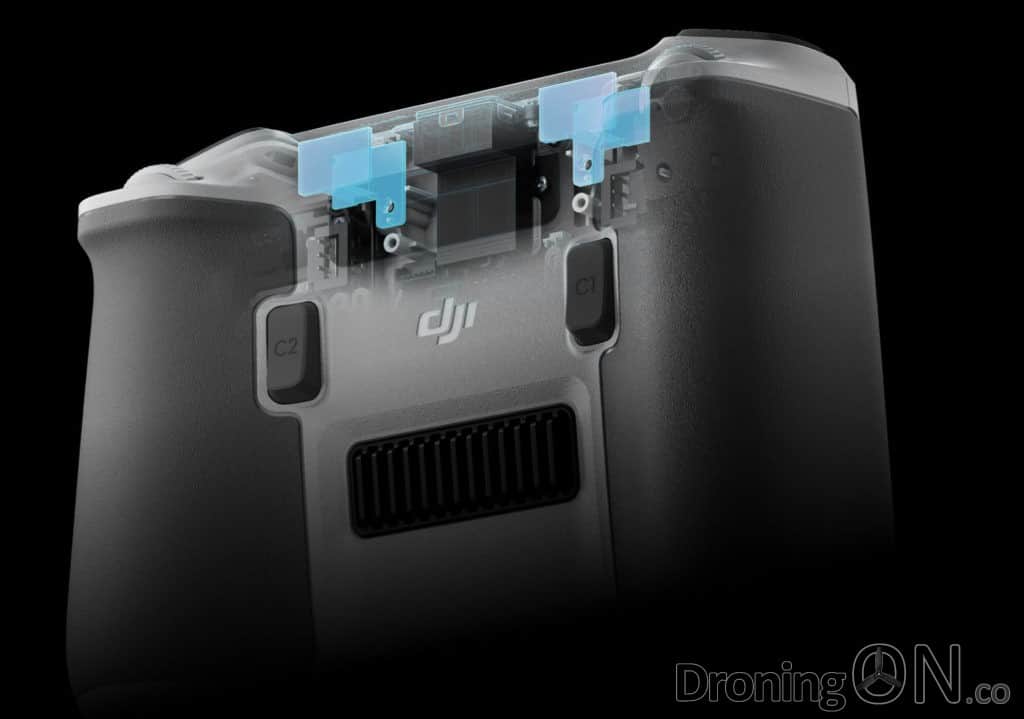 The controller itself weighs just 390g due to it's lightweight body, and the enclosed battery offers up to 4 hours of operating time, sufficient for at least 5 batteries with the DJI Mini 3 Pro. In addition, it has inbuilt antennas, reducing the need for concern as to whether the antennas are positioned correctly, and/or functional.
It also features a USB-C port for charging, as well as an SD card slot for onboard storage of media. While the unit features a speaker, it unfortunately doesn't include a microphone and therefore screen recording with commentary will be a challenge, as would any future capability for live-streaming with talking-dialog.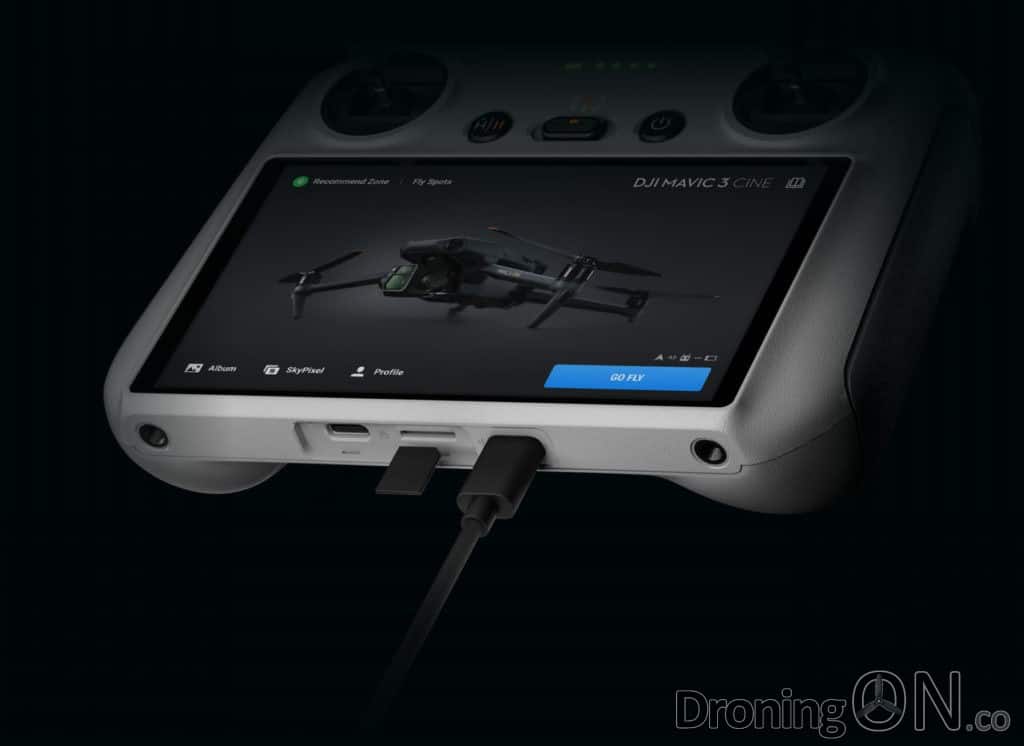 For charging, it supports charging power of up to 15w @ 5v and can reach full charge after approximately 1.5hrs. It also supports PD protocol, offering rapid charging.
How is it better than the DJI RC-N1?
The new DJI RC is substantially better in the regard that it does not require a mobile phone or tablet to be connected, therefore there is less of a requirement to charge separate devices, or to be concerned about interruptions while flying.
With which drones if the DJI RC compatible?
The new DJI RC is compatible with the following DJI drones:
It is likely that once the device establishes a popular interest in the market, DJI may unlock compatibility with additional drones, such as the DJI Mini 2, DJI Air 2S and the DJI Mavic 2.
You can read more about the new DJI RC here, alternatively visit the official DJI Store for more information on details, specifications and how to buy: https://store.dji.com/product/dji-rc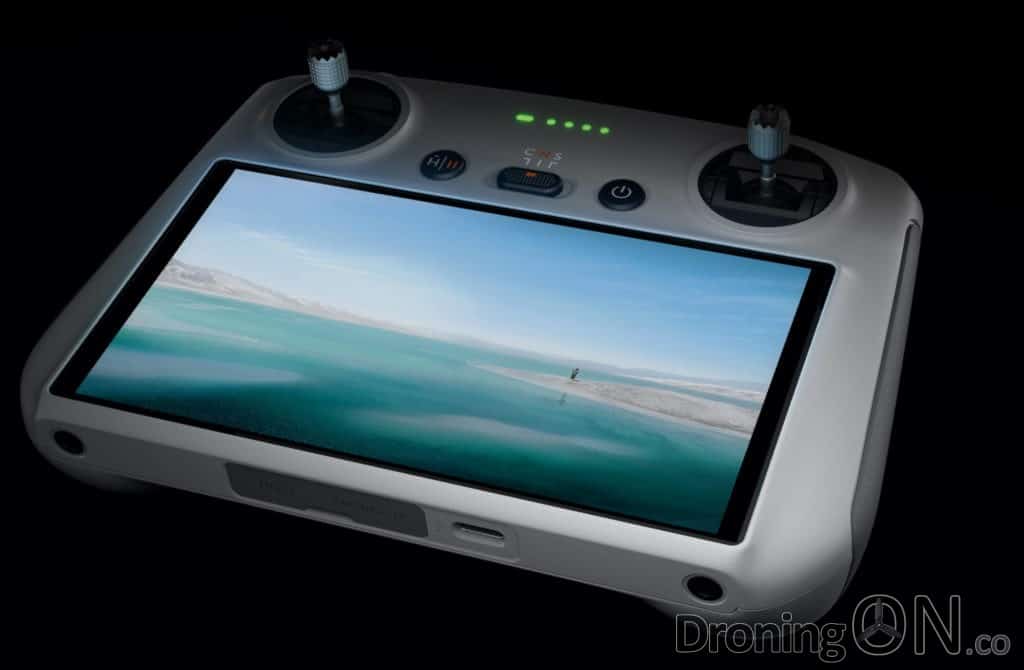 What are the full details DJI RC specifications?
Video Transmission
Video Transmission System: O3+
Max Transmission Distance (unobstructed, free of interference): 15 km (FCC); 8 km (CE/SRRC/MIC)
Operating Frequency [1]: 2.400-2.4835 GHz5.725-5.850 GHz
Antennas: 4 Antennas, 2T4R
Transmitter Power (EIRP)
2.4 GHz: ≤33 dBm (FCC); ≤20 dBm (CE/SRRC/MIC)
5.8 GHz: ≤33 dBm (FCC); ≤14 dBm (CE); ≤23 dBm (SRRC)
Wi-Fi
Protocol: 802.11a/b/g/n/ac/ax Support 2×2 MIMO Wi-Fi
Operating Frequency [1]: 2.400GHz-2.4835 GHz; 5.725-5.850 GHz
Transmitter Power (EIRP): 2.4 GHz: ≤26 dBm (FCC); ≤20 dBm (CE/SRRC/MIC)5.8 GHz: ≤26 dBm (FCC/SRRC); ≤14 dBm (CE)
Bluetooth
Operating Frequency: 2.400-2.4835 GHz
Transmitter Power (EIRP): ≤8 dbm
Screen
Touch Control: 10-point multi-touch
General Specs
Battery: Li-ion (5000 mAh @ 7.2 V)
Charging Type: Recommended to be charged with USB charger at 12 V or 15 V
Storage Capacity: 32GB internal + expandable storage via microSD card
Charging Time: 2 hours (with USB charger at 12 V), 1.5 hours (with USB charger at 15 V)
Video Output Port: Mini-HDMI port
Operating Temperature: -10° to 40°C (14° to 104° F)
Storage Temperature Range: Less than one month: -30° to 60° C (-22° to 140° F) One to three months: -30° to 45° C (-22° to 113° F) Three to six months: -30° to 35° C (-22° to 95° F) More than six months: -30° to 25° C (-22° to 77° F)
Charging Temperature: 5° to 40° C (41° to 104° F)
GNSS: GPS + Galileo + GLONASS
Dimensions: 183.27×137.41×47.6 mm (antennas folded, controllers not mounted)183.27×203.35×59.84 mm (antennas unfolded, controllers mounted)
Storage
Supported SD Cards: SanDisk Extreme PRO 64GB V30 A2 microSDXCSanDisk High Endurance 64GB V30 microSDXCSanDisk Extreme 128GB V30 A2 microSDXCSanDisk Extreme 256GB V30 A2 microSDXCSanDisk Extreme 512GB V30 A2 microSDXCLexar 667x 64GB V30 A2 microSDXCLexar High-Endurance 64GB V30 microSDXCLexar High-Endurance 128GB V30 microSDXCLexar 667x 256GB V30 A2 microSDXCLexar 512GB V30 A2 microSDXCSamsung EVO 64GB V30 microSDXCSamsung EVO Plus 128GB V30 microSDXCSamsung EVO Plus 256GB V30 microSDXCSamsung EVO Plus 512GB V30 microSDXCKingston 128GB V30 microSDXC
Footnotes
5.8 GHz is unavailable in some countries due to local regulations.
DJI RC Pro will support more DJI aircraft in future. Visit the official website for the latest information.
Comment below if you have any further questions, or whether you'd buy this new control unit from DJI.
Be sure to join the DroningON Discussion Group for the latest news, reviews, exclusives and interviews from the drone industry!