We are a little late to this game, but we felt that it was time to stick our DJI Osmo Action camera onto one of our favourite racing FPV quads – how did it fair and is RockSteady a valuable feature?
See Our Osmo Action FPV Test…
Be sure to SUBSCRIBE to our YouTube channel for the latest news, reviews and exclusives from the industry!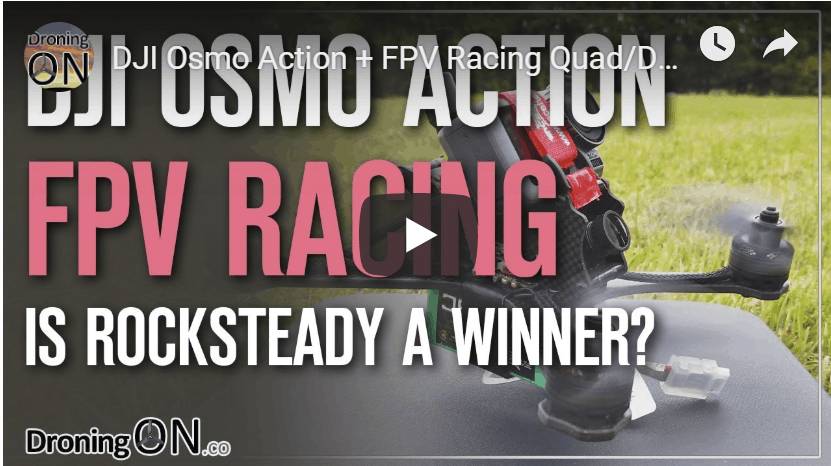 The DJI Osmo Action was launched earlier this year as a GoPro Hero 7 competitor. So far opinions are positive but many miss the 'SuperView' aspect of the GoPro due to its better-suited FOV for action sports and even FPV racing.
The DJI action camera performed brilliantly in our test, although it should be noted that the EIS (Electronic Image Stabilisation) is far more apparent when shooting in 1080p due to the excess sensor resolution available for stabilisation.
Get Into FPV Racing…
Starting in FPV quad racing does not have to be expensive, ready-to-fly quadcopters and simplicity of configuration now makes it fairly simple.
To get started, you will need the following as a baseline, this kit can then be used with multiple quads and therefore justifies its cost in the long-term.
There are many RTF (ready to fly) options which include everything that you need to start flying immediately without buying anything else:
Alternatively, you can buy these individual components allowing you to mix-match to suit your requirements:
FPV Goggles
Transmitter
Batteries
Racing Drone/Quad
Comment below with your thoughts on the DJI Osmo Action, do you own one and have you strapped it to a quad or anything else?
---
Be sure to join the DroningON Discussion Group for the latest news, reviews, exclusives and interviews from the drone industry!