FPV Antennas arrive in a variety of shapes and sizes, the latest creation from RealACC is quite unique, the RealACC Triple Feed Patch. A long range patch antenna with a 9.4 dBi gain.
RC and FPV pilots want to fly further, increased range is only achievable with appropriate 5.8ghz antennas.
The latest launch from RealACC offers a 9.4dBi gain which is approximately 2x-2.5x the gain normally associated with a regular circular or pagoda style antenna.
Watch our video review…
Be sure to SUBSCRIBE to our YouTube channel to be the first to watch our exclusive reviews of new drones.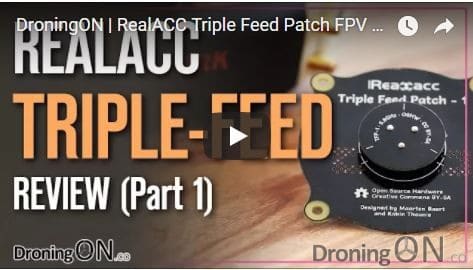 Where to buy…
BangGood sell the RealACC Triple-Feed Patch Antenna at a bargain price of under $15/£12, normally reduced to less.
Full specification…
The full technical specification follows:
Center frequency: 5.8 GHz
Bandwidth: 660 MHz (5.47 – 6.13 GHz)
Matching: S11 < -20 dB, VSWR < 1.22 (at center frequency)
Axial ratio: < 1.3
Antenna gain: 9.4 dBi
Half power beam width: 55° (horizontal and vertical)
Radiation efficiency: 83.5%
---
Be sure to join the DroningON Discussion Group for the latest news, reviews and exclusives from the drone industry.