Large brushed quadcopters are perfect for those looking to learn how to fly without autonomous support, improving orientation and of course for crashing, the FQ02W is no exception and we have just enjoyed reviewing it.
At less than $60/£55, the FQ02W gives experienced drone pilots that satisfying feeling of being in control of something fairly large whilst not having to be overly concerned about crashing it.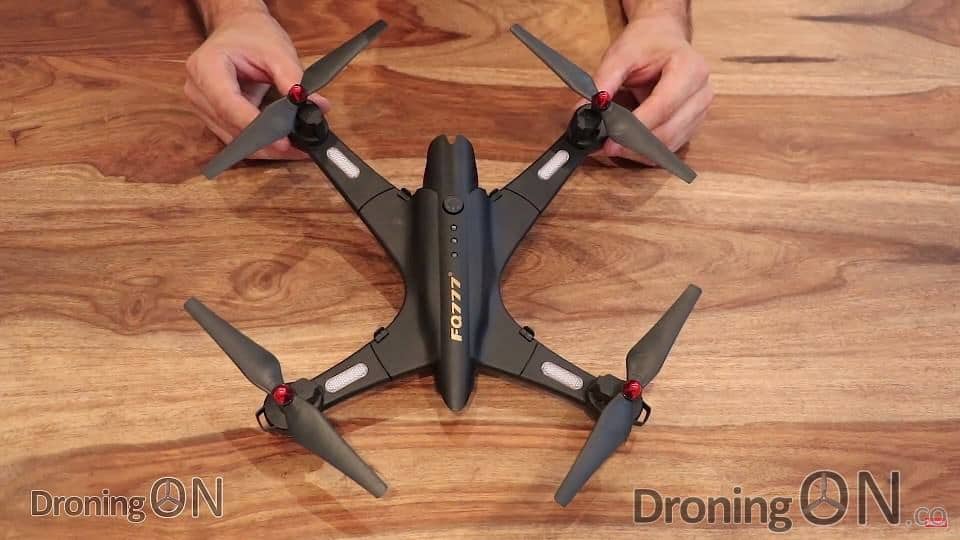 The FQ02W does not have the most memorable model name, the manufacturer is call FQ777 which complicates the scenario further still, but they have produced a budget quad of decent quality.
This brushed and folding quad is durable and takes an impact with ease, it also generates plenty of smiles and laughs whilst doing so as you will see in our full video review below.
Watch our video review…
Be sure to SUBSCRIBE to our YouTube channel to be the first to watch our exclusive reviews of new drones.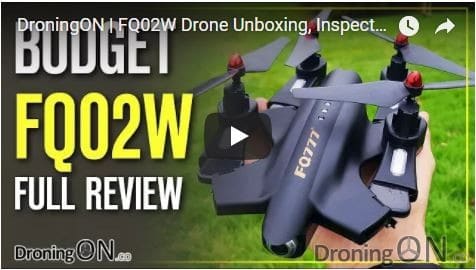 The positives…
❍ Well built and a good sized drone for beginners.
❍ Long flight time (around 10 minutes) due to large battery.
❍ Fairly fast in the 3rd sensitivity mode.
❍ Folding arms make it portable and protect from damage.
❍ Its tough and can crash without damage.
❍ Transmitter feels nice and is very responsive.
❍ Fail-safe is reliable and cuts the power very quickly.
The negatives…
❍ Not very good range, less than 50m.
❍ Low quality video due to 0.5mpx camera.
❍ My props arrived unbalanced and caused vibration.
❍ Altitude-hold can struggle to maintain height on full pitch.
Where to buy…
The FQ02W is available from RCMoment and via a discount by entering the promotional code 'DM026' at checkout.
Full specification…
The full technical and feature specification for the FQ777 FQ02W is as follows:
Primary Features:
Wifi transmission system provides easy and fun FPV flight.
720 * 576 camera can take photos and record videos.
Foldable design, looks like a cool transformer, portable and easy to carry.
Unique fuselage design and high quality painting, outstanding appearance.
Upgraded 2.4G 4CH transmitter for your easy control.
The latest 6-axis flight control system, provides super stable flight.
Advanced barometer to automatically maintain flying altitude and support one-key takeoff/landing.
With headless mode, and one-key return care free to fly.
High/low speed mode and 3D flip function provide you cool flying experience.
Technical Specifications:
Brand name: FQ777
Model name: FQ02W
Main Material: ABS
Motor type: Brushed motor
Camera pixel: 720 * 576
Function: forward/backward, up/down, left/right, sideward flight, hovering, 3D flips, H/L speed, headless mode, Wifi FPV, photo taking, video recording, one-key return
Controller Mode: Mode 2
Remote distance: About 100m
Charging time: About 100mins
Flying time: About 8-10 minutes
Quadcopter battery: 7.4V 850mAh LiPo battery
Battery dimension: 80 * 35 * 30mm
Battery weight: 57.8g
Transmitter battery: 4 * AA (not included)
Item dimension:
Unfolded: 40 * 40 * 13cm / 15.7 * 15.7 * 5.1in,
Folded: 32 * 14 * 7cm / 12.6 * 5.5 * 2.8in
Item weight: 196g
---
Be sure to join the DroningON Discussion Group for the latest news, reviews, exclusives and interviews from the drone industry.