DJI has just launched yet another Mavic Pro drone model, but this time there are no changes in features or specification, just a new clean alpine white finish, named the 'Alpine White Edition'.
For pilots that do not intend on flying in or near grass (due to possible green staining), the new DJI Mavic Pro 'Alpine Edition' is a limited run specifically for winter and so will no doubt be out of stock pretty quickly, but it may hold its value a little better than regular models.
[perfectpullquote align="full" cite="" link="" color="" class="" size=""]The Mavic Pro Alpine White Combo retails at US$1,049 and includes a remote controller, two extra Intelligent Flight Batteries, two additional pairs of propellers and an aircraft sleeve.[/perfectpullquote]
An interesting observation is that the new 'Alpine Edition' does not appear to incorporate the new quieter props which were introduced via the 'Mavic Pro Platinum' edition, this is strange omission from the new model.
In addition, this model is cheaper than the regular Mavic Combo (around $120 cheaper) and therefore we suspect that it incorporates the old ESCs (speed controllers), not the newer and more efficient ESCs of the Platinum model.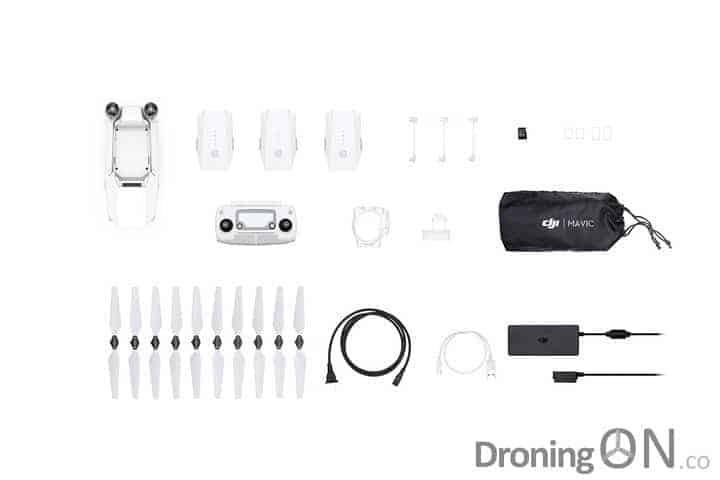 However, the new Alpine White Combo does not include the Charging Hub or the Car Charger, therefore the $120 price reduction from the regular combo is perhaps not as tempting as it might appear.
The new model is now available for purchase exclusively on Apple.com and store.dji.com. Starting November 16, 2017, it will also be available at select Apple Stores and DJI Flagship Stores.
For more information, take a look at the official DJI product page:
---
Be sure to join the DroningON Discussion Group for the latest news, reviews and latest from the drone industry.