Brushless quadcopters are becoming more affordable and the Aurora 100 from Eachine is the latest in micro-class racing drones.
As an own brand product of BangGood, the Eachine Aurora 100 is the latest in a line of new brushless micro quadcopters.
However, unlike earlier models the Aurora 100 is fully kitted with inbuilt receiver, 4-in-1 flight controller and D-Shot speed controllers, it even includes a lost model alarm, and all within a compact and fairly light-weight form-factor.
Watch our video review…
Due to our desire to provide comprehensive video reviews but without extending them beyond 20 minutes, we have split this review video into two parts. Please be sure to SUBSCRIBE to our channel to for notification of our latest reviews!
Part 1 – Unboxing, RX Install, TX Binding and Flight Controller Configuration (BetaFlight)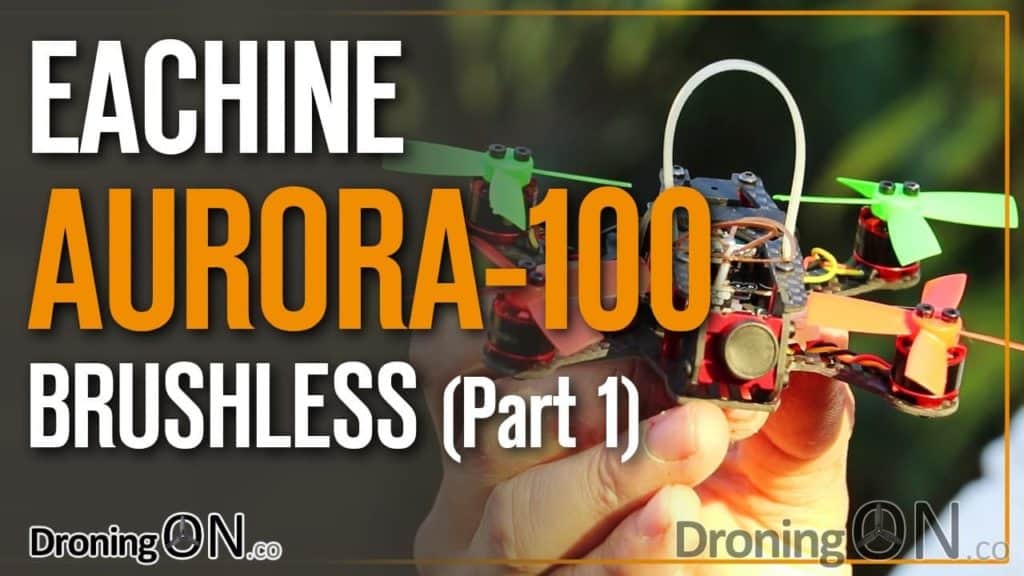 Part 2 – Flight Setup, Flight Test and Carbon Frame Reinforcement Recommendation
The positives…
❍ High specification, D-Shot, OSD, buzzer, LED strip..
❍ Cheap, at only £100/$135 including receiver.
❍ Tuned PIDS from the factory, flies very solidly.
❍ Powerful, incredible punch from a micro-quad.
❍ Compact form-factor, aerodynamic design.
The negatives…
❍ Main carbon frame is too thin BUT there is now a new thicker 2mm or 2.5mm frame! See here: https://goo.gl/NIievM
❍ Ships with BF 1.3.0 which causes FOD, upgrade to 3.1.7.
❍ VTX antenna is highly vulnerable, dipole would be better.
❍ Camera FOV is slightly too wide.
Where/what to buy…
Here's our recommendation on the products and accompanying accessories that you'll need to fly the Eachine Aurora 100.
► Eachine Aurora 100 Brushless
► Eachine Aurora 90 Brushless (smaller version)
Recommended spares:
► Spare Aurora 100 Frame
► Spare Aurora 100 Props (buy many of these!!
► Spare Aurora 100 Battery
Recommended accessories:
► FrSky Taranis Q7 Transmitter
► FrSky Taranis X9D Transmitter
► SkyRC Q200 Charger
---
Be sure to join the DroningON Discussion Group for the latest reviews, news, interviews and exclusives!