Getting into FPV can be expensive but at last there is a headset which will not break the bank, coming in at only $130/£100. The Eachine VR D2 is the solution for the quad-racer-in-training.
Finally its cheap to get into FPV…
Not everyone can afford to invest in a set of Fat Sharks when first entering the FPV sport. You can of course buy a cheap screen with inbuilt receiver but it does not give the same experience as donning a headset or goggles and taking flight.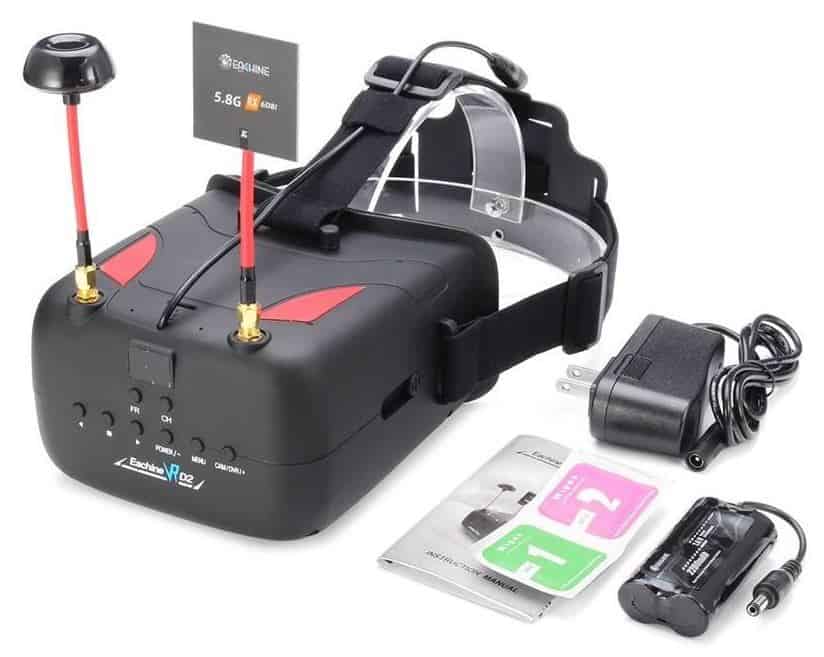 Eachine has released a budget headset called the 'VR D2', but despite the budget price-tag, it has an impressive feature-list:
Integral 5″ LCD Screen.
Inbuilt DVR (for recording flight footage).
Integral 40ch Diversity 5.8ghz Receiver including Raceband frequency support, also includes 2 antennas.
Supports up to 64Gb SD card.
Adjustable focus/optics.
Includes 2200mAh 2s Battery (approx 3hrs battery life).
Watch our video review:
Enjoy our full unboxing, inspection and test video review of this new headset and please be sure to subscribe by clicking here.
The negatives…
With a low manufacturing cost, there will be some negatives but they are not deal breakers:
❍ Slightly heavy (300g).
❍ RP-SMA antenna connectors.
❍ Face padding isn't replaceable.
❍ Slightly uncomfortable.
❍ Unintuitive/illogical controls.
❍ No Video In or Video Out.
The positives…
Considering the low price of this headset, it is fully packed with features, these are the positives:
❍ Very cheap, less than $130/£100.
❍ Good quality 800×480 screen.
❍ Inbuilt 40ch receiver supporting Race-Band.
❍ Antenna diversity and includes two antennas.
❍ Large amount of optical adjustment.
❍ Around 3hrs battery life.
❍ Built-in DVR and playback.
VR D2 firmware updates…
Unlike many headsets which have static firmware, the Eachine VR D2 can be updated. The latest firmware is here, scroll down to the section which says "New firmware, download here" to get the latest version.
Instructions for updating the firmware are enclosed within the downloaded file.
Where to buy…
You can buy the new Eachine VR D2 from the following online stores, compare them all as prices change on a daily basis. Ours was shipped from BangGood and arrived in 7 days.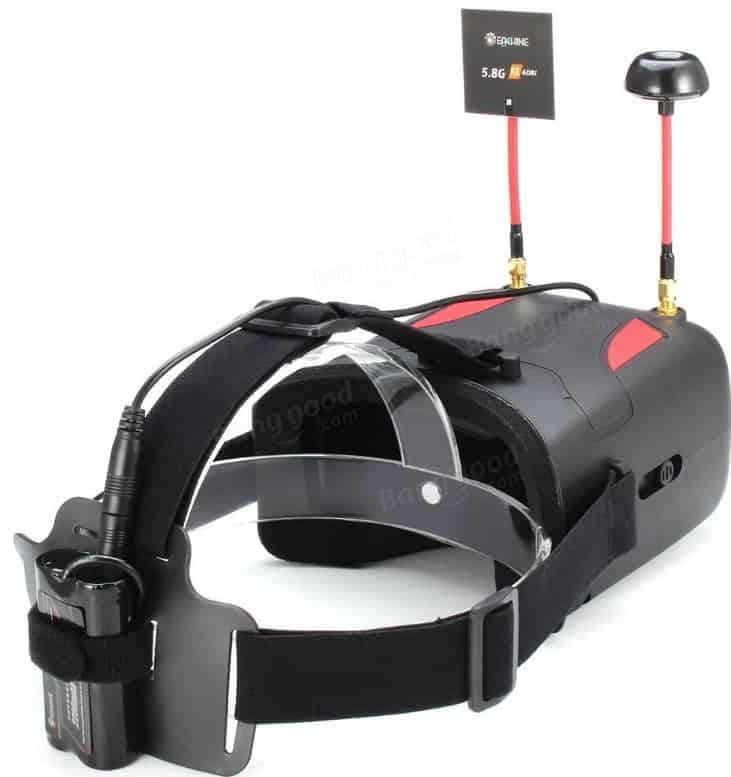 ---
Be sure to join the DroningON Discussion Group for the latest in FPV, Quad-Racing and Drone discussion!