For those dark gloomy nights where flying is not possible, we will generally build or repair but you may seek a new challenge and the Sonic Modell FPV AR Wing 900mm may be a good candidate.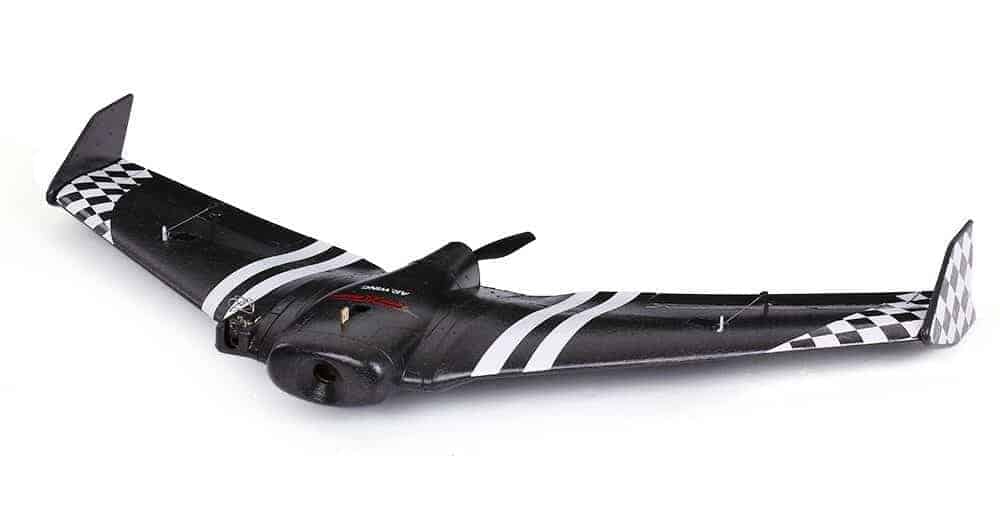 In this three part video series, we unbox something quite different, a 900mm FPV racing wing, equipped with a powerful brushless motor and the capacity to carry even a high-resolution camera!
[stextbox id='info']Get the Sonic Modell AR Wing discounted by entering code 'SALE15' at the checkout – Click Here![/stextbox]
The kit is supplied with all servos pre-fitted, speed controller, motor, prop,  even the camera and VTX are included and so all that you need do is build it (no glue needed),  then fit a suitable receiver and battery (3s 2200mAh recommended).
Black EPP molded wing and fuselage.
Pre-built in carbon fiber spar, durable, light and flexible.
Detachable wing and wingtip, nice and portable.
Multiple bonus camera mount, compatible with many cameras.
Easy to hand launch, super stable flying performance, 10km/h-80km/h flying speed.
Wingspan 900mm with high efficiency airfoil
"No-glue" required assembly, open box and fly in few seconds.
Spacious equipment bay for more FPV gear.
Movable battery slot for better "CG" adjustment.
With bump for "CG" mark under the mainwing.
With 2 skids for hand launch grip and landing.
With "NACA" Air inlet and outlet for FPV gear cooling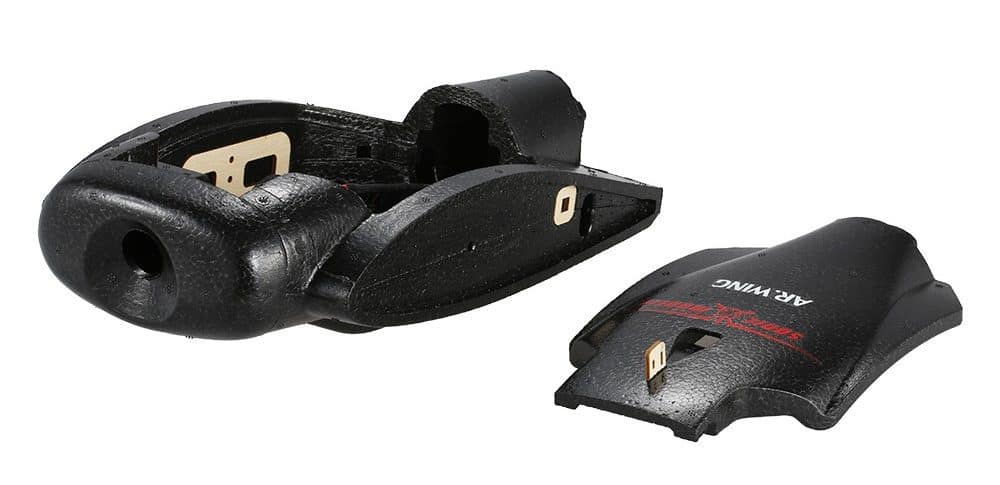 It is also possible to fit an iNav Flight Controller and GPS module so as to give the Sonic Modell AR Wing autonomous flight capability but such configuration is entirely optional.
Watch our video review…
We have split this video series into three, in the first we will unbox and inspect the package, next we will build it and then we will be test flying the Sonic Modell AR Wing 900mm!
Be sure to SUBSCRIBE to our YouTube channel to be the first to watch our exclusive reviews of new drones.
Part 1: Introduction and Unboxing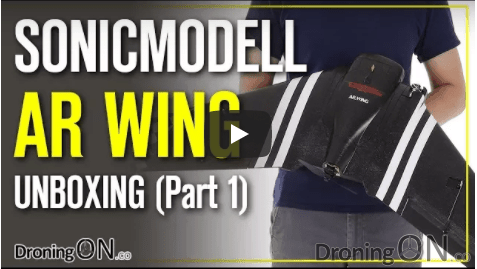 Part 2: Build And Setup
Part 3: Flight Test
Where to buy…
You can buy the Sonic Modell AR Wing 900mm from RCMoment where it is currently on promotion by entering coupon code 'SALE15' at the check-out.
The positives…
Coming soon…
The negatives…
Coming soon…
Full specification…
The full technical specification for this drone is as follows, based on their current published technical information:
Item Brand: SONICMODELL
Item Name: AR.Wing 900mm
Wingspan Fixed Wing
Wingspan: 900mm(35.43″)
Length: 482mm(18.97″)
Flying speed: 10-80+km/h
Motor: D2204 2300kv(Shaft
Diameter: 5mm)
ESC: 30A 2-4s(XT60 connector)
Servo: 2pcs 9g digital servo
Propeller: 6×3 in default( 5-6″ multirotor props also compatible)

Recommended Battery: 11.1V 2200mAh 25C (not included)
Output Power: 200mW
Input Power: 3.2-5V
Current Consumption: 3.2V-5V,500mA
Camera Resolution: 600TVL
Video System: NTSC
Mini Illumination: 1 lux
Field of View: 120°viewing angle
Antenna: 4 lobe right hand circular polarized
Frequency: 5.8GHz 5 bands 40CH 5658-5917MHz
---
Be sure to join the DroningON Discussion Group for the latest news, reviews, exclusives and interviews from the drone industry.