The Eachine E33C is a decent ittle budget quad for those wanting to progress their flying skills beyond flying assisted altitude hold drones, we were sent one direct from Eachine for review.
Eachine approached DroningON and invited us to review one of their latest budget quadcopters. We have for some time been praising Eachine drones and so we are proud to be working with them directly.
The E33C is cheap and cheerful, it flies very well although it is not necessarily a beginners drone due to the lack of altitude hold, but for drone pilots that have been flying with autonomy and wish to learn manual throttle and altitude-control, it is an ideal start.
Watch our video review…
Be sure to SUBSCRIBE to our YouTube channel to be the first to watch our exclusive reviews of new drones.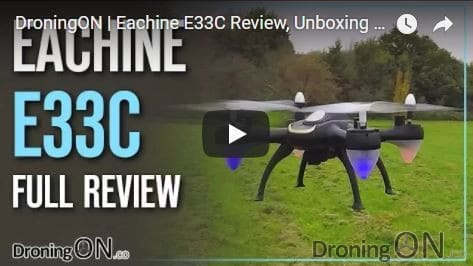 The positives…
❍ Cheap, nicely made and produced.
❍ Comfortable transmitter with decent range.
❍ Looks good in the air with lights, simple to fly.
❍ Fairly long flight time, 6-8 minutes with stock battery.
The negatives…
❍ Prop spinners tend to fall off.
❍ No altitude hold, requires manual throttle control.
❍ No calibration for gyros, needs trimming manually.
❍ Avoid cutting throttle fully, it'll drop the quad.
❍ Fail-safe time is far too long at 22 seconds.
Where to buy…
You can buy the Eachine E33C directly from Eachine via their Amazon e-shop:
Alternatively, you can buy the E33C and all available spares from BangGood where this product is listed at a cheaper price.
Full specification…
The full technical and feature specification for the Eachine E33C brushed quadcopter is as follows:
It has a stuck protection function,can protect the motor from damage.

Built in 2MP HD camera are tuned amazingly to capture stunning pictures and videos from the sky.

With Headless Mode,no need to adjust the position of aircraft before flying.

With one key return function, makes it easily to find the way home.

It has 6-axis gyro which can have more stable flying and be easy to control.

6 Channel which can do ascend, descend, forward, backward, left sideward fly, right sideward fly and rolling 360°

With LED lights making the flight more spectacular especially in the dark.
---
Be sure to join the DroningON Discussion Group for the latest news, reviews, exclusives and interviews from the drone industry.