Updated 22/11/17 – AirSelfie was born via a KickStarter crowdfunded drone project which was successfully funded back in 2016. We have been sent one for review by an RC retailer, but this will be frustrating for many backers whom are still waiting for their drones to be delivered.
Stated for delivery in January 2017, many backers are still without their drones, despite the fact that AirSelfie is available to buy from online retailers such as RCMoment, from where we received our review model.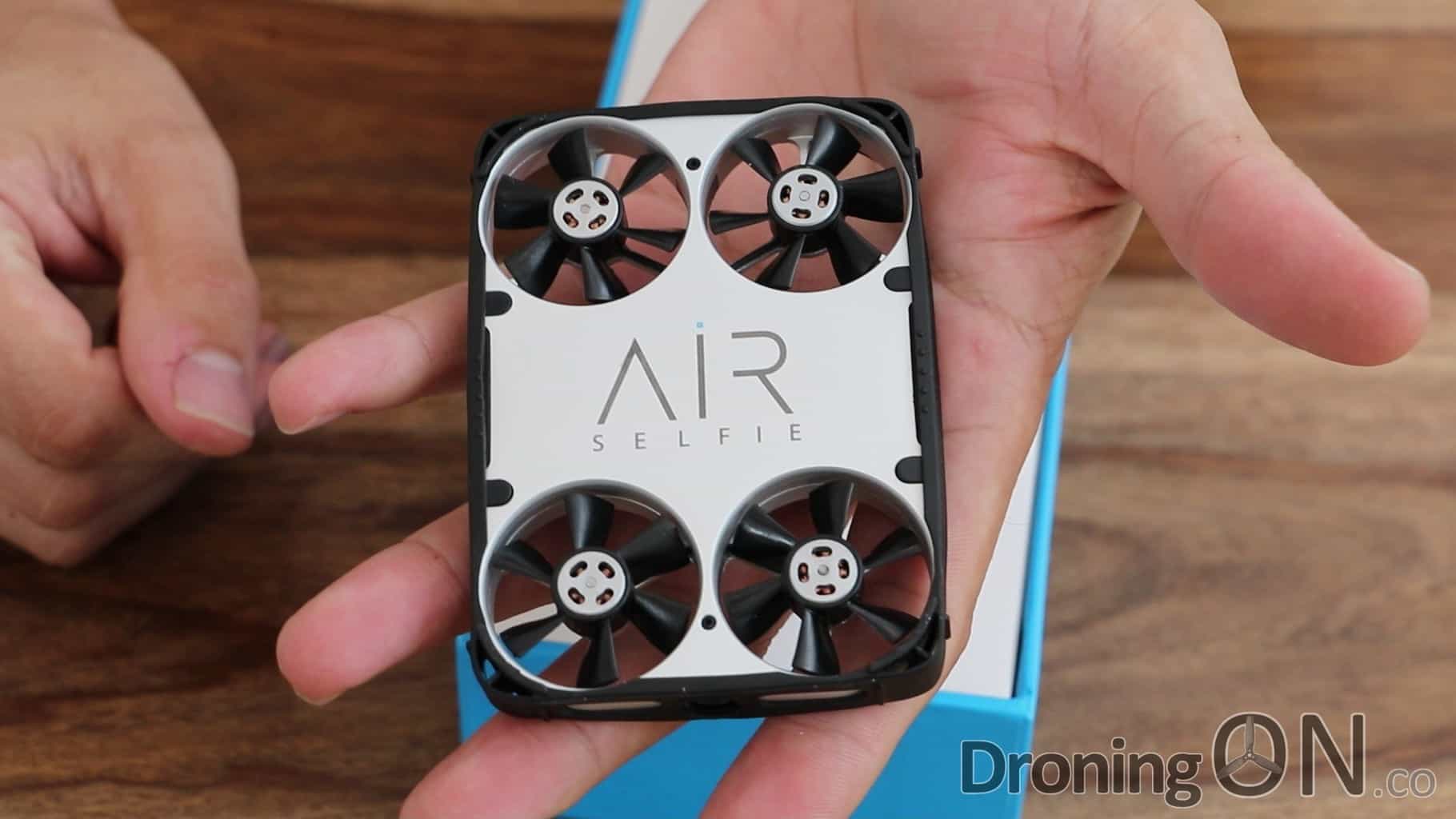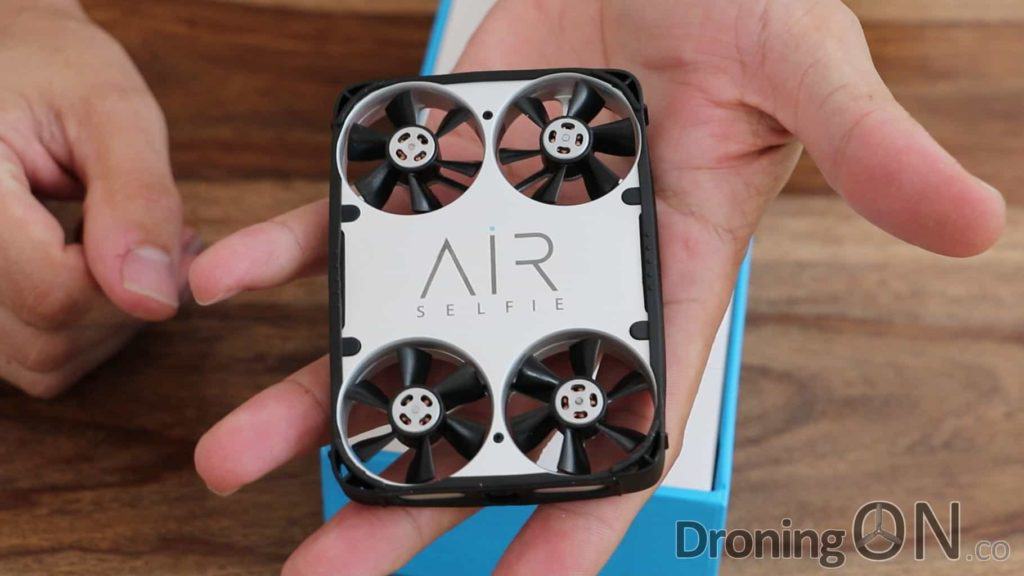 Initial reviews of AirSelfie by backers and YouTubers have not been positive, but as per our usual standards we entered our review process with an open-mind in order to provide a fair and unbiased verdict.
The specifications for AirSelfie are as follows:
Aluminium Housing with anodized process
Video: 1080p @ 30fps – Photo: 5mbpx
Gyro/Barometer/Geomagnetic sensor
Brushless motors
Built-in non-removable Micro SD card 4GB
240mAh 7.4v Built-in Battery
2.4g WiFi connectivity
APP Control (Android or iOS)
Size: 67.4 x 94.5 x 10.6mm
63g weight
Control distance 20 meters
Watch our video review…
Be sure to SUBSCRIBE to our YouTube channel to be the first to watch our exclusive reviews of new drones.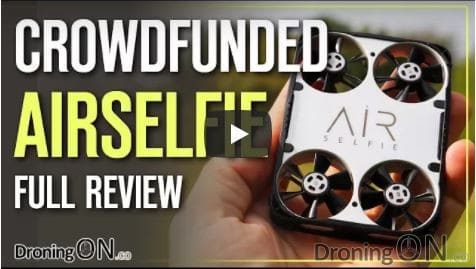 Shortly after posting this review, AirSelfie contacted us claiming that the model that we had reviewed was "fake", they sent us a new model and asked us to review it fresh – we did and our findings were very interesting:
The positives…
❍ Video/photos quality and clarity is fairly good.
❍ Quick and easy to get into the air, we love the throw to launch.
❍ It has an Innovative and safe design with protected props.
❍ Compact and lightweight, truly pocket sized!
The negatives…
❍ Despite a recent price drop, it is currently overpriced at $160
❍ App and firmware desperately need enhancement and updates,. the last update was in May 2017.
❍ Optical flow has not been implemented successfully, even on a textured ground surface it fails to work properly.
❍ Instability of the hover leads to blurred photos and wobbly video unfortunately.
❍ Flight time far too short at just less than 2 and a half minutes.
❍ There are Insufficient fail-safes, AirSelfie can drop out of the sky when battery depletes below a certain level.
❍ Lacking control sensitivity settings, although this is perhaps because the drone is not capable of faster flight without becoming unstable.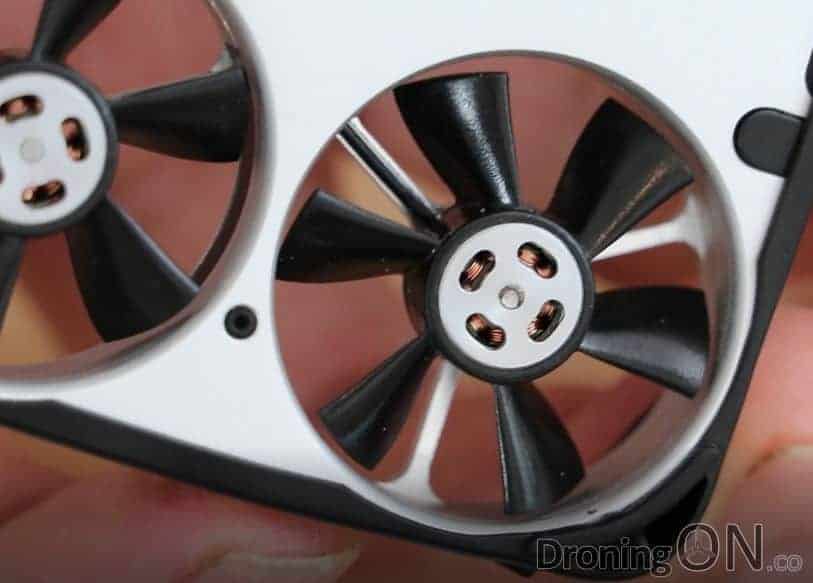 AirSelfie responds…
We approached AirSelfie to clarify the issues that we experienced, whilst they would not respond directly in relation to our technical questions, they did provide the following:
DRONINGON: When will you provide app and firmware updates to address the bugs/issues with AirSelfie?
[perfectpullquote align="full" cite="" link="" color="" class="" size=""]"A dedicated team is constantly working on improving the app and firmware. The last update to fix bugs has been done just 4 days ago. AirSelfie Holdings Ltd want the user have the best experience possible with the Airselfie flying camera."[/perfectpullquote]
DRONINGON: Why is AirSelfie being sold via retailers before all backers have received their drones?
[perfectpullquote align="full" cite="" link="" color="" class="" size=""]"AirSelfie is managing thousands of requests and we are doing our best to satisfy all of them as soon as possible. With some backers we have faced few communication problems related to missing information from the users that have slowed down the deliveries."[/perfectpullquote]
AirSelfie have offered to provide DroningON with an updated unit for test, we have accepted their offer and will provide a comparison review upon arrival.
Where to buy…
Our review unit came from RCMoment, although stock of the AirSelfie is intermittent and therefore check for availability.
However, due to the various issues and limitations with AirSelfie, we recommend instead considering Dobby or the DJI Spark instead, far more impressive drones, although a little more costly.
Are you a backer…
If you are an AirSelfie KickStarter backer, please comment below with your thoughts and feelings regarding the campaign – we are in touch with AirSelfie and might be able to assist backers with responses to queries.
---
Be sure to join the DroningON Discussion Group for the latest news, reviews, exclusives and interviews from the drone industry.