Budget drones of the past year have become fairly predictable and boring, but the new HS220 from Holy Stone is well built, innovative, good fun, durable and great to fly, despite lacking autonomous sensors and optical flow.
Offering not just a single flight mode but two with its transforming shape which gives either traditional quadcopter mode or the feeling of a ducted 'TinyWhoop' style aircraft.
You can buy the Holy Stone HS220 now from Amazon via the following links, this is direct from Holy Stone.
Watch our unboxing & flight test video…
We have just unboxed, inspected and flight tested the new HS220 from Holy Stone, enjoy our full video review below but also be sure to subscribe to our channel for more content like this!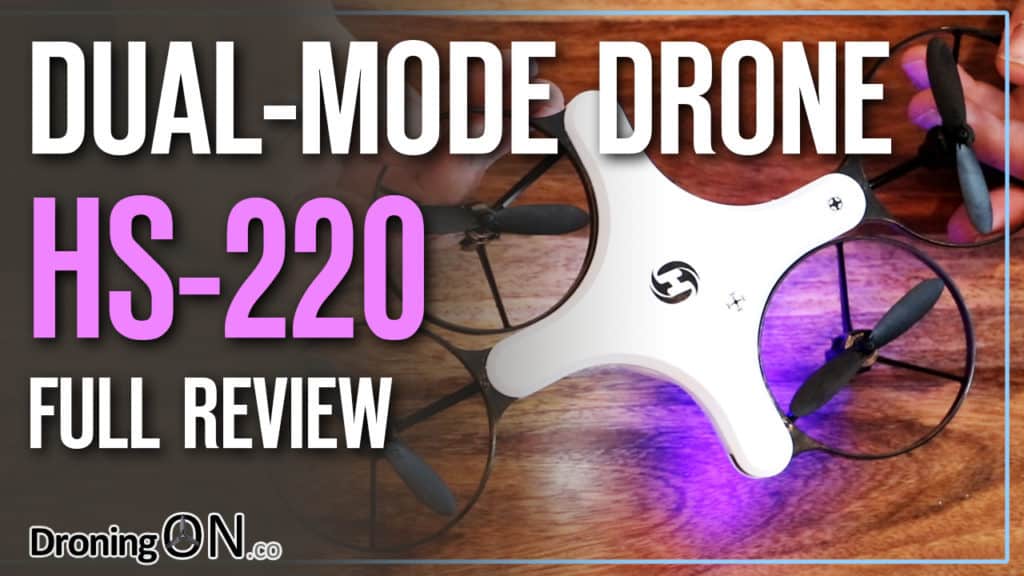 The specifications for the Holy Stone HS220 are as follows:
Item Weight: 80.8g/ 2.85oz (with battery)
Dimension: 7.67 x 7.67 x 1.57 IN (spread wing status);5.7*5.7*1.57 IN(folding status)
Flight Time: 7-9 Mins (15 mins:2 batteries)
Battery: Li-Po Battery 3.7V / 750mAh
Charging Time: 150 minutes (depends on charging power and remaining battery power)
Transmission Distance: 40-60 m /131-196 ft (outdoors and unobstructed)
Image Return Distance: 35-50 m/114-164 ft
Lens Angle : 60°
It includes the following features:
– Custom Flight Paths: App control available. Simply draw a route on the App screen, the drone will move in that direction and path.
– Two Flight Mode: Wing flight and folding flight. You could enjoy 2 different flying experiences.
– FPV HD 720P camera: This high-quality camera captures memorable moments. See the world through the eyes of a bird on your phone. (Camera can be used in wing flight mode)
– Gravity Sensor: Through the APP, you can activate several functions such as the gravity sensor mode. This feature allows users to control the drone with their smartphone.
– 360 ° Flips: The drone can perform a cool roll in any direction in 'Wing Flight' Mode(only in this mode).
– Altitude Hold, Headless Mode, One Key Start / Landing and Emergency Stop : The best and safest conditions for beginners and professionals.
– 4 Different Speed Modes for beginners to more advanced pilots.(Please note there are 3 different speed modes in APP)
– Full Safety Guards protects the propellers in flight and acts as an anti-collision safety mechanism.
– Two Modular Battery support longer flight time; drone and transmitter battery can be shared.
---
Be sure to join the DroningON Discussion Group for the latest news, reviews, exclusives and interviews from the drone industry.