Micro brushless racing quads are starting to move to a more compact and streamlined look, the new ASUAV Awesome F100 is one of the first to combine aerodynamic looks with a micro-scale.

New to the market is this fully featured 100 class racing quadcopter, equipped with 4-in-1 speed controller board, inbuilt VTX incorporated into the F3 Omnibus flight controller which also provides the configurable BetaFlight OSD.
[perfectpullquote align="full" bordertop="false" cite="" link="" color="" class="" size=""]"ASUAV F100 with two solid aluminum boards, is an outstanding brushless UAV dedicated to indoor racing. It has a highly integrated flight control system – the F3 flight controller is connected to the 4-in-1 BLHeli – S 10A ESC. In addition, the 5.8G 48CH 25mW video transmitter has been integrated to the flight controller, making it even more compact and lighter. You can also take advantage of DShot600 digital signals to gain the superior and accurate control of the multicopter. "[/perfectpullquote]
Unfortunately missing from the impressive specification is a buzzer but the FC does have capacity for one and the terminals are nicely exposed for the addition.
The stand-out impressive specification is its weight at only 50g, making it one of the lightest 2″ brushless quadcopters currently available on the market.
Watch our video review…
Be sure to SUBSCRIBE to our YouTube channel to be the first to watch our exclusive reviews of new drones.
Where to buy…
Instructions to buy
The Positives…
❍ Very well designed and constructed
❍ Slimline and very lightweight at only 50g
❍ Clean underside, no ESCs or wires to break
❍ Flies beautifully, very well tuned
❍ Lots of power, forward flight speed is impressive
The Negatives…
❍ No buzzer for lost model alarm/low voltage
❍ Supplied RX may not be setup correctly with FC
❍ FC seems to lose its configuration intermittantly
❍ Dipole antenna struggles with range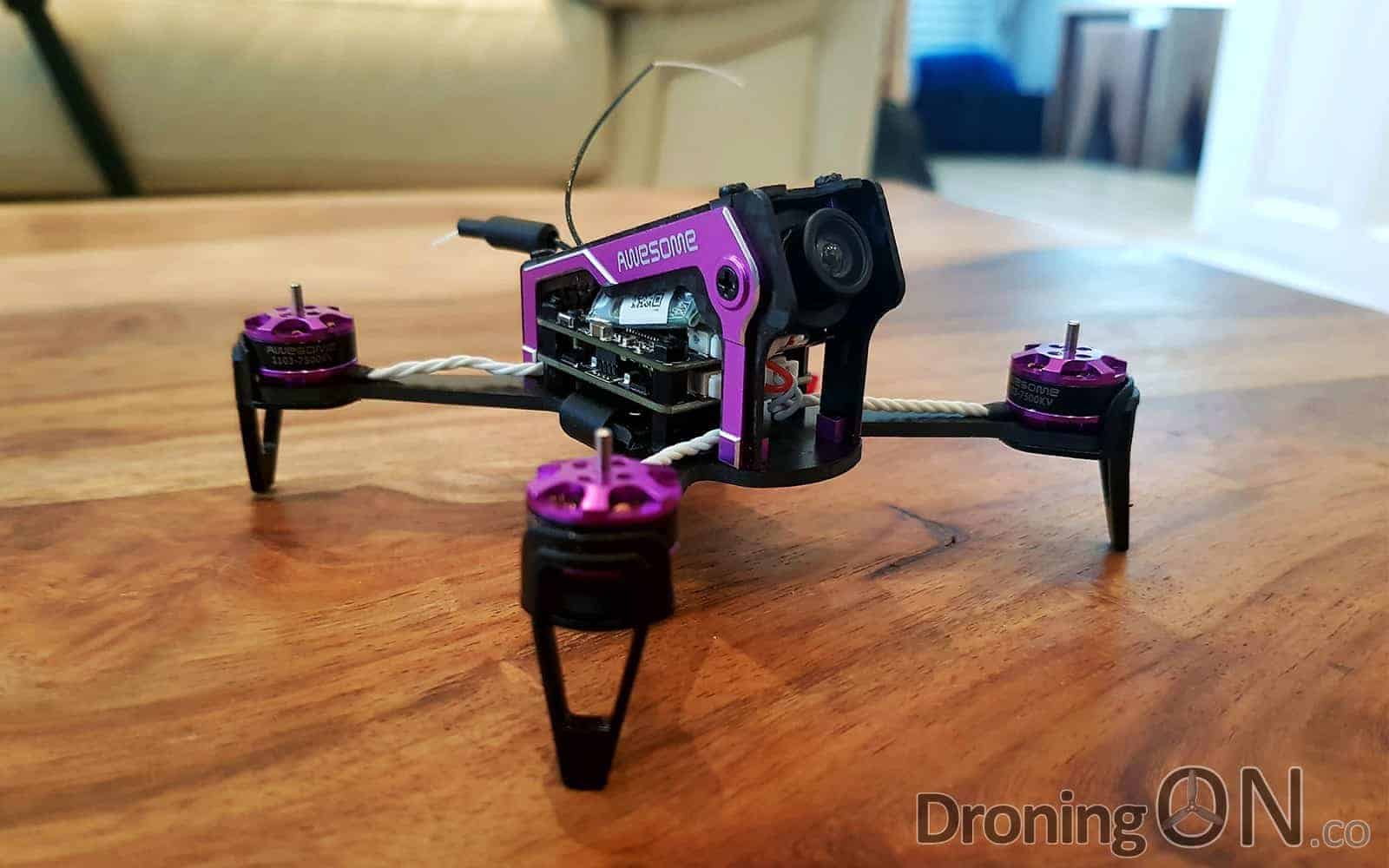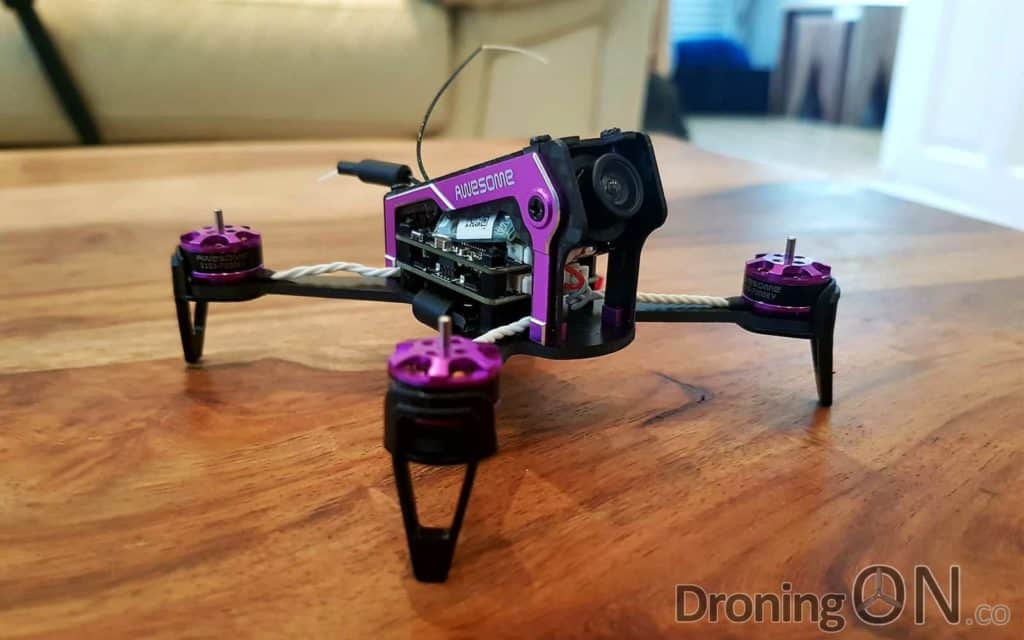 Full specification…
The full technical specification for this drone is as follows, based on their current published technical information:
Wheelbase: 100mm
Size: 90 x 90 x 38mm ( without propeller guards ); 140 x 120 x 38mm ( with propeller guards )
Brushless motor: 1103 7500KV
Brushless ESC: 4-in-1 BLHeli – S 10A DShot

 Flight controller: OMNIBUS F3 with OSD
Propeller: 2035 four-blade
Camera: 600TVL CMOS
Video transmitter: 5.8G 48CH 25mW
Battery: 7.4V 500mAh 25C LiPo
Weight: 50g
---
Be sure to join the DroningON Discussion Group for the latest news, reviews, exclusives and interviews from the drone industry.