(Since the reveal of our comprehensive DJI Osmo Pocket video review set, we have received thousands of questions and comments, this article will summarize the most popular with answers.
The new DJI Osmo Pocket is available direct from the DJI Store for delivery worldwide, take a look here.
Before venturing into the list of frequently asked questions below, watch our comprehensive unboxing, setup, installation and indoor/outdoor testing review videos below:
| | |
| --- | --- |
| | DJI Osmo Pocket unboxing, close inspection, setup, app (DJI Mimo) install, connection to phone, menu navigation and basic startup. |
| | DJI Osmo Pocket comprehensive indoor and outdoor testing of ActiveTrack, FaceTrack, Timelapse, Motionlapse, 4K, Slow Motion. |
| | DJI Osmo Pocket preview of the available accessories, add-ons and additional optional products. |
| | DJI Osmo Pocket low-light handling and full testing at night, filmed in full 4K @ 60fps and demonstrating colour grading examples. |
| | DJI Osmo Pocket slow motion (1080p @ 120fps) testing, illustrating zoomed test footage, as well as 4K 60fps 25% speed comparison. |
| | DJI Osmo Pocket six weeks on, our guide on the negatives and issues with the DJI Osmo Pocket and how it can be improved. |
DJI Osmo Pocket Questions/Answers
If you have questions regarding the new DJI Osmo Pocket, just comment at the bottom of the article and we will respond and update this article.
Q: When recording, are the files split at a point?
A: Yes, the maximum file-size of each file is 3.8Gb and therefore a continuous recording will result in multiple files.
Q: Is FaceTrack/ActiveTrack available in 4K?
A: No, unfortunately these two features are only available when shooting in 1080p mode, perhaps a future firmware upgrade will improve this.
Q: Is the battery removable?
A: No, the battery is inbuilt and cannot be removed (or at least not by anyone so far). It provides around 2 hours of battery life and takes around 1.5hrs to charge fully.
Q: What is the onboard microphone like?
A: All example video and audio in our review was captured by the DJI Osmo Pocket, the onboard microphone is not incredible but it is pretty good, although professional vloggers generally prefer to use an external microphone like this one.
Q: What is 'Vocal Enhancer' mentioned in your review?
A: When we produce a video for YouTube, regardless of how we capture the audio we always push it through general Adobe Premiere audio filters to improve and normalize the volume, as well as to tweak the frequencies and boost vocal narration.
Q: Can you charge the DJI Osmo Pocket via USB-C at same time as using it?
A: Yes, you can connect the Osmo Pocket to any USB-C source and use it at the same time, therefore you can use a Power Bank if on the move to keep it running and charging.
Q: Can DJI Osmo Pocket be used with Micro USB instead?
A: Unfortunately no Micro USB connector is available at this time, however it might be possible to use a USB-C to Micro USB adapter and then to connect your device via a cable which may be more practical anyway. At a later date, DJI may release a slide-in Micro USB option, but USB-C is the new standard for modern devices.
Q: Does the DJI Osmo Pocket have zoom?
A: No not at this time, but this could easily be added at a later stage via firmware or app update, providing a digital zoom and making use of the 4K resolution available to the device.
Q: Can you do a Hyperlapse in Timelapse mode instead?
A: Unfortunately not because Timelapse mode keeps the yaw axis fixed so that the Osmo keeps pointing in the direction in which you want the timelapse. This ruins the Hyperlapse effect because if you change course just slightly, the camera ends up pointing in the wrong direction.
Q: Can you live stream from the DJI Osmo Pocket to YouTube or to Facebook?
A: No not at this time, although this feature could be introduced by DJI at a later stage.
Q: Are the individual images from Panorama stored on the SD card?
A: Yes, a folder is created on the SD card for each panorama and these can be accessed, although we need to verify whether these files are removed once you 'render' the pano via the app.
Q: What is the DJI Osmo Pocket like in low-light?
A: The high shutter speed capabilities of the Osmo Pocket plus manual ISO control means that you can push both up to maximum to provide better low-light support. See our full 4K testing video!
Q: Is the DJI Osmo Pocket waterproof?
A: No, the DJI Osmo Pocket like any electronic device can be used in the rain, but it has no IP rating (for waterproofing) and therefore you do so at your own risk!
Q: What about 1080p @ 120fps
A: This is a myth, the DJI Osmo Pocket does not have a specific 120fps mode for 1080p, however the 'Slow Motion' mode demonstrated in our review provides a slowed down frame-rate but captured to the SD card at 30fps. The actual stored video is not 120fps but the resulting file is the result of capturing at 120fps.
TO BE ANSWERED:
Does the DJI Osmo Pocket split files when recording over a certain length of time?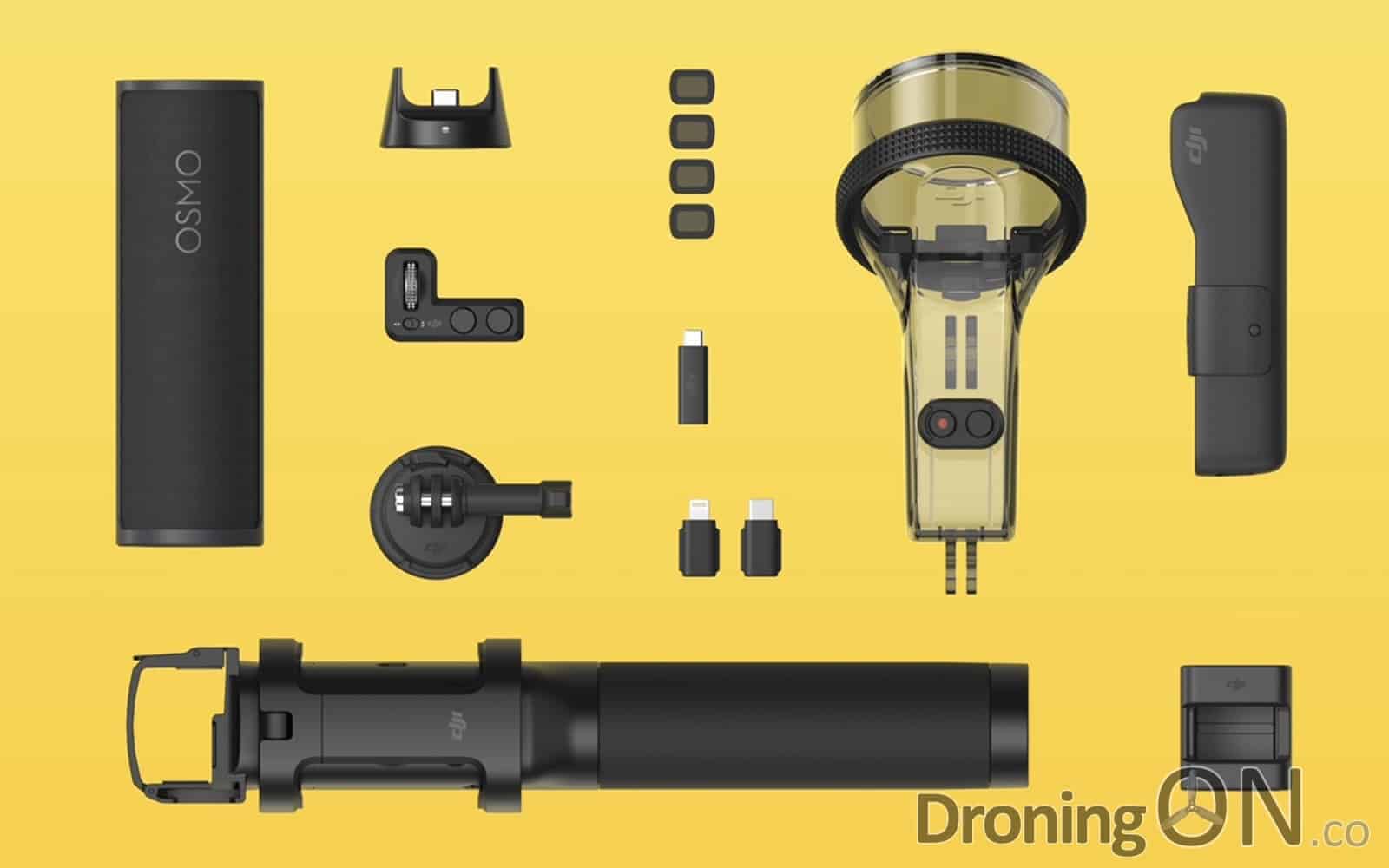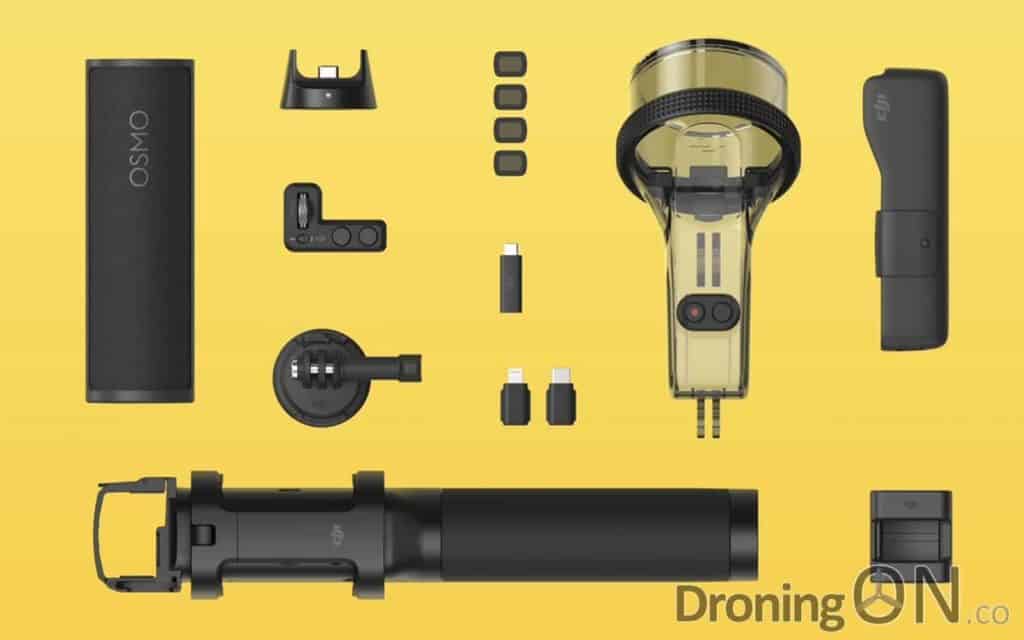 This article is being updated daily, come back soon for more questions/answers!
---
Be sure to join the DroningON Discussion Group for the latest news, reviews and exclusives from the drone industry!