High Great are a Chinese drone manufacturer that has spent years producing white-label drones for companies such as ZeroTech (Hesper) and Mota (Lily Next-Gen), now they have just started to ship their first crowd-funded drone to backers via Kickstarter.

Despite show-casing at the CES 2017 show over 12 months ago, the High Great 'Mark' drone has just completed its Kickstarter campaign and shipping process has commented, however backers of the campaign are frustrated at the slow speed and lack of communication from the manufacturer.
Raising just over £250,000 ($300,000) in just 45 days via 1,193 backers, the campaign completed officially in July but drones are arriving with customers very slowly and many are being charged an unexpected import tax/duty on arrival.
This small and highly capable drone retailed for $239 via the campaign perk system, however the production model has already appeared for under $200 via online stores such as GearBest, this has clearly upset backers.
With no GPS and downward facing optical flow sensors, one might wonder how this drone is capable of stabilizing its position, but the impressive Qualcomm Snapdragon incorporates VIO (Visual Inertial Odometry) which via a 45 degree downward facing camera allows the drone to 'learn' its surroundings visually.
This system does however have limitations, specifically that the VIO camera must be able to see patterns and objects of reference, without which it can struggle to hold position outdoors.
Put simply, if the VIO camera can only see the basics textured green grass of a field, it is unlikely that the drone will maintain its position, therefore the drone must be flown at a higher altitude so that other elements are visible for VIO assessment.
Some backers are frustrated that these limitations were not made clear during the campaign, as only with prior experience of drone technology could these technical restrictions be known by backers.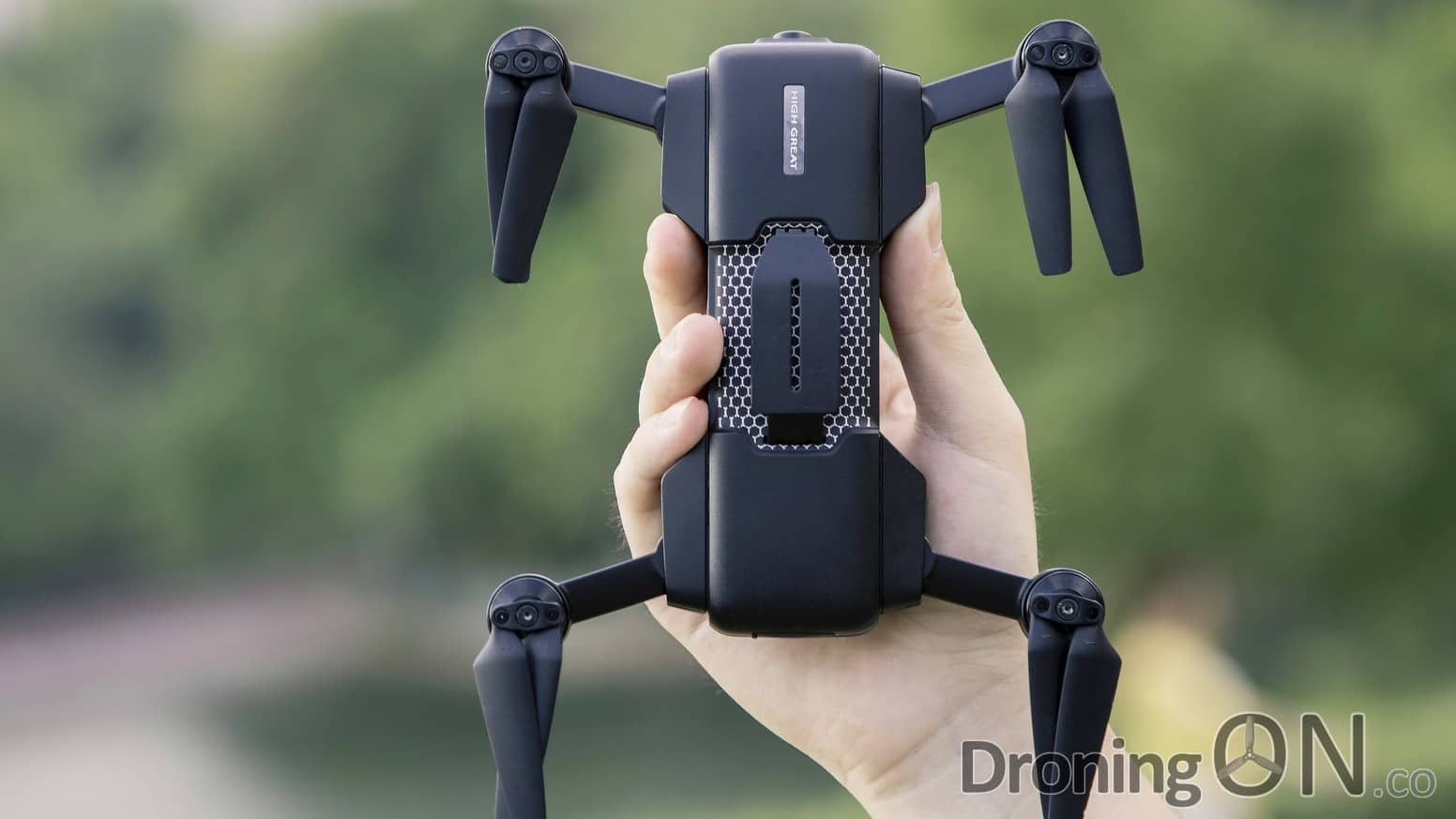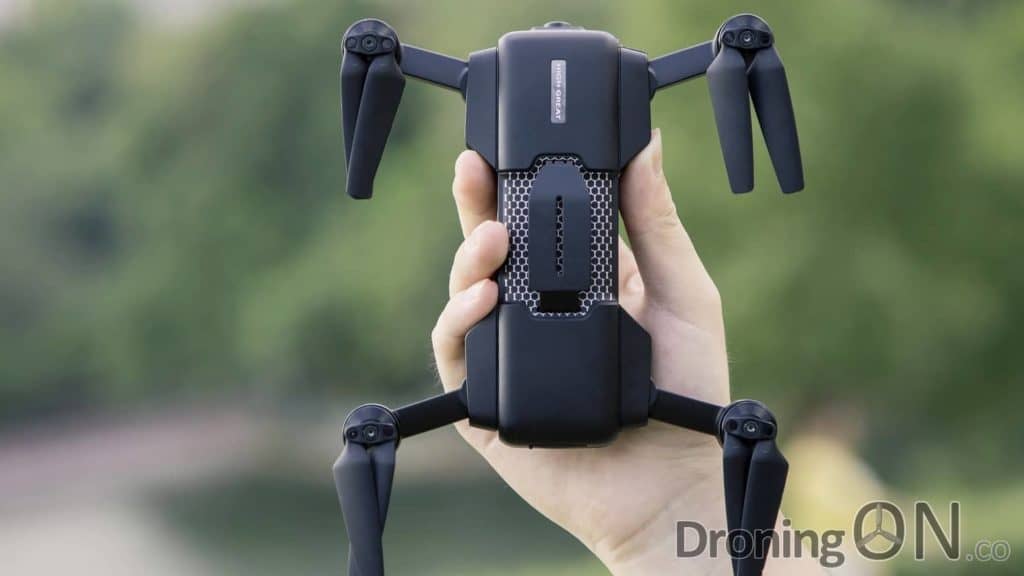 The Mark features a compact 4K camera sensor which delivers crisp quality footage and photos, disappointingly it can only offer stabilized video at 1080p  due to the cropping, panning and scanning required by EIS (Electronic Image Stabilisation), but the result is still positive.
In addition, the small onboard battery offers a long flight time and the indoor flying capabilities are impressive as per our review below.
Watch our video review…
Be sure to SUBSCRIBE to our YouTube channel to be the first to watch our exclusive reviews of new drones.
Part 1: Unboxing and Technical Analysis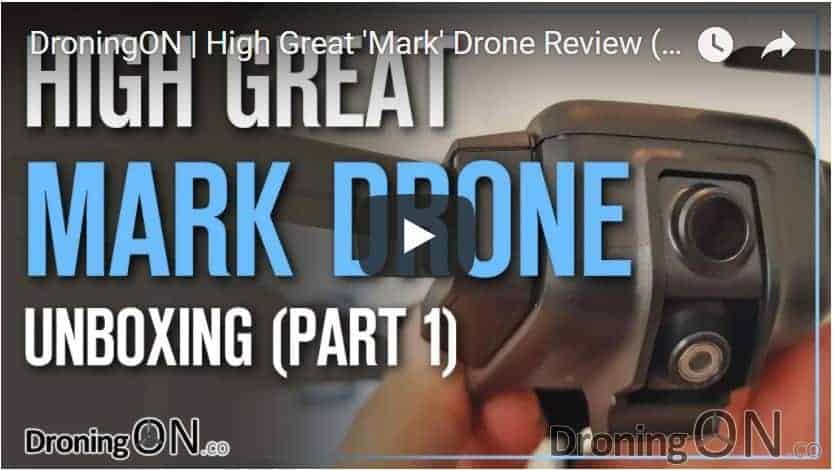 Part 2: Campaign Issues, App and Indoor Flight Test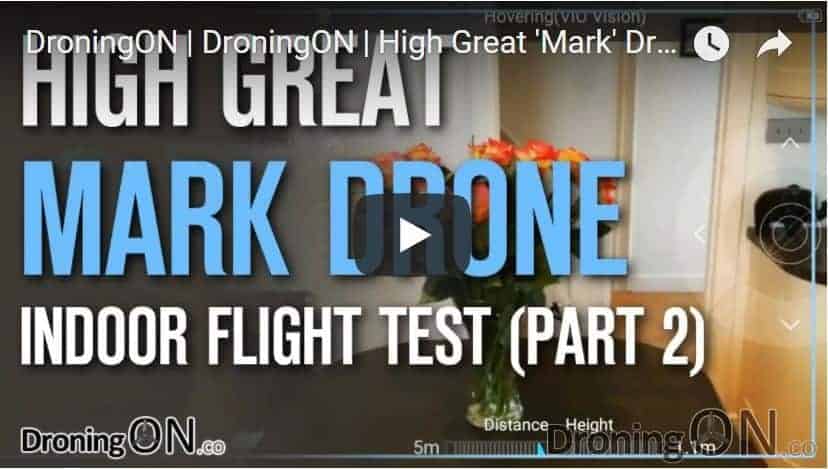 Part 3: Outdoor Flight Test & Summary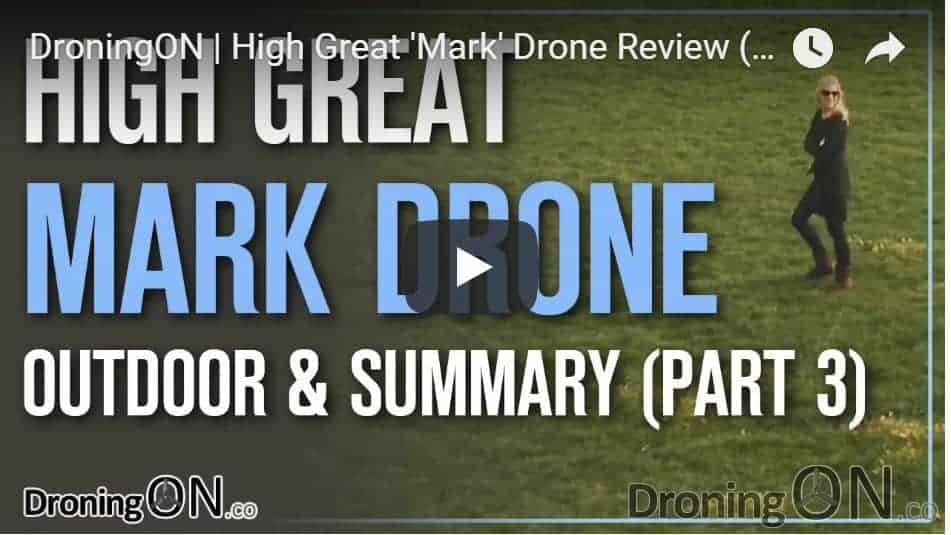 Where to buy…
The Mark drone is available via Amazon or direct via GearBest where it is currently retailing at the lowest price.
The positives…
❍ Fairly low-cost for 4K video, great photos and good flight time
❍ Portable, folding and lightweight design
❍ Very impressive VIO technology although primarily for indoor
❍ Actually captures 4K, it doesn't downscale the files saved
❍ Decent flight time over 15+ minutes
❍ Indoor route-memory is very impressive (but useful?)
The negatives…
❍ No GPS/GLONASS capability
❍ Cannot fly in dark and struggles in wind
❍ No manual or controllable tilt on the camera
❍ EIS only available at 1080p, 4K is unstabilised
❍ Risky to fly outdoors incase VIO fails, no reliable RTH
❍ No USB charging port for batteries, requires transformer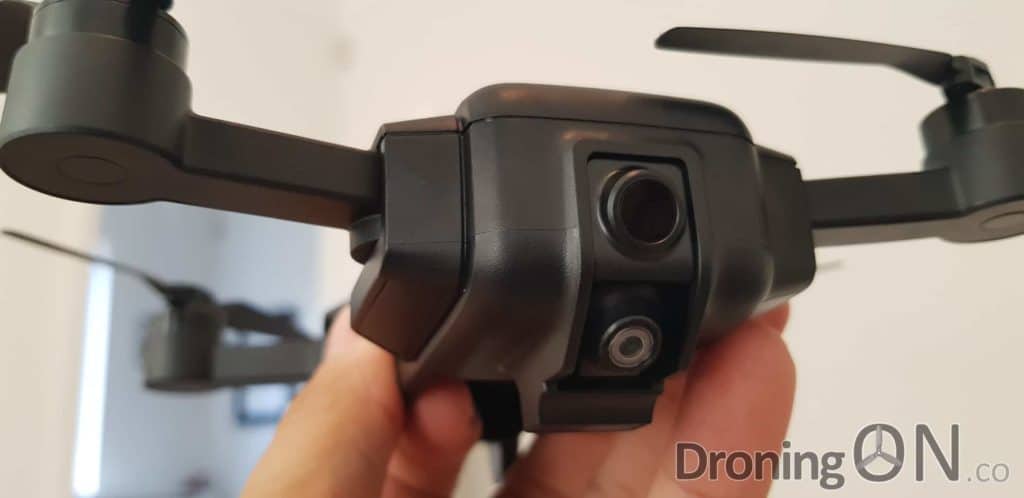 Full specification…
The full technical specification for the High Great Mark drone is as follows, based on their current published technical information:
General
Type: Quadcopter
Features: Camera,WiFi APP Control,WiFi FPV
Functions: 3D stunt,Camera,Forward/backward,FPV,Gesture Mode,Hot Point Following,WiFi Connection
Max Ascent Speed: 2m/s
Max Descent Speed: 2m/s
Built-in Gyro: 6 Axis Gyro
Kit Types: RTF
Level: Beginner Level
Connectivity
Remote Control: 2.4GHz Wireless Remote Control,WiFi Remote Control
Channel: 4-Channels
Radio Mode: WiFi APP
Compatible with Additional Gimbal: No
Battery
Battery: 7.6V 1300mAh LiPo
Charging Time.: about 45mins
Dimension and Weight
Product weight: 0.2000 kg
Package weight: 0.6500 kg
Product size (L x W x H): 14.80 x 14.80 x 4.80 cm / 5.83 x 5.83 x 1.89 inches
Package size (L x W x H): 17.70 x 16.10 x 5.60 cm / 6.97 x 6.34 x 2.2 inches
Package Contents
Package Contents: 1 x RC Drone ( Built-in 1 Battery ), 1 x Set of Propellers, 1 x EU Plug, 1 x English Manual
---
Be sure to join the DroningON Discussion Group for the latest news, reviews, exclusives and interviews from the drone industry.